The LGBTQ+ Travel Guide to Spain
Advice and tips for an unforgettable trip
Blog written by Meg Ten Eyck (she/her), CEO and founder of EveryQueer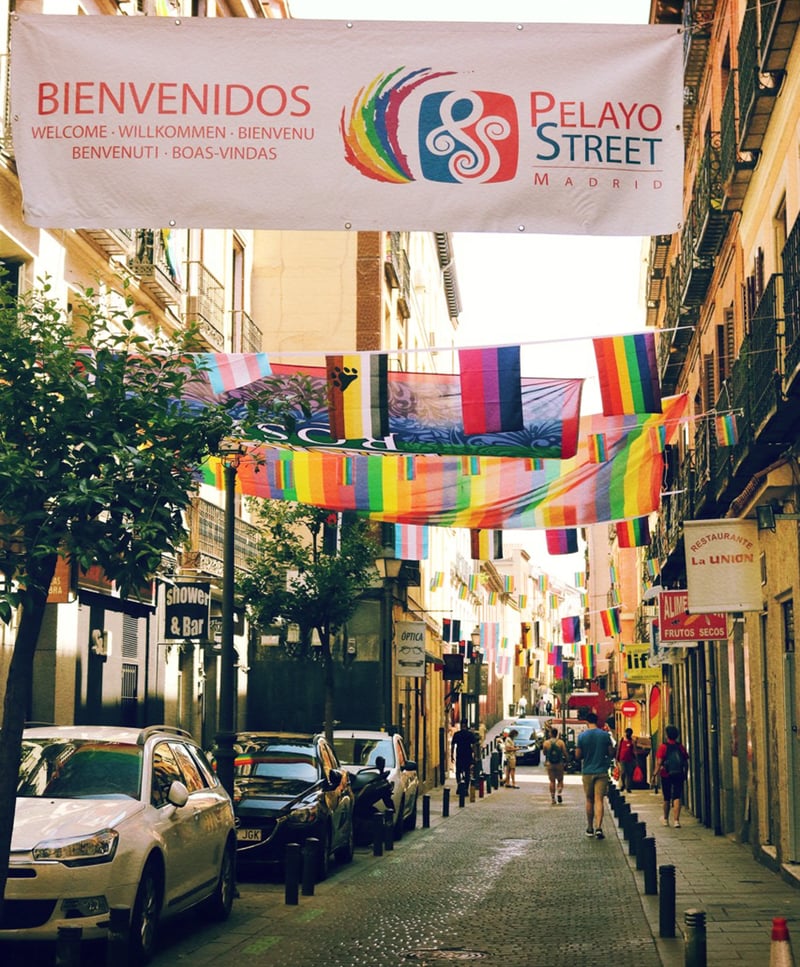 Spain is full of wonderful experiences, including Pride festivities and famously beautiful cathedrals. Traveling is a great way to meet new people, grow as a person, and experience new cultures. However, as a queer person, it's important to be aware of the social culture and laws that exist within a place regarding queerness. Luckily, this travel guide to Spain has been put together to help you have a great time, keep you safe, and inform you about LGBTQ+ rights in Spain.
---
Key takeaways:
---
An overview of Spain
Spain is located on the Iberian Peninsula and is nestled right next to Portugal. It has a long history and plenty of rich cultures. Each of its 17 autonomous regions has unique dialects, local cuisine options, music, and of course, nightlife activities.
As a whole, the Spanish people are quite friendly to the LGBTQ+ community. This is especially true of the Madrid LGBTQ+ crowd, and you might even be surprised to see a surplus of gay bars in the city.
It isn't just Madrid that is friendly towards the LGBTQ+ community, however. LGBTQ+ rights are taken quite seriously across the majority of Spain. Of course, this is not to say that you should completely let your guard down. As for traveling anywhere as a queer person, it's important to stay cautious and have a general awareness of your surroundings.
Urban and rural areas
As long as you maintain a level of safety and follow certain precautions, you shouldn't have anything to worry about when traveling to this country. Instead, you can focus on all the amazing sights and events that the country has to offer.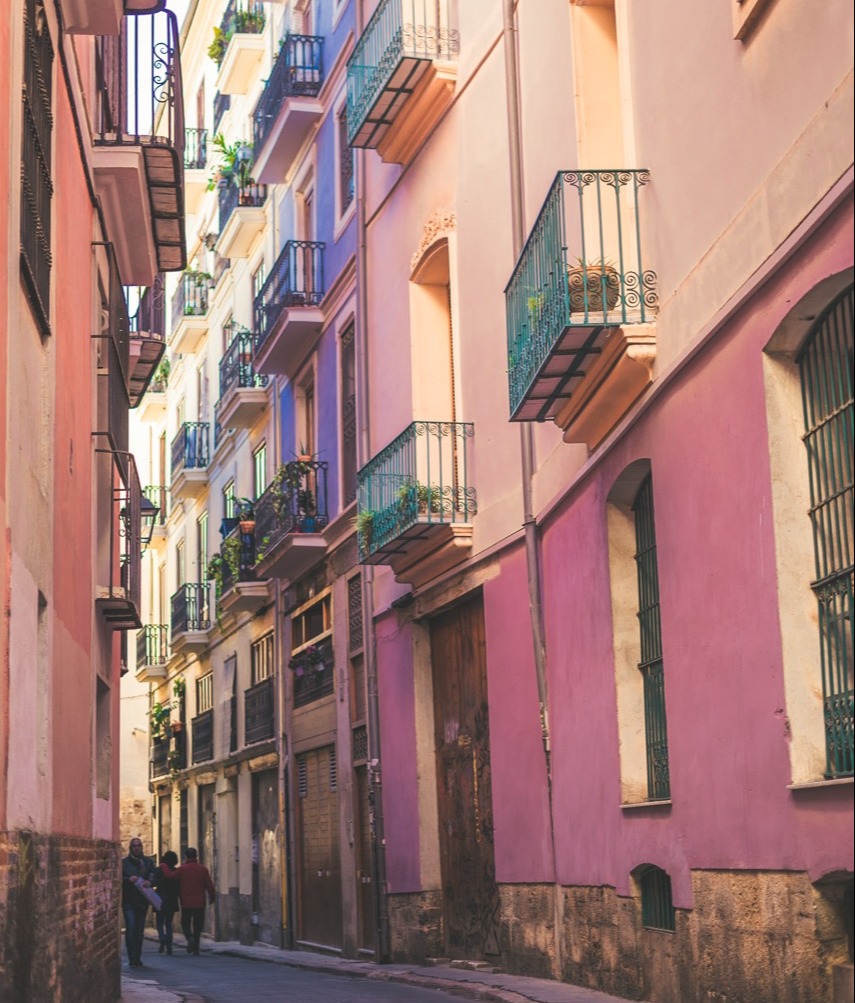 While there are the big cities of Madrid, Barcelona, and Seville to visit, be sure that you don't forget about some of the smaller and lesser-known cities along the coast of Spain, such as Gijon or Valencia. You will find that the smaller cities don't have as many tourists and have a much more authentic way of Spanish life.
While traveling throughout Spain, you'll experience how Spaniards live life and how they do so in a much different way than people in the United States. Let's take a closer look at some local Spanish customs.
Spanish customs and culture
There are many local customs that highlight the unique beauty of Spanish culture. For example, the Spaniards tend to follow a very relaxed lifestyle. Usually, the afternoon is reserved for a little nap known as a siesta.
People stop working in the middle of the afternoon to take a brief snooze so that they can relax and continue their work in a recharged mood later on. Sometimes, people may even go out to have a cup of coffee at the local cafe or have a relaxing beer in the middle of the day. Keep in mind that bars are quite different in Spain than they are in America.
Instead of being akin to a club, bars in Spain are more or less places to get a little snack and a beer or a glass of wine. These snacks are known in Spanish as tapas and they are usually fairly healthy. They tend to consist of a piece of artisan toast topped with olive oil and tomatoes along with various types of meat such as seafood or red meat.
If you are vegan or follow a gluten-free diet, you might have a hard time finding restaurants to accommodate you, especially if you're not in a big or modern city like Madrid, because vegan diets are not very common in Spain. Most people follow the Mediterranean diet, which is famous for being healthy and full of antioxidants.
The Mediterranean diet mainly consists of vegetables, seafood, olive oil, red wine, and some whole grains. However, the exact food you will find in Spain will mainly depend on what region you go to. Every region has its own unique food staples that reflect the rich culture in that area.
Greetings and interactions in Spain
The Spanish people, in general, are very friendly. They will be ready to help you if you have any problems or questions. Consider using a few Spanish words to communicate while you're in the country.
Spanish people are always excited and flattered to see a foreigner try to speak their language. It is especially a good idea to learn a few Spanish words if you are going to a smaller city or town because people outside of Madrid are less likely to speak English fluently.
Culturally, Spanish people are generally affectionate, even when meeting people for the first time. It is not unusual for two women to kiss each other on both cheeks upon meeting each other. It is also not unusual for a man and a woman to do this.
However, two men usually shake hands rather than kiss when meeting.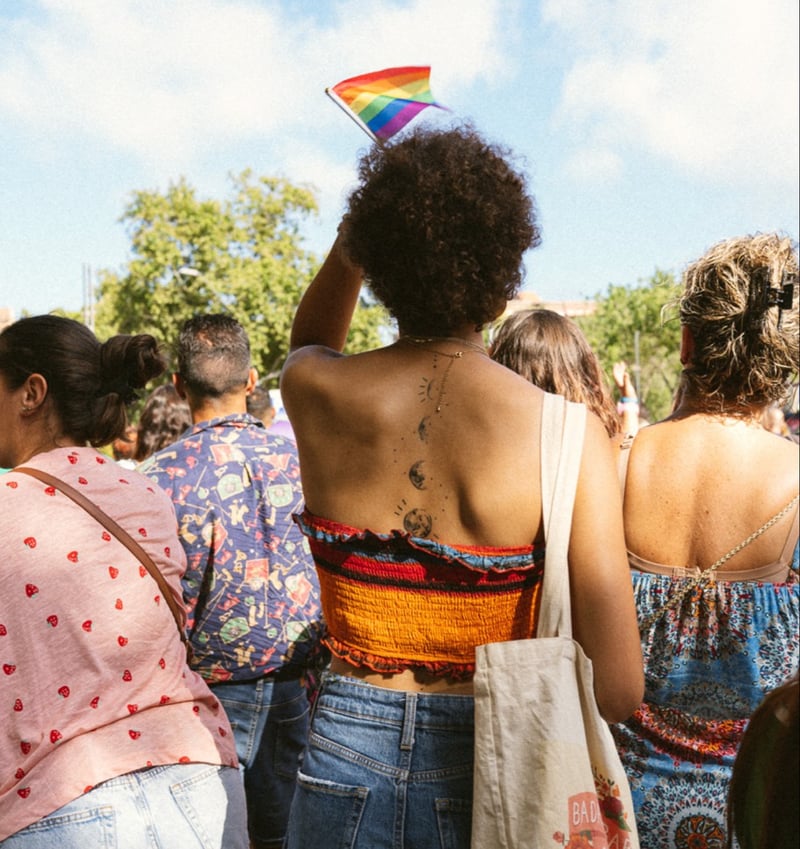 LGBTQ+ safety in Spain
As mentioned before, LGBTQ+ rights in Spain are taken very seriously. The people in Spain, in general, are very welcoming and friendly towards queer people. Even Spain's laws reflect this; they first legalized same-sex marriage in 2005, long before the United States did so on the federal level.
Not to mention that Pride celebrations are held across the country every year. But again, you should still maintain a certain level of safety. You might have some trouble being accepted in small and more traditional towns out in the countryside of Spain, as well as among older Spanish people.
However, even small towns and older generations are starting to have a more welcoming view toward queer people. Overall, Spain is considered one of the safest countries in the world for LGBTQ+ people. So, you shouldn't have to worry too much about it while you're there.
Dating apps in Spain
There are several dating apps you can use while you're in Spain. One of the most popular is Tinder which, of course, is also very popular in the United States and other countries. Tinder is by far the easiest app to use in Spain if you're hoping to meet somebody.
However, if you're not big on Tinder and want to use something different, there are a few other alternative options you can use such as Bumble or Badoo. OkCupid and Grindr are also used in Spain.
Just be sure that you use basic caution when using dating apps and meeting up with strangers. Madrid, again, is a hot spot for the LGBTQ+ community, so you shouldn't have a hard time finding other people in the community to spend your time with.
However, it may be a bit more difficult to find other LGBTQ+ individuals on dating apps if you tend to be in smaller cities like Valencia or Salamanca.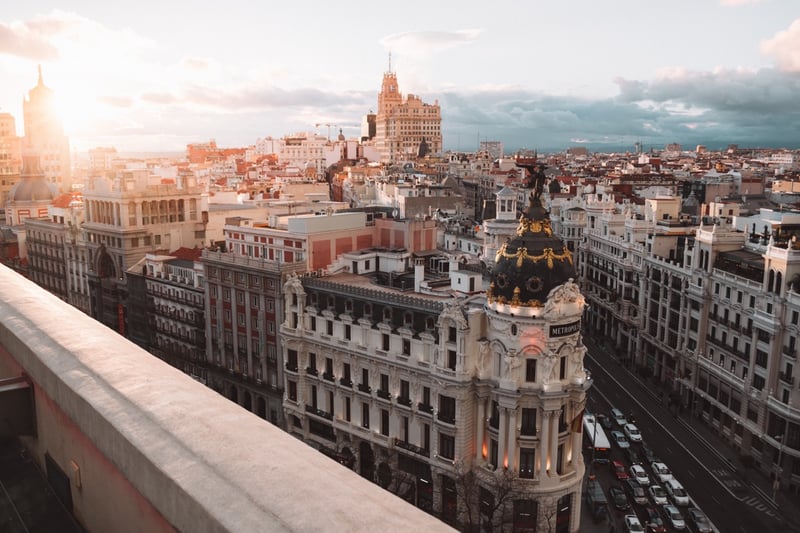 Must-see destinations in Spain
Because Spain is an old country with a rich history, don't be surprised to find all sorts of interesting things to see. Even a lot of the apartment buildings have been around for a while. Many of them were constructed after World War II.
If you want to see some beautiful architecture with lush histories, many cities in Spain have stunning cathedrals and churches that are hundreds of years old. The Cathedral of Barcelona is one of the most famous gothic cathedrals in the world. Its architecture and attention to detail are visually striking.
If you're an art buff, you can't miss the Prado Museum in Madrid. This museum is one of the most famous art museums not only in Europe, but in the world. It houses paintings from the Old Masters who created their famous artworks hundreds of years ago.
The paintings in this museum illustrate the extreme skill, talent, and patience that the artists of the time had to demonstrate in order to create such massive, awe-inspiring pieces of art. There are also plenty of old palaces and castles to visit.
Much of the monumental architecture in the south of Spain is inspired by Middle Eastern designs because hundreds of years ago, much of Spain was ruled by the Moors who came from Morocco and other regions of northern Africa. They brought their unique designs and architecture with them, along with plans for mosques and other significant buildings. While many of the mosques have since been converted into buildings for other uses, much of the architecture is still exactly the same as it was all those years ago.
There's always more to explore
Besides architecture, there are also plenty of opportunities to spend time in nature. Northern Spain borders the Pyrenees mountains and the area offers plenty of great opportunities for skiing.
The south of Spain, on the other hand, is ideal for enjoying the waves and the sand while getting a great sun tan. Additionally, there are many gardens to see that have been taken care of for hundreds of years, especially around old palaces.
You also shouldn't have trouble finding amazing restaurants to enjoy. Madrid is even home to Casa Botín, the oldest continuously-operated restaurant in the world.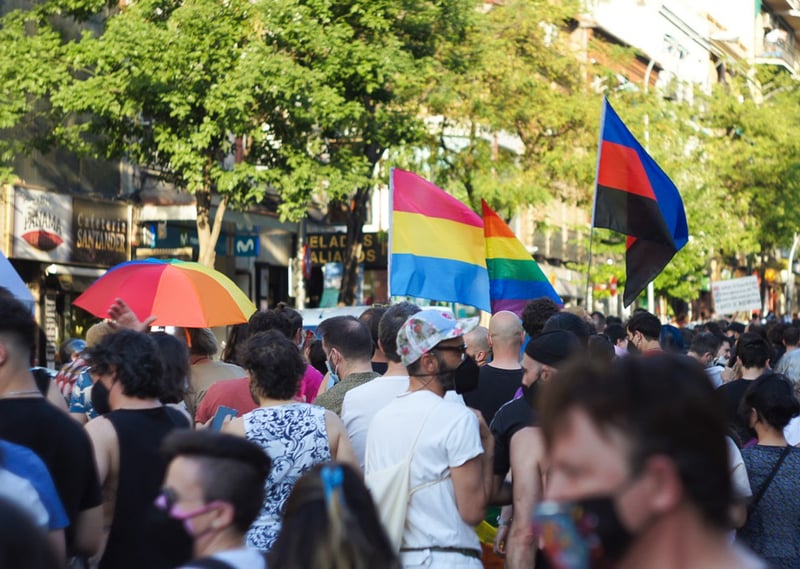 Pride events in Spain
If you want to experience one of the largest gay Pride events in all of Spain, you should take a visit to Madrid in July. This is when Madrid hosts a massive parade to celebrate the LGBTQ+ community. It is arguably one of the biggest gay Pride festivals in the entire world.
This event is well-known across the globe and for that reason, you'll find local Spaniards as well as foreigners enjoying this parade. This celebration began in 1978 and has been held almost every year since then.
Barcelona Pride is another huge celebration that you don't want to miss. The event takes place in June and is filled with people, great music, food, and more. There are other LGBTQ+ Pride celebrations held in different cities throughout Spain, but they're nowhere near as large as the ones in Barcelona or Madrid.
The beauty and excitement of Spain awaits
In addition to being a country filled with amazing and friendly people, delicious food, a rich culture, and an expansive history, Spain is one of the most welcoming countries toward the LGBTQ+ community.
To learn more about visiting Spain or other countries, check the links below!
---
Read other EveryQueen x TrovaTrip LGBTQ+ travel guides:
---
About the author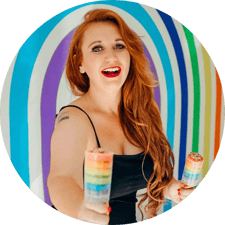 Meg Ten Eyck (she/her) is the CEO and founder of EveryQueer, a pillar in LGBTQ+ travel. Through detailed travel content, brand consulting, curated lesbian parties, and worldwide LGBTQ tours, the team teaches queer travelers how to safely see the world. Meg has been cited in two consecutive UNWTO Reports on LGBTQ Tourism as a leading expert and in the ETC's Report on LGBTQ Tourism. Meg is regularly a featured speaker and subject matter expert at travel conferences worldwide.
In 2019, Meg was selected as the International Woman of the Year for Facebook's initiative with Girl Gone International for her work in LGBTQ-inclusive travel. She is also the international brand ambassador for Contiki, Macy's, and Out Adventures. Meg serves on the Board of Directors of the International LGBT Travel Association and on the LGBT advisory board of Belmond Hotels and Resorts. Since starting in the LGBT travel industry, Meg has visited 65+ countries, spoken at LGBTQ conferences on five continents, published her first book, and had her content read by more than 10 million people.

Through detailed travel content, curated lesbian parties, and worldwide LGBTQ tours, EveryQueer teaches queer travelers how to safely see the world.
EveryQueer bridges across identities and borders by curating global LGBTQ+ content featuring LGBTQ+-affirming brands, destinations, and life-changing experiences. Like trusted friends, they share welcoming and affirming insider tips to inspire wanderlust and ensure our journey is as easy as it is unforgettable.
EveryQueer's mission is to inspire people of all sexual orientations, gender identities, and gender presentations to think differently about the global queer community while boldly seeking adventure and connection.