LGBTQ+ Egypt Travel Guide: Everything You Need to Know
Get ready to explore one of the world's most legendary destinations with safety and confidence
Blog written by Meg Ten Eyck (she/her), CEO and founder of EveryQueer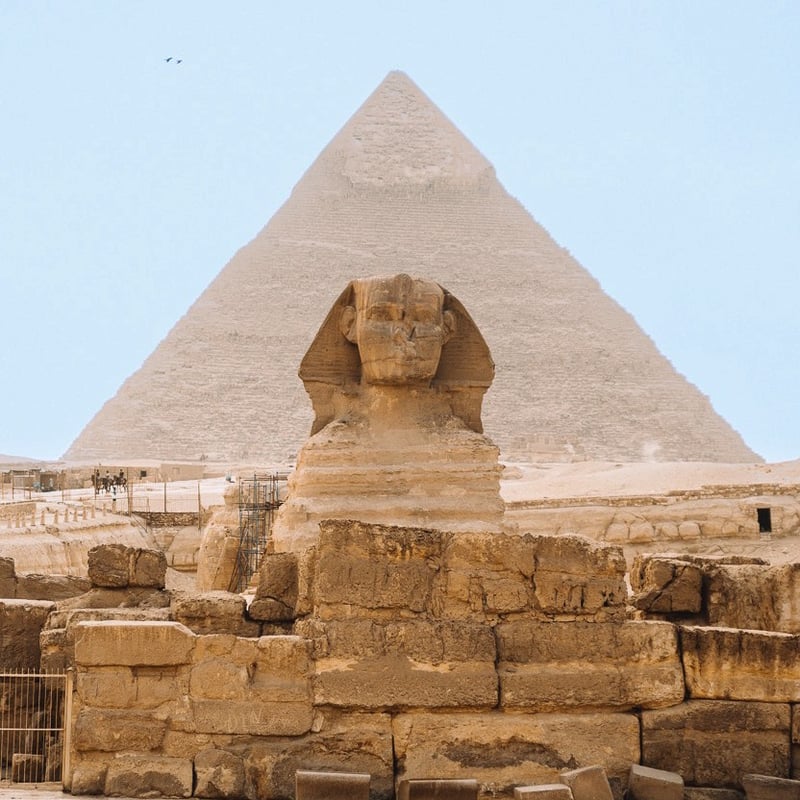 I took my first trip to Egypt in 2017. Egypt's Arab Spring allegedly ended a few summers before. However, tensions were still high, and Tahrir Square was still erupting in short-lived protests.
Seeing the pyramids wasn't just a bucket-list item for me. I wanted to touch the stones, breathe the dust, and let my brain absorb the sheer antiquity of it all.
But I was also concerned about safety.
Exploring LGBTQ+ Egypt is different than in other Middle Eastern countries like Jordan. Caution is vital. In this Egypt travel guide, we'll give you all the information you need about Egypt gay travel so you can have the Egyptian vacation of your dreams and be safe while you're there.
---
Key takeaways:
---
LGBTQ+ rights and safety in Egypt
According to Equaldex, Egypt scores 11 out of 100 on the equality index. While Egypt is far from LGBTQ+ friendly, it is also far from the worst country for LGBTQ+ human rights. Queer people in Egypt have no legal protections from discrimination and many facets of LGBTQ+ culture are illegal. Same-sex couples cannot adopt in Egypt, nor are their marriages recognized.
We'd recommend that LGBTQ+ people visiting Egypt should refrain from any public displays of affection, use an affirming tour guide, and always dress modestly. Two of our gender-nonconforming staff members at EveryQueer recommend that FTM trans people who haven't yet had top surgery should consider binding. While an unbound chest probably won't land you in jail, it may provoke unwanted questions. Take LGBTQ+ safety seriously while you're in Egypt.
Egypt: A quick overview
Politics aside, Egypt is one of the most incredible countries I've ever visited. The shifting sands give way to the dusty metropolis of Cairo. The Nile River winds its way north to the coast.
And, of course, you have Luxor, the Pyramids at Giza, and the Sphinx. But facts about Egypt are always good to know, so let's dive in.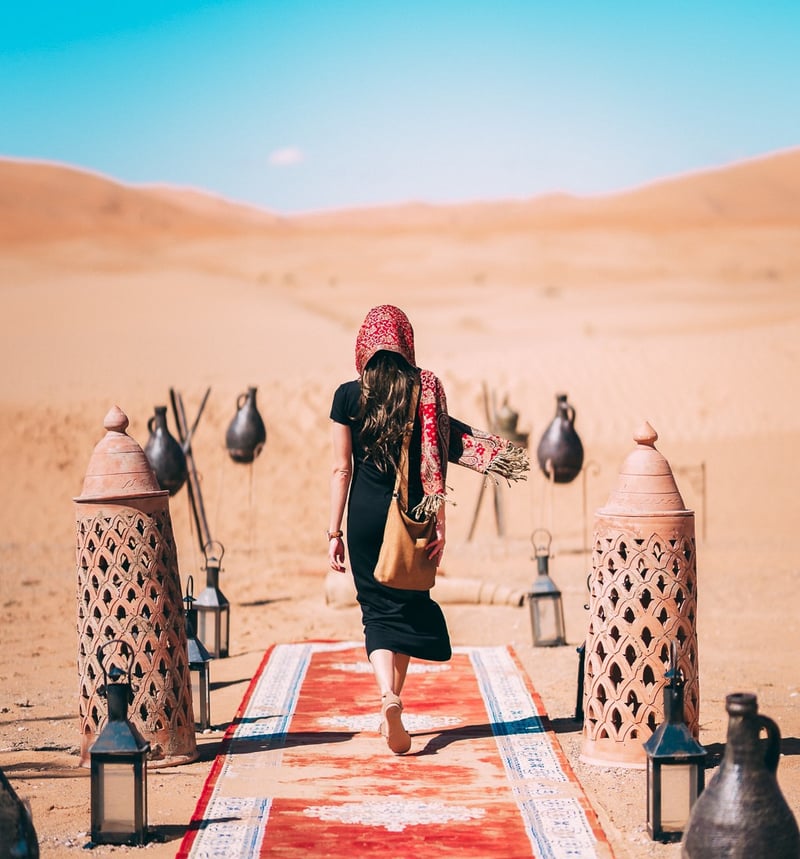 Where is Egypt?
Egypt lies on the northeast tip of Africa. It's separated from Saudi Arabia on the east by the Red Sea and also shares an eastern land border with Israel. Egypt shares its western border with Libya and its southern border with Sudan.
The northern edge of Egypt fronts the stunning Mediterranean Sea. Egypt's main international airport is in Cairo and receives flights from all over the world.
Customs and culture in Egypt
Arab hospitality overflows in Egypt. Egyptian people are proud, generous, and enthusiastic about visitors. In my experience, the Egyptians that I met didn't care about my sexuality, they were just glad I was visiting their country.
How to greet people in Egypt
One of the most important things to remember in Egypt is your smile. Along with the typical "Salam Alaikum," a smile and direct eye contact are appropriate when greeting someone in Egypt. Also, expect questions about your health, your family, and your job.
Egyptians are curious and caring people and are interested in you and your life.
For men, it's polite to stay an arm's length away when you're talking to someone. Women may stand a bit closer when talking with another woman.
Handshakes between men are appropriate greetings. Women may kiss cheeks when greeting each other. Unless they're familiar with each other, women and men do not touch during greetings.
While these customs can seem very gendered and might make it difficult for a nonbinary person, it's the reality in Egypt and what you should expect when you're there. Unfortunately, what you "pass" as is important for these local customs, as well as how you dress, which is discussed later in this guide.
Lastly, under no circumstances should you ever walk in front of someone who is praying.
Visiting someone's home in Egypt
Receiving an invitation to someone's home in Egypt is an honor. Egyptians enjoy hosting and may spend all day cooking and preparing for your visit. Treat it like the gift it is.
Always remove your shoes before entering the home. Allow your host to show you to your seat. Visitors are often given seats at the head of the table.
Wait for your host to take the first serving of food. In some cases, your host may serve you themselves. Regardless, be polite and take your clues from your hosts.
Asking for a second helping of food is a sign of utmost respect.
Always bring a gift when you visit. Sweets or fruit are well received. However, pack some postcards from your hometown. Egyptians will be thrilled that you're sharing the gift of your culture.
How to dress in Egypt
Egypt is one of the most conservative countries in the Middle East so dress appropriately. Men should wear long pants like jeans or khakis. Shorts may be appropriate during the summer months but be sure they cover your knees.
Visible tattoos should be covered whenever possible.
Women should dress conservatively at all times. Ankle-length skirts or dresses and shirts that reach your wrists are appropriate. While it's not required for non-Muslim women to cover their hair, doing so will help you blend in.
If you're staying at a resort, the dress code may be more relaxed. A sign in the lobby will often dictate how you should dress.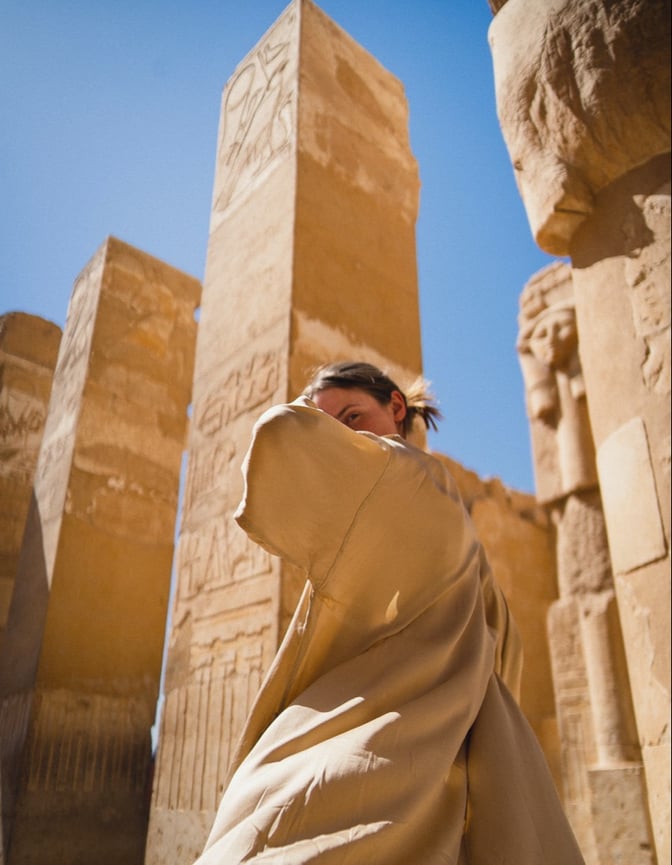 Dealing with sexual harassment in Egypt
Sadly, catcalling and sexual harassment are the norm in Egypt. Women bear the brunt of this harassment, and it's uncomfortable at best and scary at worst. Ignore the offenders as best you can, don't make eye contact, and be prepared to duck into a shop or restaurant if necessary.
Traveling with a tour company is one of the best ways to shield yourself from harassment. Since the guides for tour companies speak Arabic, they can use some choice words and remove you from the situation.
The risks of using LGBT dating apps in Egypt
Most dating apps aren't blocked in Egypt but think twice before you browse Grindr while visiting. Several reports indicate that Egyptian police use dating apps to entrap LGBTQ+ people into accepting a date or hookup. Then they're arrested and jailed. Stay safe and use dating apps with caution while you're in Egypt.
Egypt's must-see destinations
Egypt's discriminatory attitude aside, the country is a wonderland of sights and sounds. While most taking on Egypt gay travel stick to the areas around Cairo, other parts of the country are equally as enticing.
The Pyramids of Giza
One of the things that LGBTQ+ travelers to Egypt might find shocking is that the pyramids are right on the outskirts of Cairo. While this does detract from the idea of the pyramids being remote, it also makes them easy to visit from the city.
Hiring a guide or joining a tour for your trip to Egypt makes visiting the pyramids easier and safer. Egyptian tour guides are often archeologists as well, so their knowledge is impeccable.
Beware of touts in the Giza area. There's a saying that goes, "You don't pay to ride the camel. You pay to get off the camel."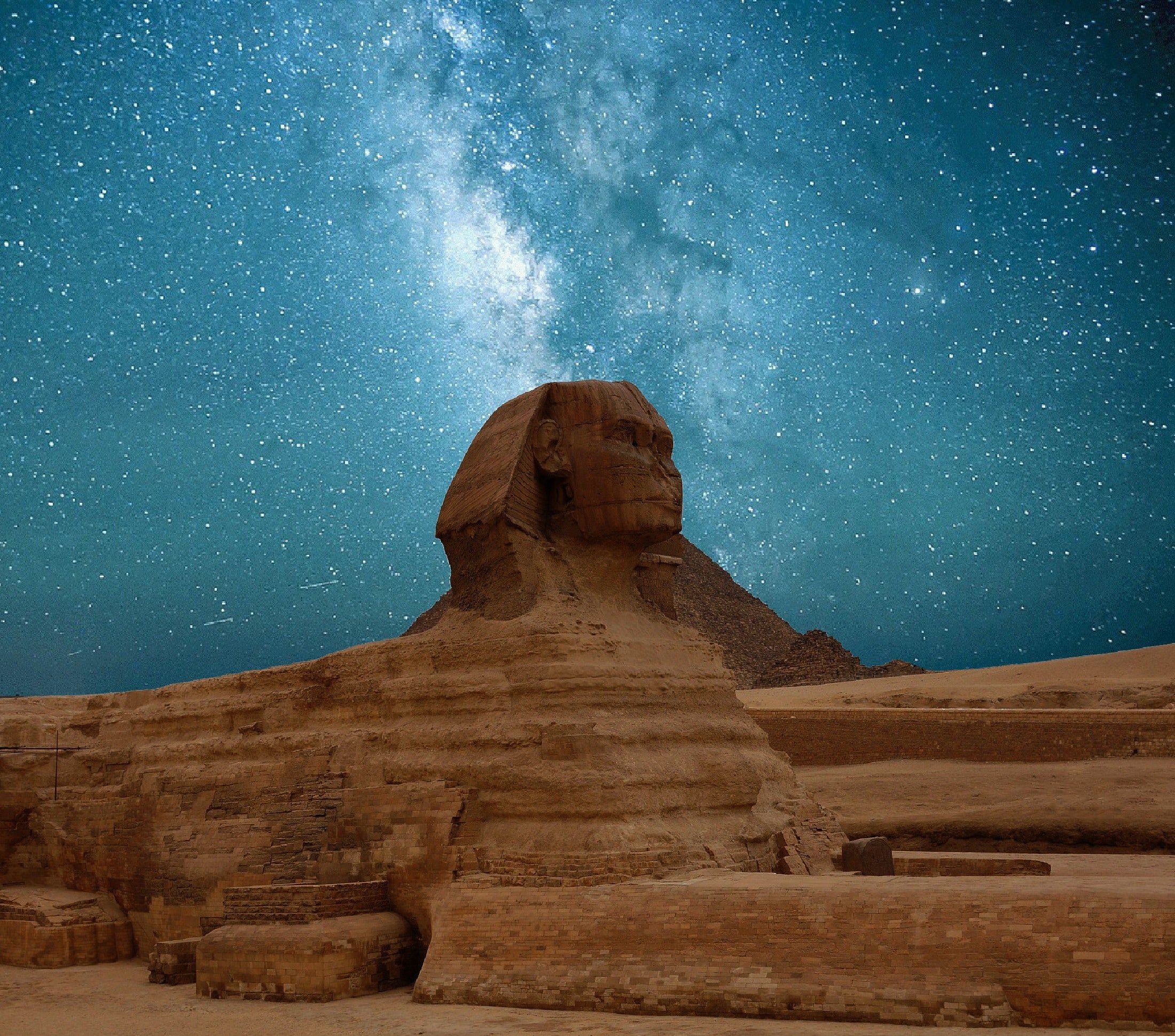 The Sphinx
I had to laugh at Domino's Pizza which is right across the street from the Sphinx. But if you can ignore that, you'll be wowed by this incredible feat of architecture and ingenuity.
The Sphinx's face represents Pharaoh Khafre, who ruled in 2570 BCE. Kahfre's burial pyramid is the second largest of the Giza Pyramids.
The Sphinx is also a popular hangout for local teenagers. Don't be surprised if they want to practice their English with you or take a photo.
The Egyptian Museum
Located in Cairo right off Tahrir Square, the Egyptian Museum is mind-boggling. It's filled with artifacts, some as old as 4,000 years. The museum is vast, with little hallways leading to rooms filled with priceless treasures.
Exploring the museum feels a bit like exploring a pyramid.
The mummies are the best part. Not only will you see the mummified remains of Egyptian leaders and their families, but you'll also see the animals they took to the afterlife as well.
I'm not sure why anyone would need a crocodile in the afterlife, but seeing it was fantastic.
Sharm el Sheikh
If you're a SCUBA diver or just want to soak up the sun on a gorgeous beach, Sharm el Sheikh is the place to be. Located on the Red Sea, Sharm el Sheikh boasts crystal-clear waters and some of the best diving in the world.
Sharm el Sheikh is also Egypt's party capital. While it's perfectly fine for non-Muslims to drink alcohol in Egypt, you won't find much of a party scene in places like Cairo.
Nightclubs line the beaches in Sharm el Sheikh, and you can dance the night away. And if you decide you want to risk a clandestine hookup, this is the safest place to do so.
The Valley of the Kings
659 kilometers south of Cairo is Luxor, home to the Valley of the Kings. Most visitors use an Egypt tour company to combine visits to Cairo and Luxor. You can reach Luxor by car, train, or on a luxury cruise up the Nile.
The Valley of the Kings is a series of tombs housing the remains of the pharaohs who ruled from the 18th to the 20th dynasties. The Valley of the Kings needs a week or more of your time, so try to book an Egyptian tour that gives this magical site the time it deserves.
Alexandria
Located on the Mediterranean coast north of Cairo is the spectacular city of Alexandria. Founded by Alexander the Great in 332 BCE, the lighthouse at Alexandria was one of the seven wonders of the ancient world.
Today Alexandria is a modern port city with spectacular views, delicious seafood, and souks full of souvenirs.
However, you can't visit Alexandria and not see the Bibliotheca Alexandrina. It's a modern take on the ancient library, which is said to have held more written knowledge than any other place in the world.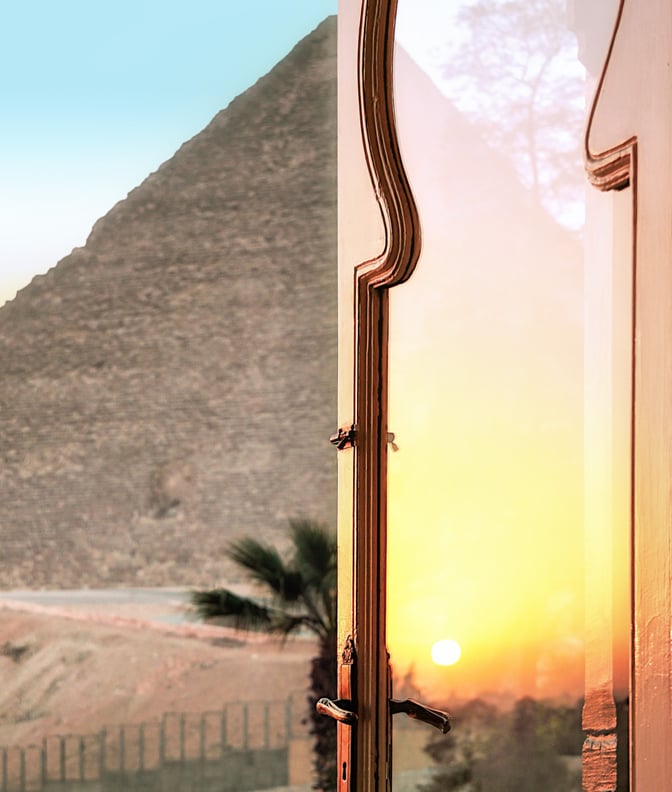 Pride events in Egypt
Pride events do happen in Egypt, but they're often underground, and participants are wary of repercussions. That being said, many members of Egypt's LGBTQ+ community are working hard to raise awareness and fight for their rights.
The United States Embassy does recognize Pride Month and may hold private events on the embassy compound. Check the embassy's website for more information.
Plan a safe LGBTQ+ Egypt visit
LGBTQ+ travelers can safely visit Egypt with a know-before-you-go attitude. Just be aware of your surroundings, dress in a conservative manner, and keep affection behind closed doors.
While it might be slow going, Middle Eastern countries are changing their attitudes related to LGBTQ+ rights. Since tourism boosts these economies, it's wise that they revisit their attitudes and laws regarding LGBTQ+ rights.
---
Read other EveryQueen x TrovaTrip LGBTQ+ travel guides:
---
About the author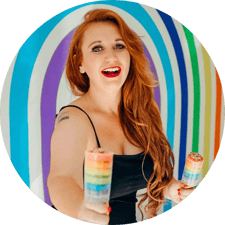 Meg Ten Eyck (she/her) is the CEO and founder of EveryQueer, a pillar in LGBTQ+ travel. Through detailed travel content, brand consulting, curated lesbian parties, and worldwide LGBTQ tours, the team teaches queer travelers how to safely see the world. Meg has been cited in two consecutive UNWTO Reports on LGBTQ Tourism as a leading expert and in the ETC's Report on LGBTQ Tourism. Meg is regularly a featured speaker and subject matter expert at travel conferences worldwide.
In 2019, Meg was selected as the International Woman of the Year for Facebook's initiative with Girl Gone International for her work in LGBTQ-inclusive travel. She is also the international brand ambassador for Contiki, Macy's, and Out Adventures. Meg serves on the Board of Directors of the International LGBT Travel Association and on the LGBT advisory board of Belmond Hotels and Resorts. Since starting in the LGBT travel industry, Meg has visited 65+ countries, spoken at LGBTQ conferences on five continents, published her first book, and had her content read by more than 10 million people.

Through detailed travel content, curated lesbian parties, and worldwide LGBTQ tours, EveryQueer teaches queer travelers how to safely see the world.
EveryQueer bridges across identities and borders by curating global LGBTQ+ content featuring LGBTQ+-affirming brands, destinations, and life-changing experiences. Like trusted friends, they share welcoming and affirming insider tips to inspire wanderlust and ensure our journey is as easy as it is unforgettable.
EveryQueer's mission is to inspire people of all sexual orientations, gender identities, and gender presentations to think differently about the global queer community while boldly seeking adventure and connection.