Jordan LGBTQ+ Travel Guide: How to Explore the Country Safely
Things to know and places to go on your next trip to this Middle Eastern favorite
Blog written by Meg Ten Eyck (she/her), CEO and founder of EveryQueer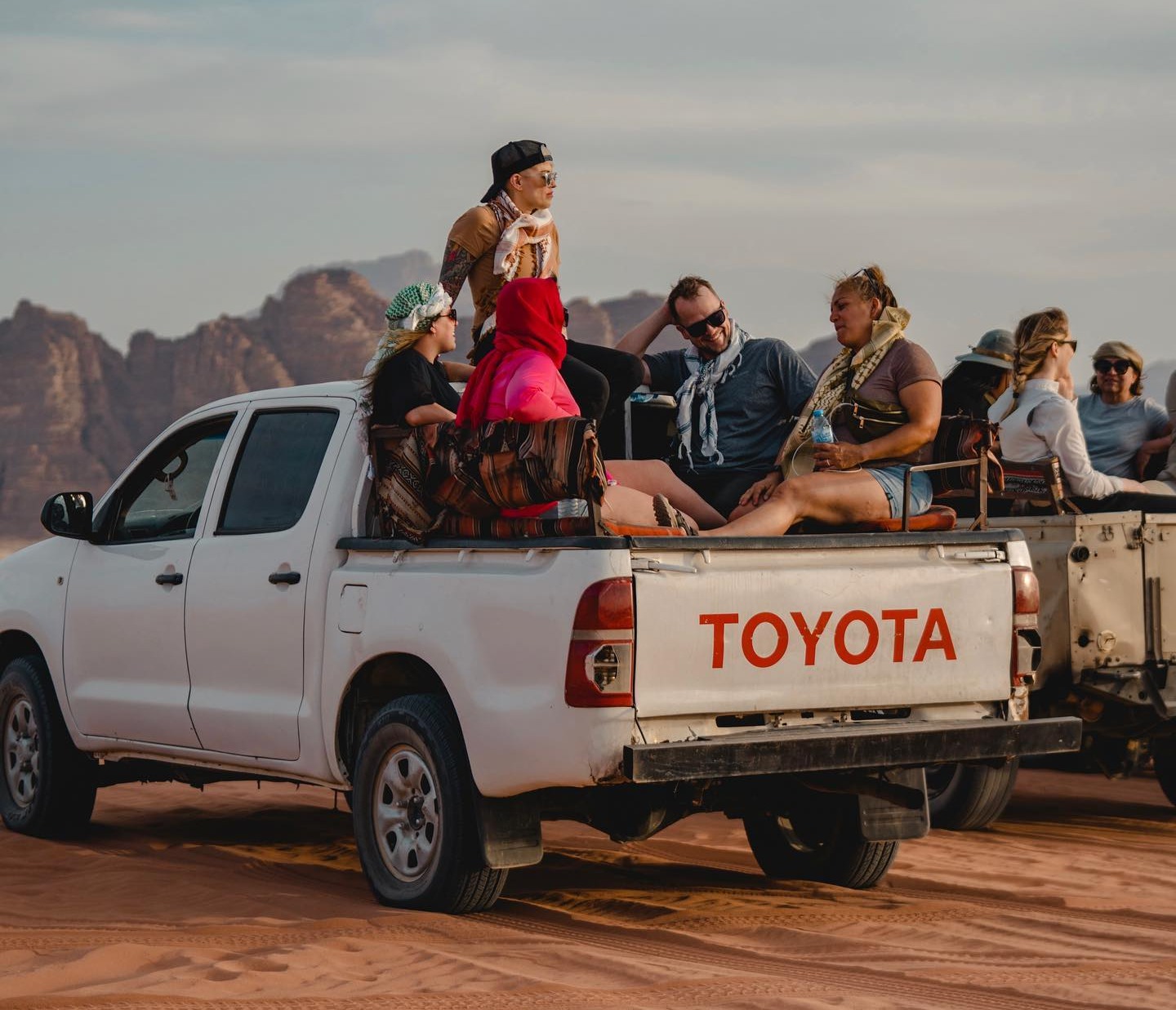 Jordan is a beautiful country inside and out. The scenery, the people, the food, and the ancient ruins make Jordan a bucket list item for many people. In fact, Jordan sees more than three million tourists every year.
But is Jordan LGBTQ+ travel safe? In this Jordan travel guide, we'll learn more about this progressive Middle Eastern country and what LGBT travelers can expect when they visit.
---
Key takeaways:
---
Things to know before you go to Jordan
If you're interested in traveling in Jordan, it's wise to know before you go. As LGBTQ+ travelers, we understand that brushing up on local information and customs is the key to a memorable and safe vacation. These facts will help you get started.
Jordan lies in the middle east and borders Israel, Syria, Iraq, and Saudi Arabia. The Dead Sea lies between Jordan and Israel. Islam is the official religion of Jordan and Arabic is the official language.
Jordan is a peaceful country with people of many religious groups living in harmony. To the point that Jordan is home to refugees from conflict areas in the region. Palestinians make up the largest refugee group. Syrians, Libyans, Yemenis, and Lebanese refugees are also represented.
The government of Jordan is a parliamentary monarchy. While most monarchal countries' royal families are symbolic, the King of Jordan retains significant power. Jordan's Prime Minister is responsible for being the head of parliament.
LGBTQ+ safety in Jordan
Most Middle Eastern countries still criminalize LGBTQ+ identity; Jordan decriminalized same-sex sexual activity in 1951. While there are few anti-LGBTQ+ policies in place, there are also few protections. Social acceptance still lags behind, for the majority of Jordanians are accepting of gay people.
Same-sex affection is common among straight Arabic people. Public displays of affection are frowned upon, even amongst straight couples. Even though Arab men often hold hands and kiss cheeks as a sign of friendship, as an LGBTQ+ foreigner, you should not do the same. Discretion is key.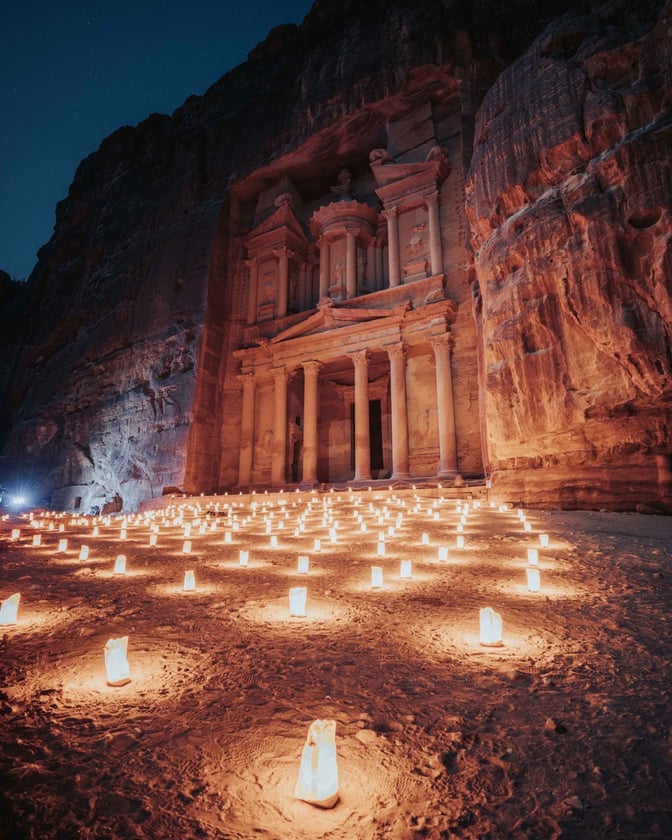 Local customs and culture in Jordan
Greetings in Jordan are often formal, and as a visitor, knowing how to respond shows respect. The typical greeting in Jordan is "Assalamu-Alaikum," which means "Peace be Upon You." No matter how you're greeting someone or receiving greetings from someone else, always stand up.
Handshakes aren't always the norm in Jordan. If someone extends their hand to you, take it. The up-and-down motion of Western handshakes isn't always necessary. A simple clasp of their hand will do. As a general rule, most Jordanian men will not shake hands with women.
Visiting someone's home
If you receive an invitation to visit someone's home while in Jordan, count yourself lucky. Jordanians are some of the most gracious people in the world. Visiting a private home will prove that.
Always remove your shoes before entering someone's home. Never show up empty-handed. A box of chocolates or dates is the perfect gift. Bringing small toys or gifts for the children will result in smiles for days.
Men and women often dine separately. In the case of a heterosexual couple, Jordanians may invite the woman to dine with her partner at the men's table. A lesbian couple will dine with the women. If you're transgender, join the gendered table you identify with.
How to dress appropriately
Jordan is liberal compared to other Muslim countries. However, Jordanians appreciate modest dress.
Shoulders and knees should be covered at all times. This applies to all genders. Avoid wearing graphic T-shirts featuring logos or designs that might be offensive.
For those identifying as women, long pants, dresses, or skirts are appropriate. Leave your tank tops at home and wear cap-sleeved T-shirts or long sleeves instead. Always carry a shawl or scarf with you to cover your hair.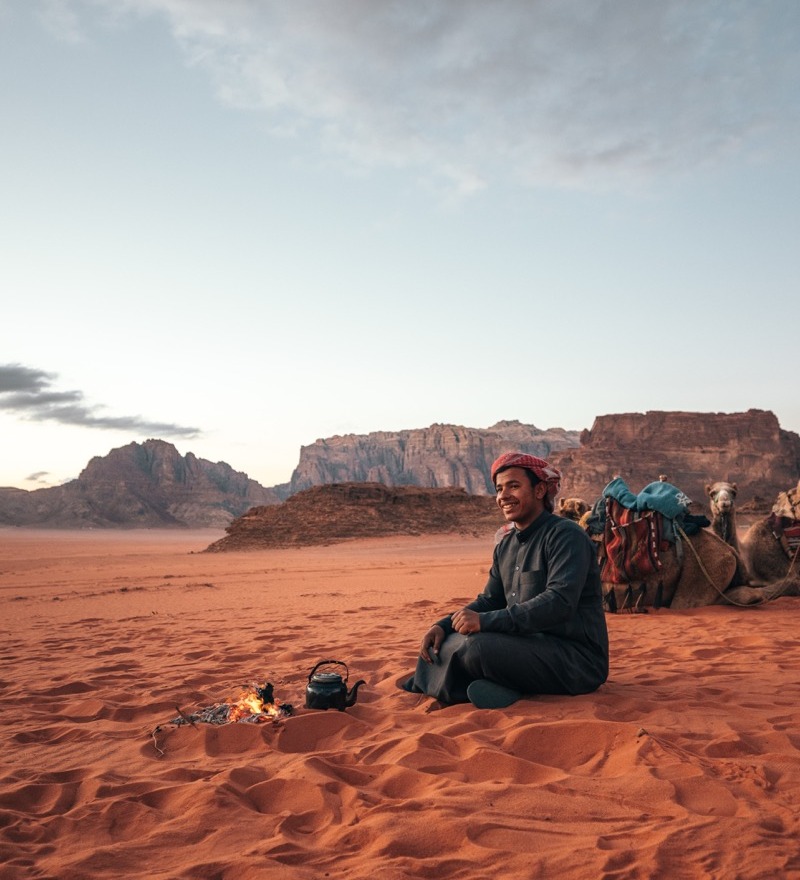 Be mindful when taking photos
Jordan is a photographer's dream. You'll find beauty around every corner. However, taking photos of locals comes with strict rules.
Never take photos of local women or children. Local men might be more agreeable to having their photos taken but always ask permission first. Always refrain from taking pictures of anyone in uniform. Never take photos of military installations or checkpoints. This is even more important at the border with Israel.
Dating apps in Jordan
Dating apps are very popular in Jordan. Both locals and travelers use them to meet friends, find dates, and hookup. Use the same common sense dating app rules in Jordan that you'd use anywhere else.
Tinder and Grindr aren't blocked, and many travelers use these apps to meet people in Jordan.
Some other popular dating apps include Watts Abbey Golden Plus, Sweet Meet, Ahlam, Evermatch, Badoo, BuzzArab, and Muzz. All of these are in your preferred app store.
Must-see spots in Jordan
Jordan may be a small country, but it's big on gorgeous landscapes, archaeological wonders, and stunning architecture. If you just have a few days, you can hit the highlights. If you can spend more time in Jordan, you're in for a delightful surprise.
Petra
Images of Petra are some of the most beautiful travel photos on Instagram. Exploring the ancient city via camera lens is what drew me to Jordan, and I was not disappointed. This ancient city was designated a UNESCO site in 1985. In 2007 it was recognized as one of the Seven Wonders of the World.
People inhabited Petra as long ago as 300 BCE. The Nebauteus people built Petra, and it was an important point of trade with ancient Greece, Rome, China, and Egypt.
Some of the most stunning parts of Petra are the Treasury, the entrance to the city called the Siq, and the Petra Royal Tombs. Since Petra covers more than 60 square kilometers, you could easily spend an entire day or two exploring this awe-inspiring ancient site.
The only drawback is Petra is full of touts. Locals will try to sell you unofficial guided tours, donkey and camel rides, and entrance to off-limits areas. Feel free to say no and walk away if you're not interested.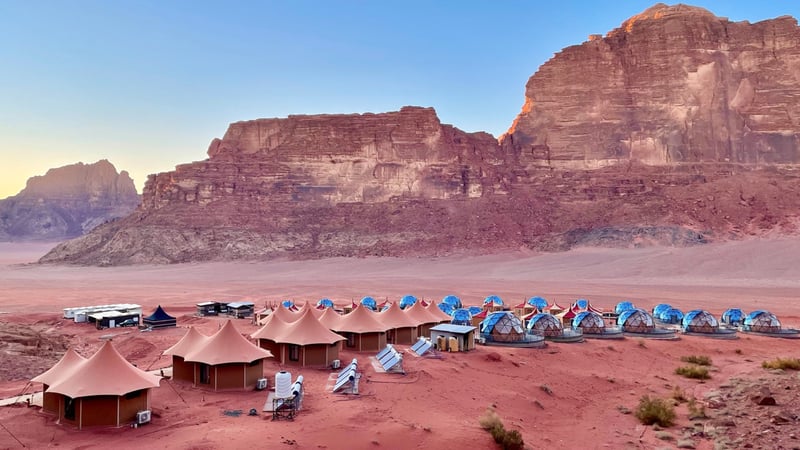 Wadi Rum
If there's a more beautiful desert in the world, I've never seen it. Wadi Rum covers 74,000 hectares and is blanketed by glistening sand as far as the eye can see.
Horseback and camel rides are very popular, as are dune-bashing tours. You can also combine either or both of these with an overnight stay at a Bedouin camp.
Staying overnight in Wadi Rum is an experience like no other. Your guides will drive you to your camp, prepare an authentic meal for you, and set you up in a traditional Bedouin tent for the night. If the skies are clear, ask about taking your cots outside.
The starry night sky in Wadi Rum is like nothing you've ever seen before.
The legendary Lawrence of Arabia spent time in Wadi Rum, and you can visit the ruins of his dwelling. Your guides can also show you ancient petroglyphs left by the traders who crossed the desert centuries ago.
The Dead Sea
At 1,414 feet below sea level, the Dead Sea is the lowest place on Earth. Its salt content is also one of the highest in any body of water.
A trip to the Dead Sea is a must when you're in Jordan. Upscale resorts and spas line the coast, but there are plenty of places to jump in the water if you're just passing through.
However, when you jump, don't expect to sink. The high amount of salt in the water means you'll float like a cork.
The mineral-rich mud in the Dead Sea allegedly has healing properties and is great for your skin. The locals will be happy to slather you in mud, or you can visit a spa for a more decadent experience.
LGBTQ-friendly spots in Amman
Amman is the capital of Jordan, and it's the most cosmopolitan place in the country. You won't find a lot of LGBTQ bars in Amman, but you will find plenty of LGBTQ+ expats and tourists who can point you in the right direction.
Rainbow Street
While the "rainbow" in Rainbow Street might not be an open advertisement for gay-friendly establishments, it's still a very popular place for people of all orientations.
Shopping, dining, and pubs dominate Rainbow Street, and it's a fantastic place to people-watch, have dinner, and plan the rest of your night.
Books@Cafe
Books@Cafe is one of the few places in Amman that's well-known for being gay-friendly. While its clientele mostly features expats and tourists, it's still a fabulous spot to eat, drink, and mingle.
Unlike many of the other pubs and restaurants in Amman, Books@Cafe stays open late, and you'll always find a lively crowd.
District
There's nothing dreamier than a rooftop bar during a Jordanian sunset. District is the place to be when the sun goes down and the night heats up.
District is located on the roof of the Shepherd Hotel and features contemporary cuisine, well-crafted cocktails, and a hip, urban vibe. Again, District is not advertised as a gay bar, but the gay community does congregate here.
Pride events in Jordan
Sadly, Pride events in Jordan have a hard time getting off the ground. In 2015, the US Ambassador to Jordan attended a small event celebrating diversity and received backlash.
Then, just last year, the governor of Amman strictly forbade any public LGBTQ+ events after rumors of these events surfaced on social media. However, private Pride events are likely occurring behind closed doors.
My Kali Magazine is Jordan's unofficial LGBTQ publication and offers a wealth of information about the goings on in Jordan's LGBTQ+ community. Any information about Pride events is published here.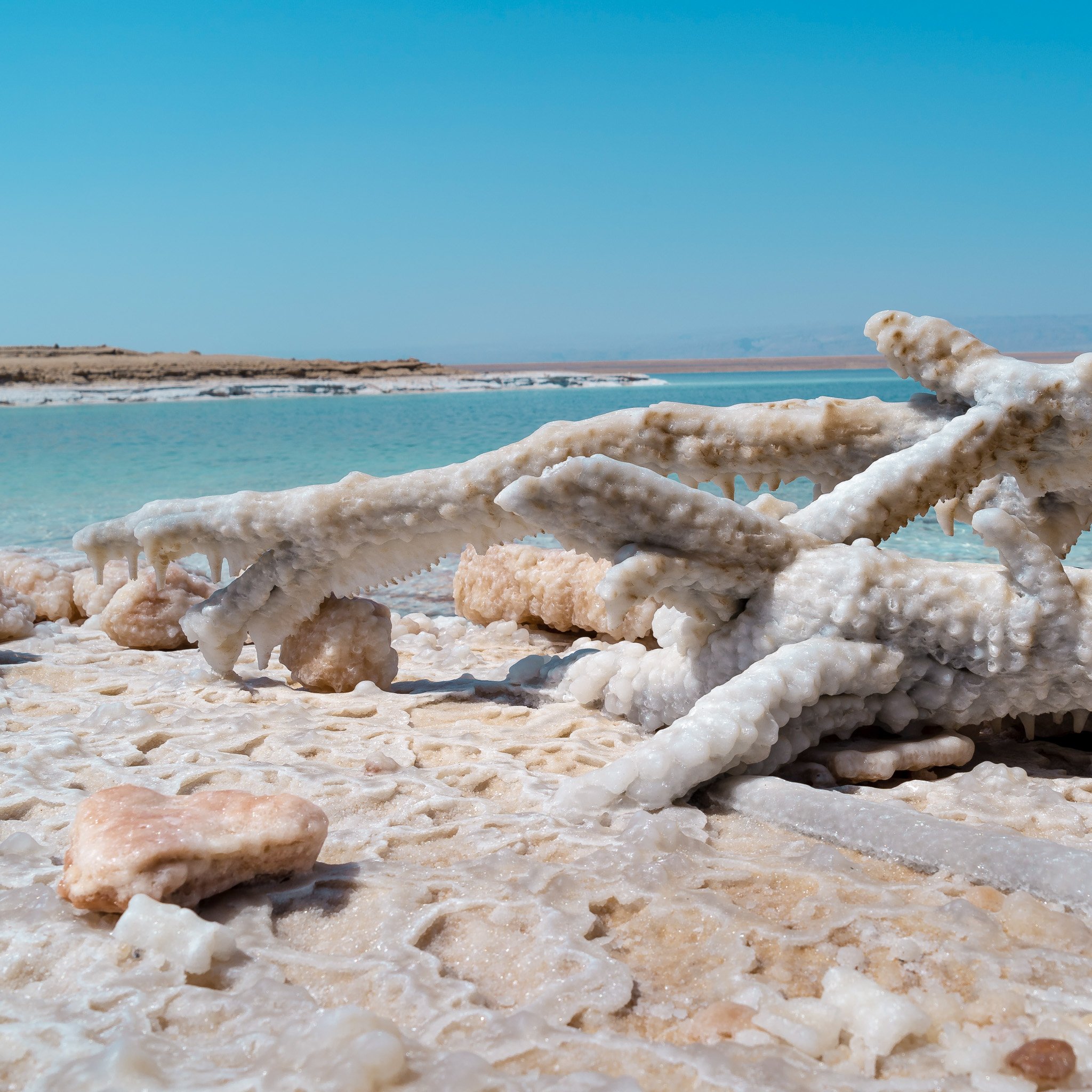 Jordan: An unexpected destination for exploration
While Jordan might not be the most gay-friendly country in the world, it's leaps and bounds ahead of its Middle Eastern neighbors. Being LGBT in Jordan is not a crime, but you do have to be cautious and respectful.
If you're interested in an exotic vacation full of history, fantastic food, and beauty everywhere you look, Jordan should be at the top of your list. As more LGBT travelers head to Jordan, the country may begin a move toward being even more LGBTQ+-friendly.
---
Read other EveryQueen x TrovaTrip LGBTQ+ travel guides:
---
About the author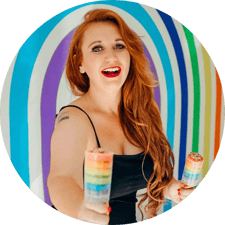 Meg Ten Eyck (she/her) is the CEO and founder of EveryQueer, a pillar in LGBTQ+ travel. Through detailed travel content, brand consulting, curated lesbian parties, and worldwide LGBTQ tours, the team teaches queer travelers how to safely see the world. Meg has been cited in two consecutive UNWTO Reports on LGBTQ Tourism as a leading expert and in the ETC's Report on LGBTQ Tourism. Meg is regularly a featured speaker and subject matter expert at travel conferences worldwide.
In 2019, Meg was selected as the International Woman of the Year for Facebook's initiative with Girl Gone International for her work in LGBTQ-inclusive travel. She is also the international brand ambassador for Contiki, Macy's, and Out Adventures. Meg serves on the Board of Directors of the International LGBT Travel Association and on the LGBT advisory board of Belmond Hotels and Resorts. Since starting in the LGBT travel industry, Meg has visited 65+ countries, spoken at LGBTQ conferences on five continents, published her first book, and had her content read by more than 10 million people.

Through detailed travel content, curated lesbian parties, and worldwide LGBTQ tours, EveryQueer teaches queer travelers how to safely see the world.
EveryQueer bridges across identities and borders by curating global LGBTQ+ content featuring LGBTQ+-affirming brands, destinations, and life-changing experiences. Like trusted friends, they share welcoming and affirming insider tips to inspire wanderlust and ensure our journey is as easy as it is unforgettable.
EveryQueer's mission is to inspire people of all sexual orientations, gender identities, and gender presentations to think differently about the global queer community while boldly seeking adventure and connection.