LGBTQ+ Morocco Travel Guide
What you need to know to safely explore and enjoy Morocco
Blog written by Meg Ten Eyck (she/her), CEO and founder of EveryQueer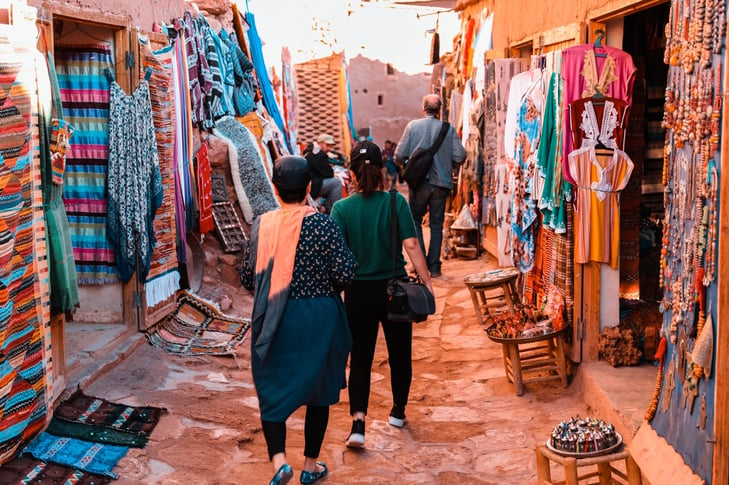 Morocco has so many amazing experiences to offer, including beautiful, remote waterfalls, lively markets, treks through the desert, and gorgeous beaches that are perfect for lounging and soaking up the sun. You'll also find plenty of delicious local cuisine and rich, vibrant nightlife.
However, there are LGBT Morocco travel tips you'll need to familiarize yourself with prior to taking your trip, especially since being part of the LGBTQ+ community is illegal in Morocco.
This LGBT Morocco travel guide has been put together to help you stay safe on your trip and enjoy the country to its fullest.
---
Key takeaways:
---
Morocco: A quick overview
Morocco has a beautiful coastline and sits a little less than ten miles away from Spain. It's home to the world-famous Sahara Desert and features the Atlas Mountains and their snow-capped peaks.
A melting pot of culture, Morocco was ruled at different times by the French, Spanish conquistadors, Berbers, and Arabs, and has hundreds of years of history as a home to Jews.
There are tons of great retreats and excursions to check out, including fishing tours, camel rides, and Sahara excursions. If you're interested in mountain hiking, then Morocco is for you. The four most popular cities attracting Western tourists are Fes, Essaouira, Chefchaouen, and Marrakech.
LGBTQ+ safety in Morocco
Although Morocco is a population destination for many LGBTQ+ travelers, LGBTQ+ rights in Morocco are greatly affected because being gay is illegal. Morocco is an Islamic country, and being gay is punishable by law. This doesn't mean you shouldn't visit Morocco–just ensure you exercise caution, understand local customs, and know the best places to visit.
Unlike Spain, members of the LGBTQ+ community in Morocco have encountered societal and legal barriers. In Morocco, being gay is considered a threat to "traditional values."
These values align with Muslim teachings and with what they deem "heterosexual norms." No matter what country you visit, it's important to understand that, as a visitor, you need to adhere to local customs and cultures, especially for your own safety.
Tangier, Marrakech, and Agadir are three sites that have a lot of spots that are friendly to the LGBTQ+ community. Just because being gay is illegal in Morocco doesn't mean there's no gay culture. Casablanca, for example, is one of the most urban cities and is a focal point for the local gay community.
Moroccan customs and culture
One way to help keep yourself safe is to understand and portray customs from the area you're visiting. Even if there was little safety risk for LGBTQ+ people, it's always important to respect culture and customs.
When greeting someone in Morocco, keep in mind that they're more formal. However, they are also warm and inviting.
Moroccans say "salaam alykum" to everyone. This means "hello." It doesn't matter if you're in a large gathering or not—Moroccans will ask you about your health and how your family and children are doing.
Same-sex individuals typically greet with two air kisses on each cheek, or they shake hands. However, opposite sexes never do this unless they know one another extremely well.
When men greet women, they wait for her to extend her hand. If she doesn't offer her hand for a handshake, he bows his head for his greeting.
Be sure to greet with your right hand—the left hand is viewed as unclean. Due to the pandemic, it's common for Moroccans to touch elbows or even place their left hand over their heart following a nod, along with a greeting of "salaam alykum."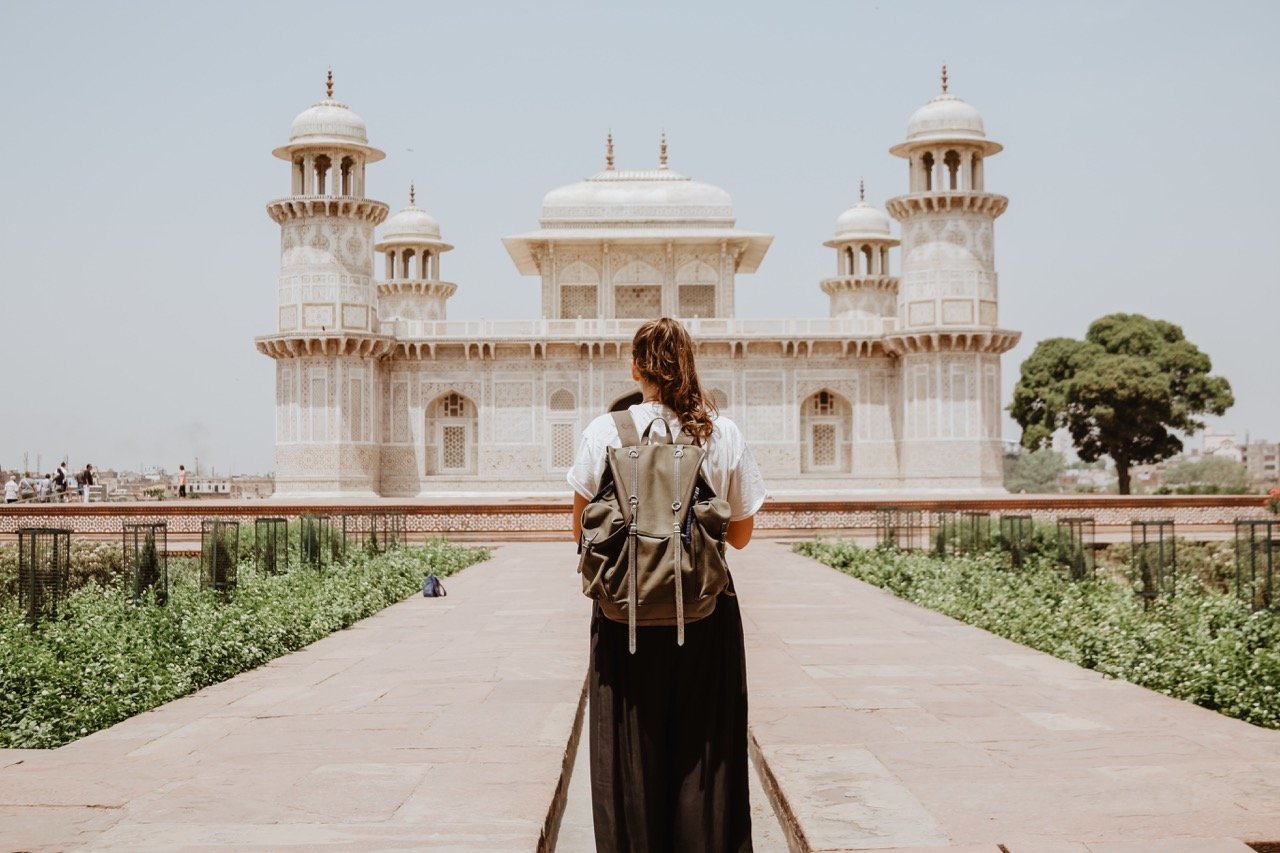 What to wear in Morocco
Men are expected to wear collared shirts or t-shirts that cover their shoulders, along with shorts or pants that come to their knees. Women are expected to wear loose-fitting, long clothing. Their upper arms, chest, midriff, back, and knees should be covered.
Foreign women don't have to cover their hair unless visiting a mosque, so a scarf is advisable for modesty. Swimwear is reserved for the beach and needs to be covered up before leaving the beach area.
EveryQueer's trans employees understand the nuances that can come along with gender, but in a country where the cultural customs are gendered, one should be mindful of what is expected, and try to come prepared, mentally and physically.
When visiting rural areas, cover your arms and legs, as they're more conservative. The cities are a bit more relaxed but the locals appreciate it if you respect the Moroccan culture by dressing modestly.
As for shoes, bring some comfy sandals, as you'll find yourself slipping them off quite a lot when you enter homes and religious sites.
Remember, if you're visiting during Ramadan, you should dress even more conservatively. Also, you won't be expected to fast, but it is polite to eat, drink and smoke indoors away from the locals who are fasting during the holy month of Ramadan.
Avoid using dating apps
Unfortunately, there aren't any recommended dating apps for the LGBTQ+ community in Morocco due to limited LGBTQ+ rights. A prominent influencer on social media had previously sparked a campaign that outed members of the LGBTQ+ community. Instagram followers were advised to establish fake dating app accounts, targeting and outing members of the gay community.
Police will use dating apps as a means of entrapment. They'll create fake profiles and lure users into meeting up with them and then arrest them. If you're meeting up with someone you don't know, exercise extreme caution and be really sure of who you're meeting to avoid dangerous situations.
However, this doesn't mean you can't connect with other members of the LGBTQ+ community while traveling to Morocco. You just need to know where to visit.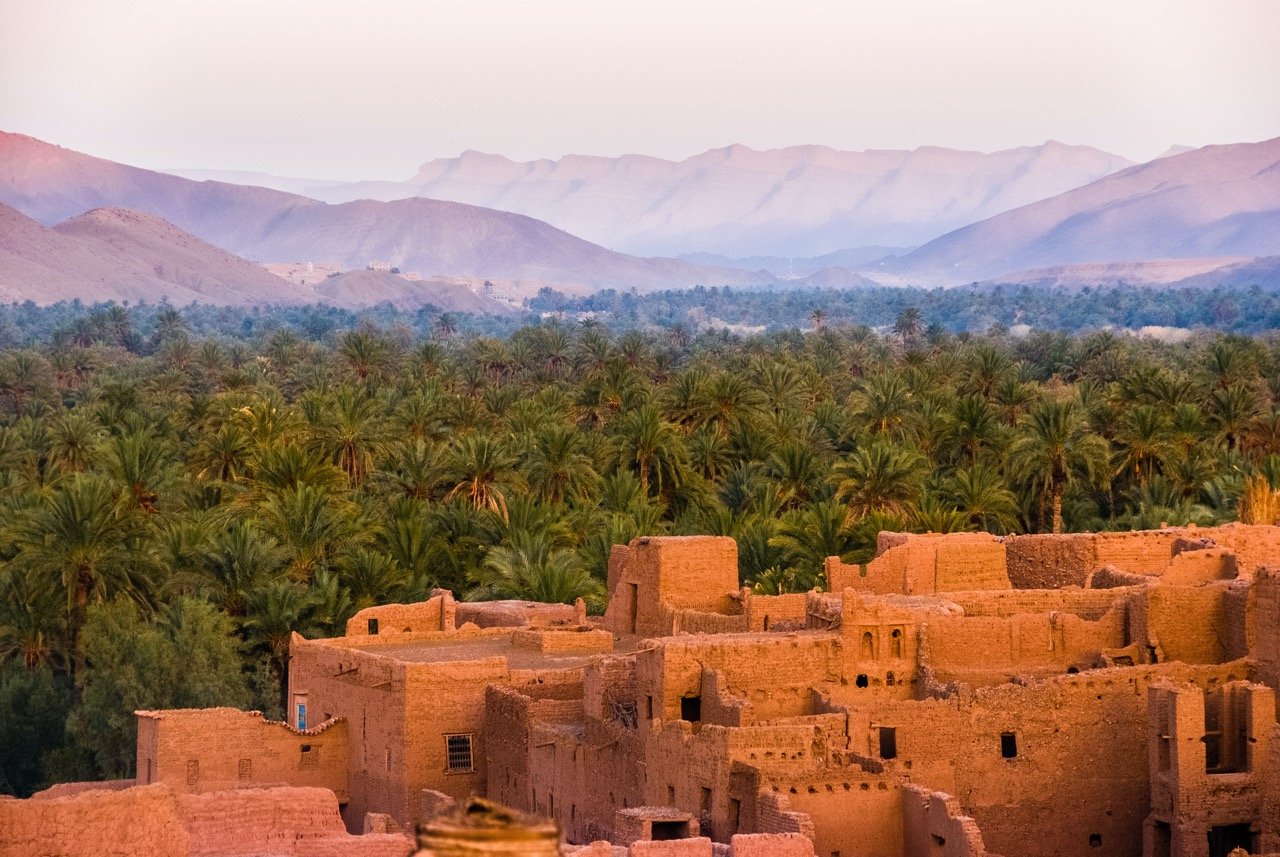 Must-see destinations in Morocco
As previously mentioned, Tangier, Marrakech, and Agadir are three cities worth visiting. Here's what you can expect.
Tangier
Tangier is up and coming. You'll find a small gay expat scene in Tangier.
It used to have a larger gay scene, but as male sex work increased, so did the harassment by authorities. Remember to always be discreet if you meet with a same-sex sex worker within the country, as ramifications can be serious.
Lesbians in Morocco face fewer issues. However, this doesn't mean it's easy for them to express their sexuality. Women enjoy fewer freedoms than men and are expected to be publicly accompanied by their husbands or other members of their families. Because of this, it's difficult for women to have relationships with other women and freely express themselves, which is what leads to fewer public issues.
Marrakech
Marrakech, on the other hand, is the LGBTQ+ hub of activity for expats in Morocco. You'll even find celebrities such as Yves Saint-Laurent who call Marrakech home. This cosmopolitan city is rife with tourism and the various bars and nightclubs offer a mixed crowd.
Should you see two men holding hands, keep in mind that same-sex affection, when platonic, is displayed openly in Morocco.
Agadir and Essaouira
Although Essaouira and Agadir don't have gay scenes, their beaches attract a very large European gay tourist following. As you venture from urban areas to the desert and mountain areas, you'll find conservative but tolerant communities.
Hiking and Trails
If you're looking for some of the best hikes and trails in Morocco, consider Jebel Toubkal, Jebel Saghro, and M'Goun Massif. You should also check out Jebel Sirwa, Rif Mountains, Ifrane National Park, and Paradise Valley.
Gay-friendly hotels in Marrakech
There are plenty of places to hang out in Marrakech. Comptoir Darna is a great place to enjoy a blend of gay and straight foreigners and locals, along with signature cocktails. You'll also find North African dance music.
Although there aren't any gay hotels, foreign-owned properties typically offer more like-minded people.
If you're looking for a local experience, here's a list of riads to visit.
Riad Dar Zaman
This gay-friendly riad is located in the Medina. It also has tips for the best places to visit in Marrakech. During the summer months, you can enjoy the sun terrace and pool. In the winter, take advantage of the fireplace.
Riad Tibibt
This attractive riad is a short walk from Djemaa El Fna market square. This discreet place may even allow some nude sunbathing.
Riad L'Orchidee
Are you looking for a modern design fused with classic Moroccan architecture? If so, Riad L'Orchidee is ideal. You can relax on the sun terrace or spend the day in the city.
La Maison Des Oliviers
If you're interested in a large pool, then look no further. Although this riad is 8km outside of Marrakech's city center, you can relax and unwind.
Ryad Dyor
This modern riad is tastefully decorated. It's located in the medina and boasts an outdoor pool and a sun terrace to relax on.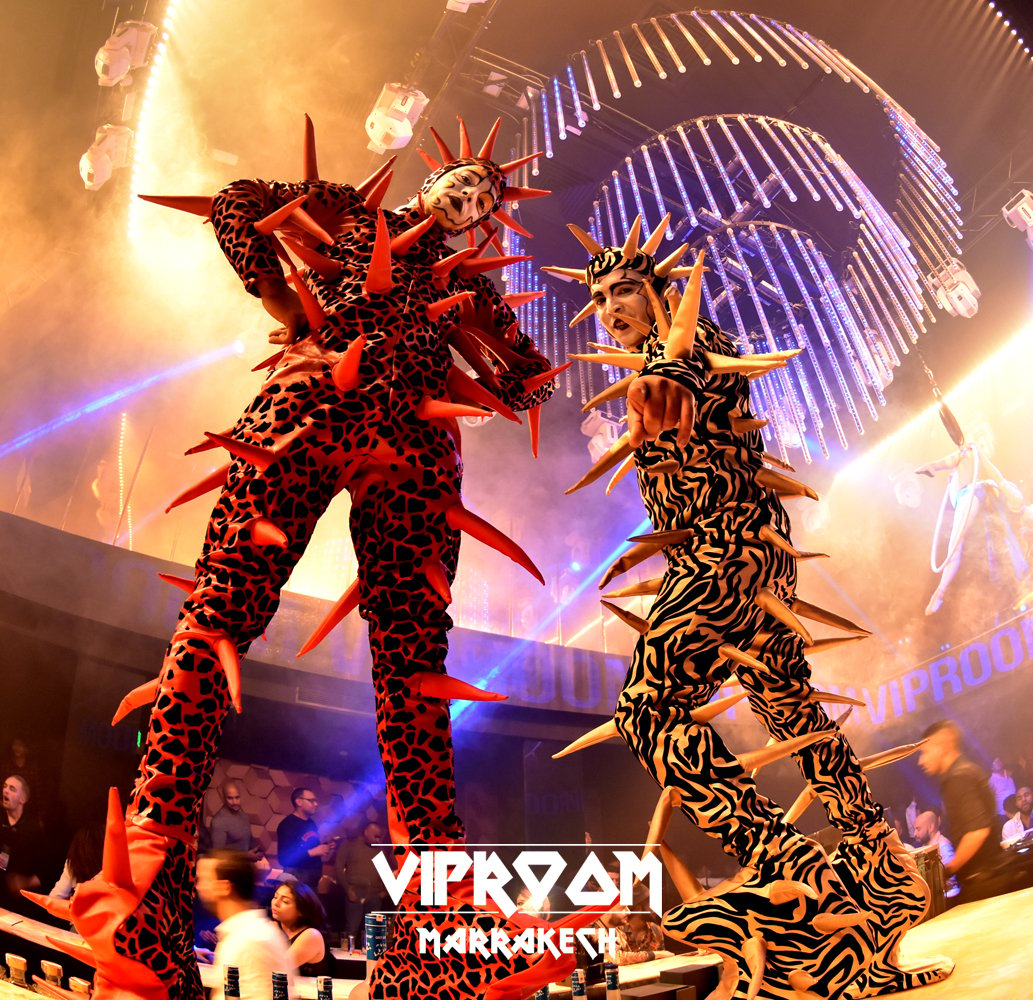 Gay-friendly clubs in Morocco
Once you're done relaxing at your hotel or riad, you can enjoy a night on the town. Here are some gay-friendly clubs to check out.
Plastik Club
Tourists looking to visit Casablanca should visit the Plastik Club, formerly Candy Bar. It offers an anything-goes feel, and patrons dress in wild outfits and dance to the best music. There are plenty of strobe lights for ambiance and you may find live entertainment, depending on the night you go. Some parties have a carnival feel to them.
Café Ramses
While there's no alcohol served, you'll find delicious cuisine and plenty of hot and cold drinks to enjoy. This cozy café is very intimate and has a terrace perfect for people watching and enjoying the atmosphere.
Tanger Inn
If you're in search of a spot that previously attracted open-minded liberals such as William S. Burroughs, Jack Kerouac, Tennessee Williams, and Federico García Lorca, then this is the place to be. The Tanger Inn is within the Hotel El Muniria and is great for LGBTQ+ travelers.
Restaurant d'Orient et d'Ailleurs
This is a discreet, romantic restaurant located in Essaouira. If you're looking for a relaxing spot to share a romantic drink with a loved one, then this is where you need to visit.
VIP Club Marrakech
Gay, transgender, and lesbian travelers alike will enjoy VIP Club Marrakech. Dance among the glitz and glamour as strobe lights pave the way for exciting dance music. You can enjoy techno in one part of the club or experience a Moroccan cabaret show in a different part of the club.
Café Grand Atlas
This café and bar features a relaxed vibe. Its roof terrace is very popular, and you can enjoy a classic Moroccan meal while enjoying a relaxing atmosphere.
Comptoir Darna
Are you searching for a cozy, romantic spot? Comptoir Darna is a bar and restaurant that is popular for couples regardless of their sexual orientation. This welcoming location has plenty of food and dancing for everyone to enjoy.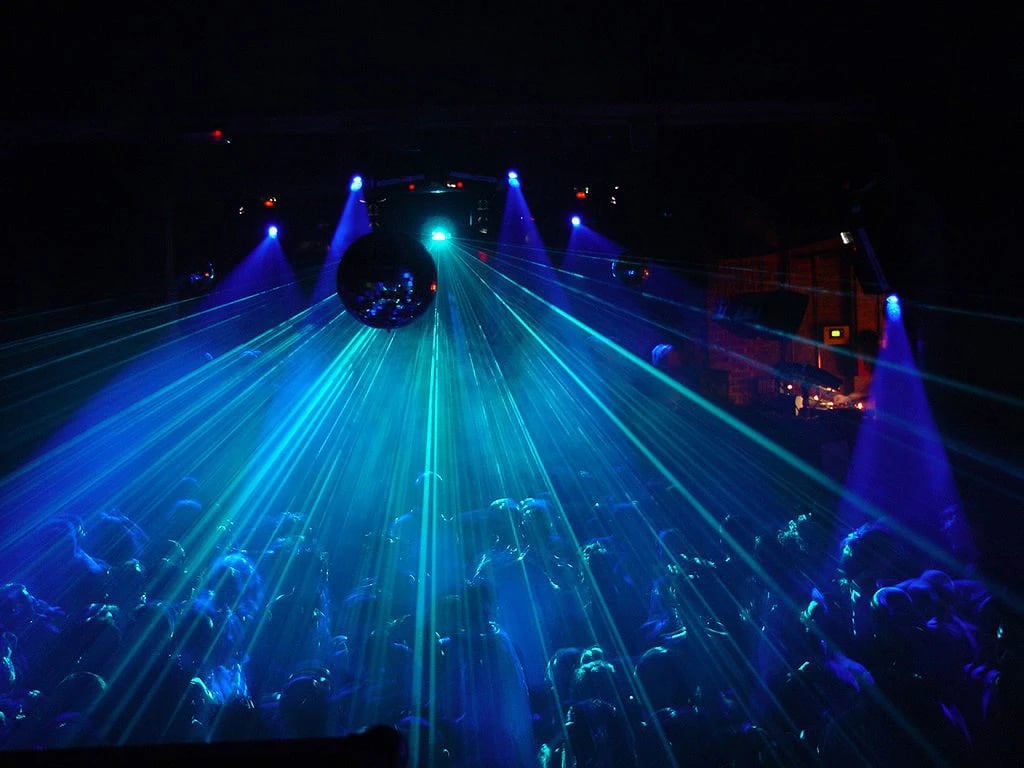 Flamingo Oriental Night Club
This nightclub boasts the latest hits in music while attracting locals and tourists alike. LGBTQ+ tourists visiting Agadir feel at ease when visiting this seaside resort.
Ryad Mogador Al Madina
If you're looking for more modern music, consider the Ryad Mogador Al Madina. Music flows till the early hours, and it's close to the beach if you're looking for a moonlit stroll afterward.
Moroccan Pride events
Unfortunately, there aren't any open Pride events, due to homosexuality being illegal in Morocco. However, you can visit any of the aforementioned LGBTQ+ friendly clubs, bars, and hotels mentioned above.
Morocco does have an LGBTQ+ non-governmental organization, Kif-Kif. It's recognized by Spain since it is not legally recognized in Morocco and has a focus on LGBTQ+ rights. It's open to anyone who believes in its value of human rights, but is threatened by the conservative parts of the country.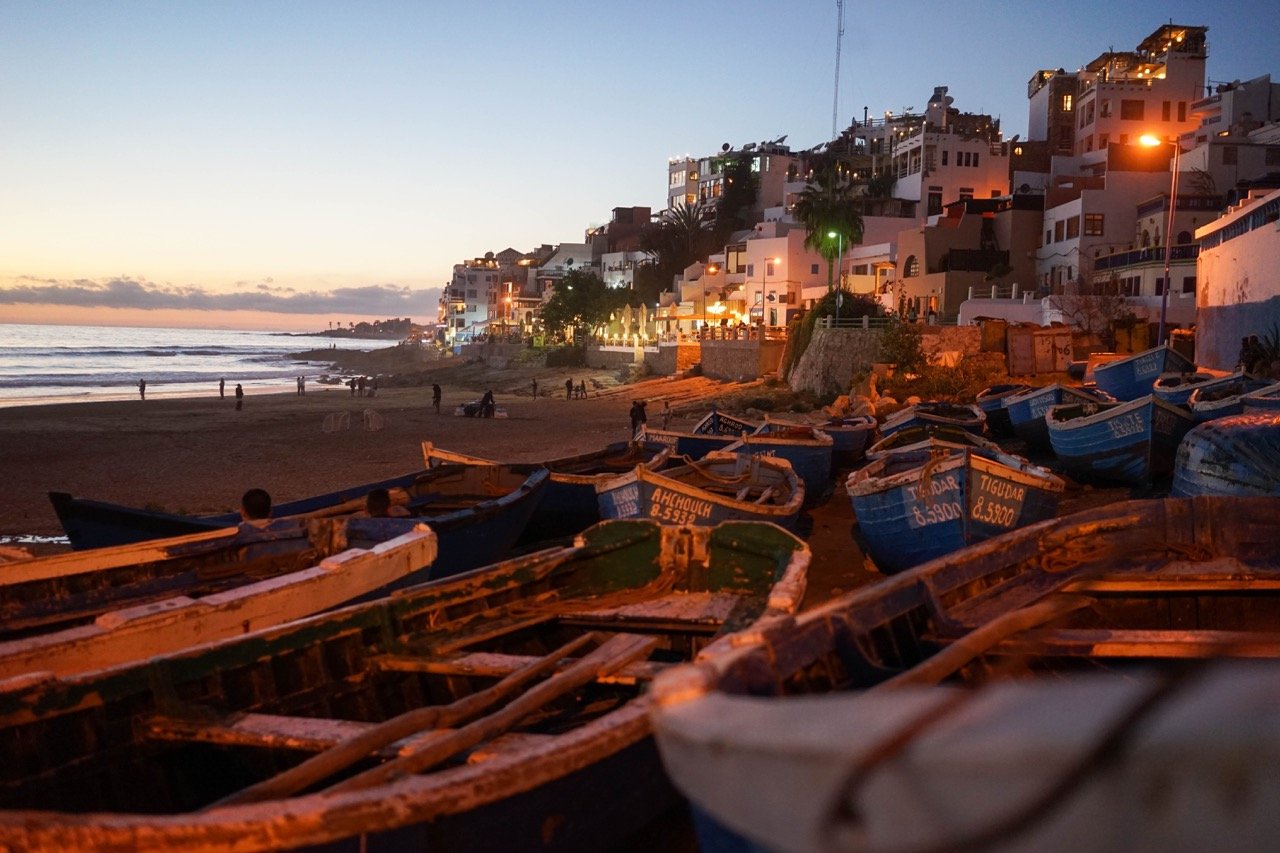 LGBT Morocco
Now that you know some LGBT Morocco hotspots and what you can expect, you can start planning your trip! Remember that no matter where you go in Morocco, being gay is illegal. You'll need to be vigilant when visiting, but that doesn't mean you can't have a great trip and enjoy all the country has to offer.
---
Read other EveryQueen x TrovaTrip LGBTQ+ travel guides:
---
About the author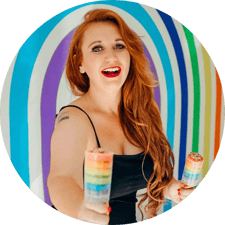 Meg Ten Eyck (she/her) is the CEO and founder of EveryQueer, a pillar in LGBTQ+ travel. Through detailed travel content, brand consulting, curated lesbian parties, and worldwide LGBTQ tours, our team teaches queer travelers how to safely see the world. Meg has been cited in two consecutive UNWTO Reports on LGBTQ Tourism as a leading expert and in the ETC's Report on LGBTQ Tourism. Meg is regularly a featured speaker and subject matter expert at travel conferences worldwide.
In 2019, Meg was selected as the International Woman of the Year for Facebook's initiative with Girl Gone International for her work in LGBTQ-inclusive travel. She is also the international brand ambassador for Contiki, Macy's, and Out Adventures. Meg serves on the Board of Directors of the International LGBT Travel Association and on the LGBT advisory board of Belmond Hotels and Resorts. Since starting in the LGBT travel industry, Meg has visited 65+ countries, spoken at LGBTQ conferences on five continents, published her first book, and had her content read by more than 10 million people.

Through detailed travel content, curated lesbian parties, and worldwide LGBTQ tours, EveryQueer teaches queer travelers how to safely see the world.
EveryQueer bridges across identities and borders by curating global LGBTQ+ content featuring LGBTQ+-affirming brands, destinations, and life-changing experiences. Like trusted friends, they share welcoming and affirming insider tips to inspire wanderlust and ensure our journey is as easy as it is unforgettable.
EveryQueer's mission is to inspire people of all sexual orientations, gender identities, and gender presentations to think differently about the global queer community while boldly seeking adventure and connection.