Connecting the LGBTQ+ Community in Costa Rica Through Travel
Portland couple, Ash and Mac, Host a LGBTQ+ TrovaTrip to Costa Rica

.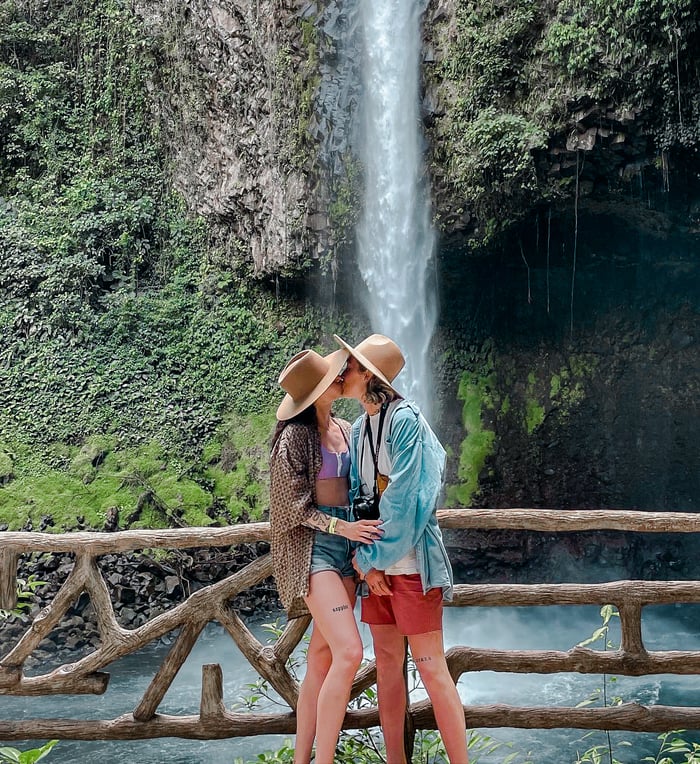 Portland-based couple Ash and Mac are great advocates for all things LGBTQ+ and are well-loved by their large social media community. When we approached them about hosting an LGBTQ+ friendly trip using the TrovaTrip platform, they jumped at the chance and immediately started planning their experience
Ash and Mac loved the idea of hosting a trip to a tropical location that was also safe for LGBTQ+ travelers. With Bali, Thailand, and Costa Rica trending as top destinations on their audience survey, they planned and launched trips to all three. Knowing how impactful an opportunity to bring the queer community together on a vacation would be, they marketed their retreats as "Big Gay Trips to meet new queer friends and connect with the LGBTQ community." This messaging hit home for so many and created such a buzz, that their first two trips each sold out in a couple of hours!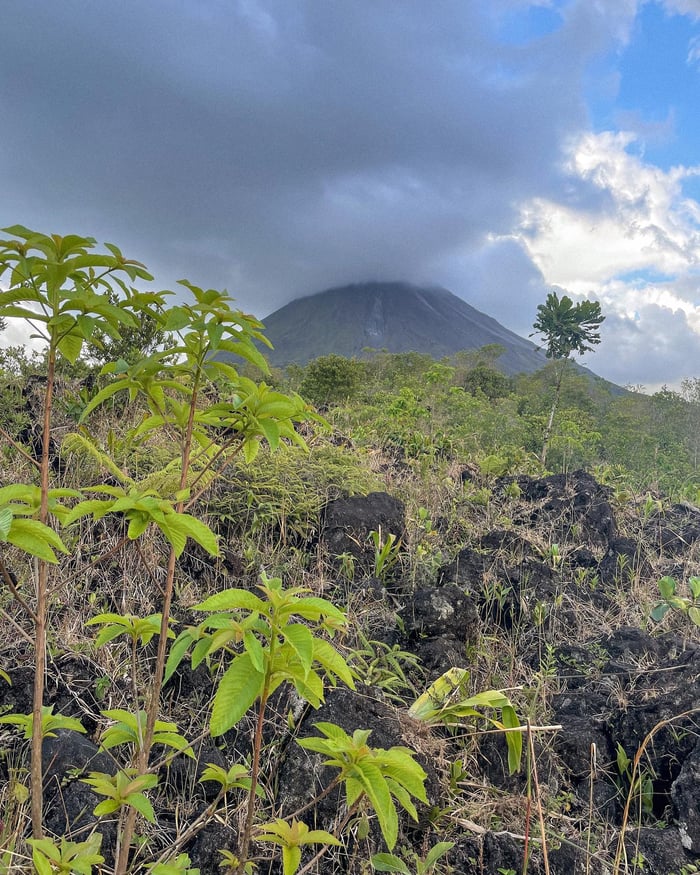 LGBTQ+ Friendly Costa Rica
Costa Rica is famous for its temperate climate, serene beaches and amazing coffee. But besides the beautiful coastlines on both the Caribbean and Pacific oceans, Costa Rica is also the first country in Central America to legalize same-sex marriage, creating a safe and enjoyable travel destination for LGBTQ+ travelers.

In 2020, Costa Rica passed multiple pieces of legislation to strengthen anti-discrimination laws on the basis of sexual orientation, further protecting the rights of its citizens and the many queer travelers each year. While no place in the world is safe from crimes of hate, queer travelers are mostly treated with respect by locals who live by their Pura Vida (pure life) mantra, with gay-friendly nightclubs, bars and beaches popping up all around the country.

At TrovaTrip, our mission is to make travel safer and more accessible to everyone. To that end, we vet each destination and operator to ensure our safety and inclusion goals are met for all our travelers. To further ensure we're best serving the LGBTQ+ community, we partner with the International Gay and Lesbian Travel Association (IGLTA), the world's leading network of LGBTQ+ friendly tourism businesses. IGLTA provides free LGBTQ+ resources and promotes equality and safety in the travel industry.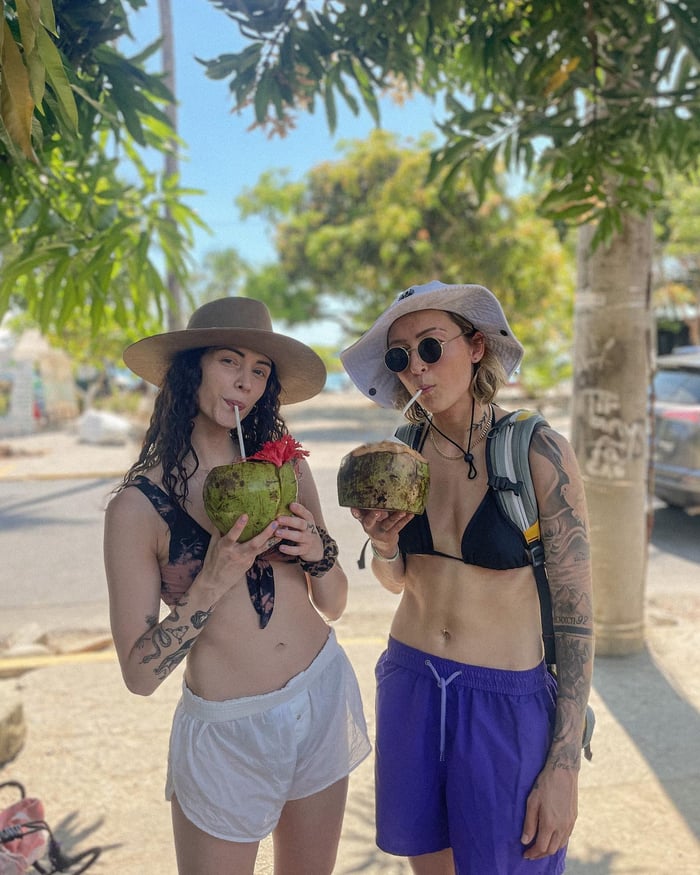 The importance of bringing the queer community together - an interview with Creator Ash Morgan.
Ash & Mac hosted their first TrovaTrip to Costa Rica in March of 2022 with 15 excited members of their community. We had the opportunity to speak with Ash about the trip and she had much to say about the group's bonding experience.
What about this trip made you feel renewed and inspired again?
To me, social media had started to feel like a fake and very unsocial machine that expected constant content or else I would get punished. I was feeling so burnt out and creatively bankrupt and like I wasn't cultivating real connections or creating anything meaningful. Creating content was feeling pointless and stressful.
But after having such a life-changing experience in Costa Rica where I realized how important bringing the queer community together is, especially in the travel sphere, something clicked in me. I want to continue to cultivate these safe spaces with REAL people. I'm SO excited about the future of our queer trips and creating community for so many who feel lost in their coming out journeys right now.
What is your "why" for hosting trips with your community?
Everything I just said above! Creating a safe space for queer women and AFAB people to feel SEEN, to know they aren't alone. To build family, but also experience the world in a safe way!
Did you feel safe traveling in Costa Rica while staying true to your LGBTQ+ identity?
Absolutely! Everyone was so kind to us and our guide made us feel super safe, even teaching everyone how to say "lesbian" in Spanish. Never once did I feel unsafe or did any of my Travelers say anything negative about our experience!
What's your favorite activity from the Costa Rica trip?
I loooooved canyoneering and getting adventurous, as well as just getting to sit in the waves at the beach. Everything just felt at PEACE. Nature is so calming and nourishing.
What's your favorite spot you visited while in Costa Rica?
Probably the private beach we kayaked to! It was stunning – we were close to cute crab holes, we were under shade, there were pretty seashells, soft sand, warm beaches and our guides prepared a beautiful and delicious picnic on the side of a stunning blue canoe. Everything was SO PICTURE PERFECT, I felt like I was in a paradise from a movie.
What was the most meaningful moment on the trip for you?
Probably the farewell dinner. Almost all of us were crying and multiple people mentioned how this trip was life-changing for them (myself included). Most of the Travelers on our trip were queer people who didn't have a queer community at home. They felt like they had to hide a big side of themselves around a lot of their social circle at home. Someone mentioned that this was the first time they could just be free and use queer terminology and not worry about censoring themselves and their words and how that was so validating for them. We truly became one big happy queer family.
Mac Rosenquist, Ash's partner and co-Host on the Costa Rica TrovaTrip, also shared how she felt about her experience on Instagram.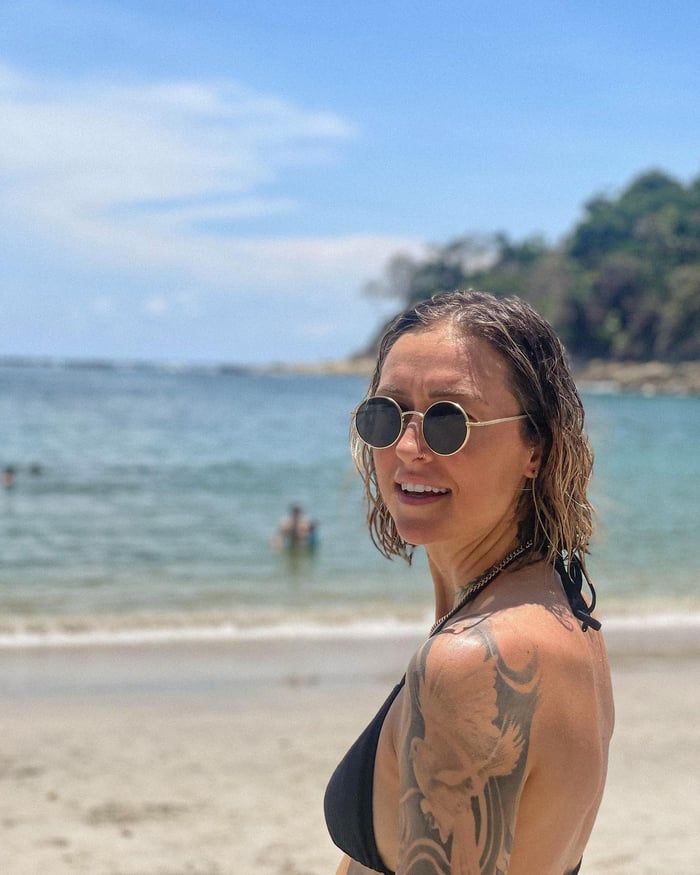 A huge thing that struck me on our first queer trip in Costa Rica was that some of the incredible humans who came did so because they didn't have a like-minded community to surround themselves with a home and were looking to find that. Which they did.
"I cried real tears about being able to facilitate relationships in that way for members of our community, so I really want to extend my big gay open arms to those of you who may feel the same, and let you know that you deserve all the love and adventure and beautiful friendships in the world and WE WANT TO TRAVEL WITH YOU!!"
If you want to go on a future trip with Ash and Mac, you're in luck – they're hosting three more this year. Bali in June, Ireland in August and Greece in September. Go here to learn more about their awesome trips. They'd love for you to join them.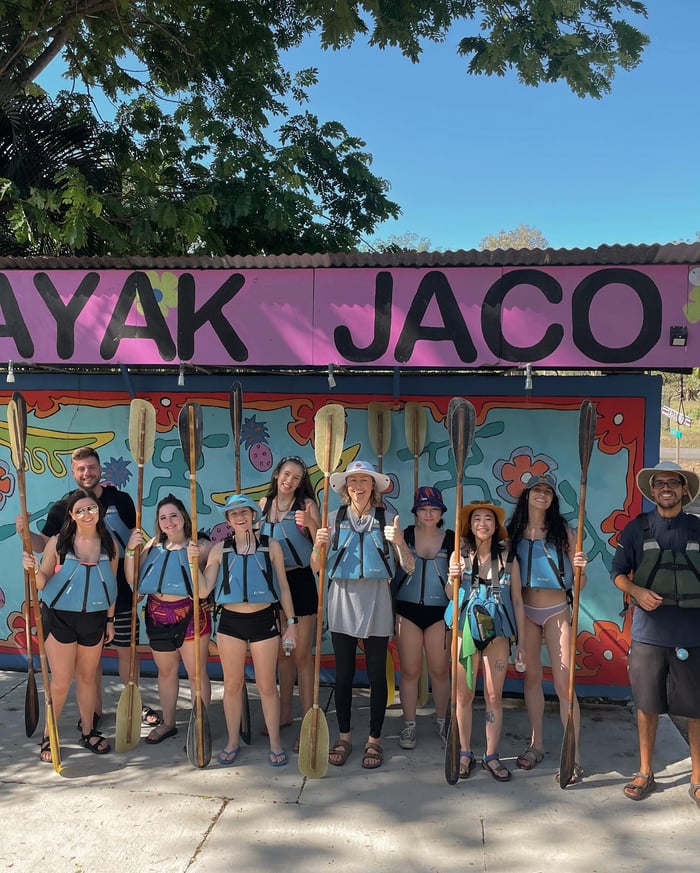 Meaningful moments and navigating our environments while queer - Austin Lindsey weighs in.
TrovaTrip's own Austin Lindsey joined the trip with Ash and Mac for his one-year work anniversary. Austin shared some of his experiences and learnings while traveling with the group.
What was the most meaningful moment on the trip for you?
The most memorable moments for me were the welcome and farewell dinners. As an icebreaker at the welcome dinner, we went around the table and talked about our coming-out stories. As LGBTQ people, we are all on different journeys, but we are connected through the common thread of navigating our environments while queer.
It was really incredible to hear how different we all were, but how much we had in common with our struggles, insecurities and desire to be seen and accepted for who we truly are. Then at the farewell dinner, everyone opened up about how impactful it was to let our guards down, be ourselves completely, and be understood, accepted and uplifted by each other. For a lot of us, this was the first time we went an entire week without worrying about what parts of ourselves we had to hide.
As a Traveler, were you surprised about the connections you made on the trip?
As the only male on this trip, I was worried a bit beforehand that I would be the odd one out. But that fear was immediately diminished the moment the group got together. Everyone was so warm and inviting. People were there to connect with each other, and that's exactly what happened.
Favorite spot you visited in Costa Rica?
Manuel Antonio National Park! You hike through a rainforest searching for monkeys, sloths, colorful birds and more wildlife only to stumble into one of the most beautiful, pristine white sand beaches you've ever seen. It was magical.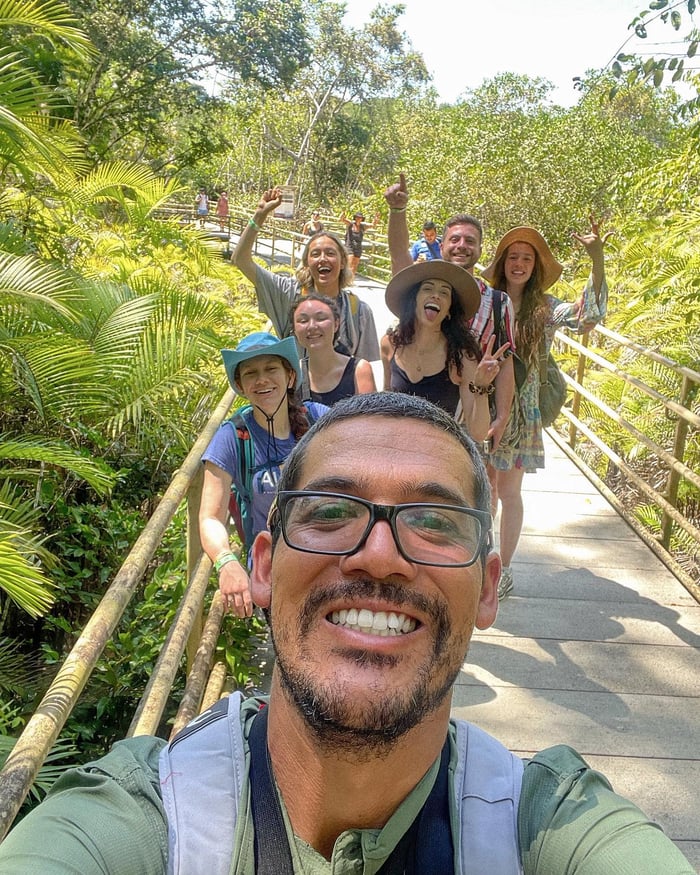 How was your guide?
IVAN! Oh, I adore that guy. He was funny, friendly, courteous, knowledgeable and above all, kind. I invited him to visit here in Portland so I can play tour guide and show him all the beautiful nature, craft beers and bike paths this place I call home has to offer. It's only fair after he shared the beauty of his home with us. I hope he really comes one day!
Can you tell us about your role at TrovaTrip and why you are so passionate about what you do?
I am an Account Manager specializing in and supporting our Hosts in the Empowerment and Self-Development categories. I work with our trip experience team to build itineraries specifically for communities that have been previously underrepresented in the travel industry. I engage these creators and leaders who represent these communities to Host trips or retreats focused on these types of itineraries. My passion lies in lifting up groups of people who have been made to feel like travel just isn't for them. I want to help create safe experiences that enable these groups to get out there and prove that travel IS for everyone. To learn more about being a Host with TrovaTrip click here.
Resources and Guides for Safe LGBTQ+ Travel: