Make the Most of Travel Tuesday as a Trova Host
How to use travel's hottest day for discounts to promote your trip, get more bookings, and support your Travelers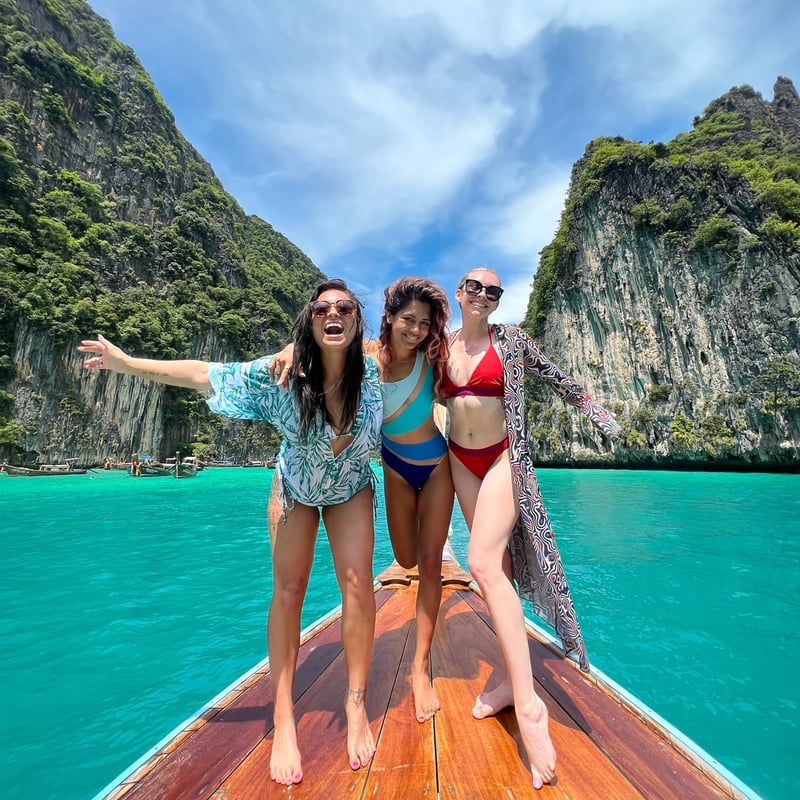 You've heard about Black Friday and Cyber Monday, but Travel Tuesday? That's new…ish. Starting in 2017, Travel Tuesday has become a national shopping holiday where consumers can expect to see more deals on travel than any other day in the year. In fact, in 2022 Travel Tuesday had 78% more deals than Cyber Monday and 2x as many as Black Friday!
This means cheaper flights for you and your Travelers to book for your Confirmed trip, as well as a great time for you to offer discount codes for your TrovaTrip making booking now more appealing than ever. Read on to learn all the tips and tricks for making the most of Travel Tuesday!
---
Key takeaways:
---
What is Travel Tuesday?
Travel Tuesday (or Travel Deal Tuesday) is the day after Cyber Monday where discounts on all-things travel are more prevalent than any other day of the year. For Trova Hosts and Travelers, this is a particularly exciting time because it means saving on airfare. Additionally, offering a discounted spot could be what you need to encourage Travelers to book and Confirm your trip!
This year Travel Tuesday falls on November 28th, so mark your calendars because this means an opportunity for selling your trip that you won't want to miss.
Offer a coupon code
Okay, first things first. Did you know you can offer coupon codes for your TrovaTrip? Yep it's true. Coupon codes are available upon request and can be a great way to get the bookings you need to Confirm.
Coupon codes are recommended for TrovaTrips that are 3 spots or less away from Confirming. Reason being that the more discounts you offer, the more will come out of your earnings. For most Hosts, offering 3 discounted spots doesn't eat up too much of their margin, but also provides a great incentive to get your community to book now.
How do coupon codes work?
Coupon codes are completely optional and can be requested through your Trova rep. They typically take 1-2 business days to turnaround. Your rep will work with you to collect information such as the quantity of codes you want to offer and their expiration dates.
Generally, we see Hosts offer coupons for anywhere from $50-$100 per booking. These discounts will be deducted from your Host earnings and it's important to remember that the total amount of the discount cannot exceed your margin earned per Traveler. Otherwise, it may result in negative earnings. You can ask your Trova rep for more information specific to your trip!
How to promote your coupon codes
You can promote your coupon codes publicly or through more controlled outreach. Let's talk about the benefits and considerations of both.
On social media
Promoting on social media is the best way to ensure as many people see your offer as possible. However, this means that your already booked Travelers may see the promotions and request a retrospective discount. You can either agree to give them a discount as well, or kindly let them know that this code is only available to new Travelers who book within a given time frame. It's totally up to you!
If you plan to promote on social media, our team has created an Instagram story template you can easily add text to in-app and share!
Via email or DMs
Email or DMs are a great way to keep a little more control over who sees your coupon offers. If you prefer not to promote your codes on social media, you can either:
Share the codes directly with your followers via DM
Download your audience list from within your Host portal and email them the offer. We recommend excluding Travelers who have already booked to avoid them requesting retrospective discounts.
Here is a messaging template you can share to potential Travelers—feel free to make it your own!
Hi NAME,
Travel Tuesday is here and I'm offering 3 discounted spots for my trip to DESTINATION using coupon code ______! This offer is only valid until DATE at TIME.
There are only 3 discounted spots available so if you wanted to join I'd recommend booking ASAP!
Hope to see you there,
YOUR NAME
💡 Trova Tip: If travel budget has been one of the challenges preventing your community to book, pair this coupon offer with a reminder that they can apply to pay for their trip over time with Affirm.* Learn more about Affirm here.
---
*Affirm's Universal Disclosure: Your rate will be 10–30% APR based on credit, and is subject to an eligibility check. Payment options through Affirm are provided by these lending partners: affirm.com/lenders. Options depend on your purchase amount, and a down payment may be required.
Take advantage of cheap airfare
Book your flights
Travel Tuesday is one of the best days to book cheap flights. If your trip is Confirmed, keep an eye out for fire emoji flight deals for you (and your plus-one if you have one!). Deals tend to happen on Tuesday +/- a couple days so when you find the right one, snag it!
Helpful sites to check for flight deals include: Hopper, SkyScanner, as well as some airlines' direct sites.
Support your Travelers
Now that you know about the flight deals offered on Travel Tuesday, make sure that your Travelers do as well! Share the sites linked above and encourage them to sign up early for emails to be notified as soon as a deal drops.
Check out this full list of tips for making the most of Travel Tuesday.
💡 Trova Tip: If your trip is not yet Confirmed, hold off on encouraging your Travelers to book their flights (and from booking your own). If the trip doesn't collect the required amount of bookings, it will be cancelled and flights may not be refundable.
Download these templates to let your Travelers know about flight deals:
---
FAQ
How do I set up a coupon code?
Do I have to offer a discount?
Nope! It's totally up to your discretion. We have seen coupon codes be a successful method of collecting bookings for Hosts who are 3 spots or less away from Confirming their trip.
How do my Travelers apply their coupon codes?
Coupon Codes can be applied at the time of booking. They can also be applied to the remaining balance after booking, but the traveler would need to contact Customer Service for this to be done.
Will Trova be offering any discounts?
Nope, we keep our margin razor thin so our Hosts can have the flexibility to earn more by setting stronger margins. It's totally up to you if and how much you want to offer as a discount.
Why should my trip be Confirmed before me or my Travelers book our flights?
We encourage all Hosts and Travelers to refrain from booking flights until their trip is Confirmed. If a trip does not reach the required amount of bookings, it will be cancelled and any flights booked may not be refundable.
Back to top