8 Best Eats in Florence
Feed more than just your curiosity.
One of the quickest ways to find yourself in a tourist trap vs. an amazing local gem is to miss out on the regional specialties that define Italian cuisine. A plate of pesto or ragu Bolognese are nearly as foreign in Florence as they are in Frankfurt or Fresno.
After hours of sightseeing, you may be tempted to simply stumble into the closest trattoria to the Uffizi you can find. Keep this guide on hand instead to ensure that you're trying all of the treasures Tuscany has to offer near attractions you probably already have on your itinerary.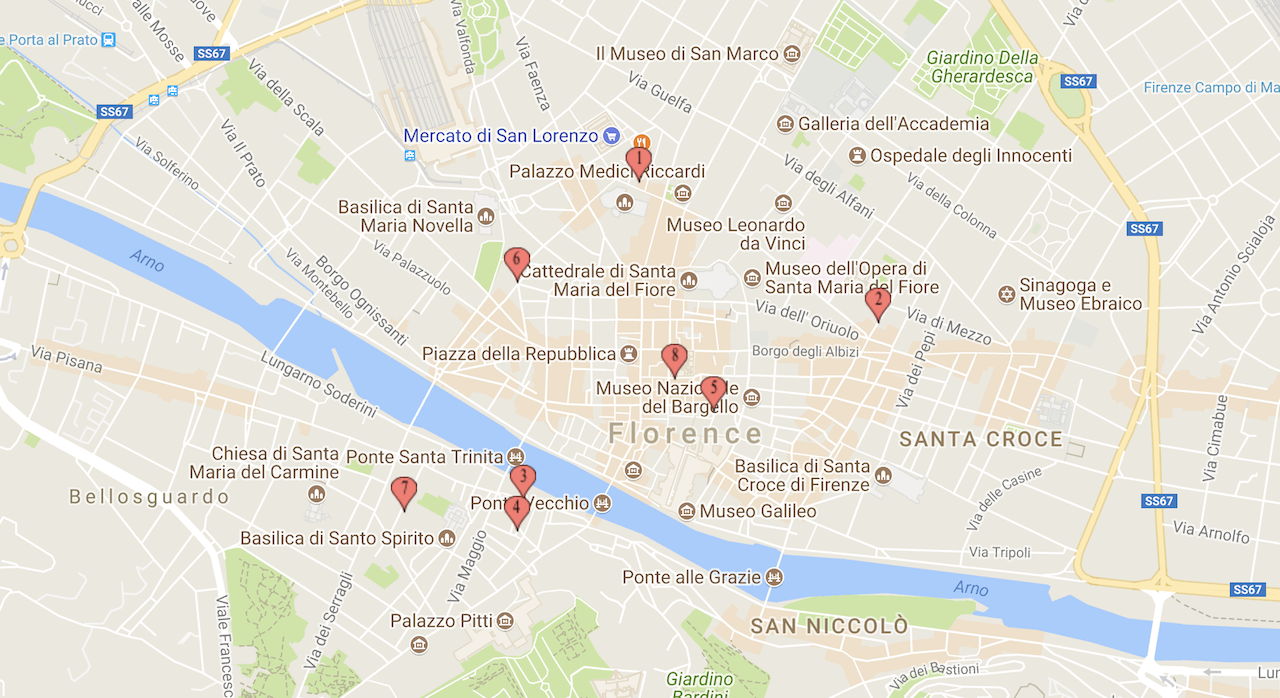 Basilica San Lorenzo and Medici Chapel
1) Pappa al Pomodoro at Trattoria Sergio Gozzi, Piazza di San Lorenzo, 8R
This charmingly old-school spot only serves lunch, and not on Sundays, so plan ahead to make sure you get to sample their ethereal version of pappa al pomodoro. While the Florentines have their fave pastas like any other region, it's their expert use of bread that sets them apart from the Italian carb-loving pack. Tuscan bread is baked without salt (due to either an ancient feud with nearby Pisa or a debilitating salt tax, depending on which bit of culinary lore you prefer to believe). On its own, therefore, it's pretty uninspiring; when used as a conduit for ripe stewed tomatoes and bright local olive oil, it becomes the perfect comfort food. A classic example of why simplicity and quality of ingredients are so essential to Italian cooking.
The Duomo
2) Schiacciata at Panificio Brunori (also called Brunori Salvatore), Borgo Pinti 16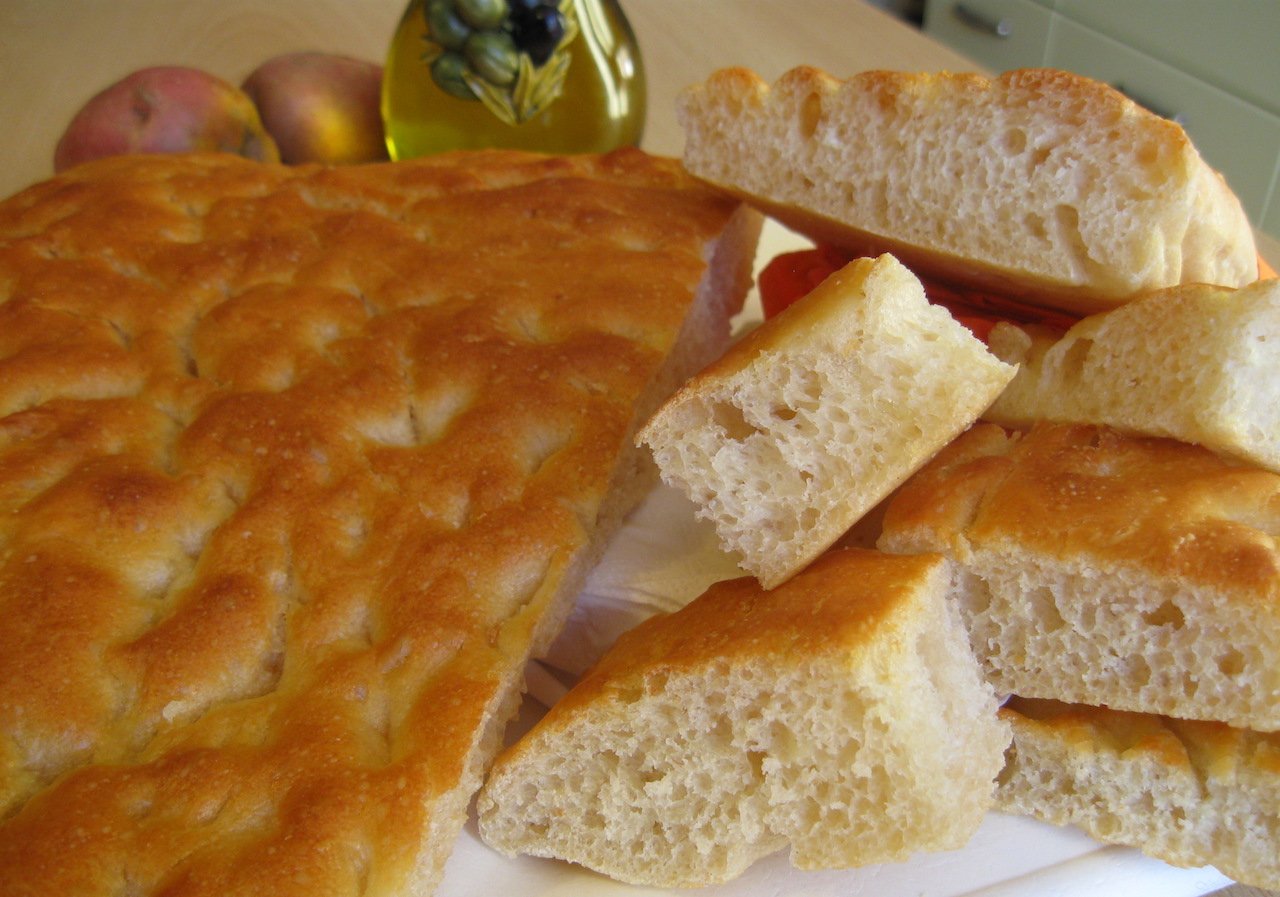 Photo by Rollopack is licensed under CC BY-SA 3.0
Proving that every rule is made to be broken, here is an example of Tuscan bread that DOES use salt. And lots of it! Schiacciata resembles focaccia more than your standard loaf bread, and Brunori's version is fluffy and perfectly seasoned. Most importantly, however, it comes with an array of interesting and delicious regional toppings, such as finocchiona (a fennel-spiced salami) and, my favorite, artichoke and spinach.
Ponte Vecchio and Uffizi
3) Cinghiale at Osteria Cinghiale Bianco, Borgo San Jacopo 43
4) Pici All'Aglione or Ravioli Lampredotto at Osteria Tripperia Il Magazzino, Piazza della Passera
Both of these restaurants are in Oltrarno, typically a more residential and less touristy area of Florence. Cinghiale refers to the wild boar that's native to the area, though you're more likely to be eating a free-range, farm-dwelling creature these days. Regardless, their cinghiale ragu with pappardelle or tagliatelle (two traditionally Tuscan pasta varieties) is heavenly: tender meat that's braised to perfection and clings to the noodles in just the right proportions.
Over at Il Magazzino, their name also makes no bones about the house specialty: lampredotto, or tripe, a.k.a. cow stomach. Even offal skeptics will be won over by the house-made ravioli filled with a deeply savory version of the stuff; but if you can't convince a squeamish friend, have them try the pici all'aglione instead. Pici is spaghetti's rounder, plumper cousin, and the garlicky tomato sauce it's served with here will ruin you for store-bought sauce back home.
Neptune Fountain and Statue of David
4) Ribollita at Vini e Vecchi Sapori, Via dei Magazzini 3r
Reservations are essential at this popular spot – its central location means you could easily stumble upon it by accident, but the fact that locals pile in as well tells you something. You can't go wrong with their rigorously regional menu, but you won't find a better ribollita in Florence. This is yet another excellent use of day-old Tuscan bread, here adding heft to (also traditionally day-old) minestrone soup. While inferior versions can be alternately thin and watery or an unappetizing thick mush, Sapori's oozes with flavor and has that elusive ideal stew texture.
Piazza San Marco
6) Tagliata at Cicalone, Via delle Belle Donne 43r
The eye-popping Tomahawk chops served around town as bistecca Fiorentina are better-known, and many places do a great job with them. But to experience the umami bomb that is Chianina steak without the gut-bomb feeling for hours afterward, try tagliata instead. The steak is sliced off the bone (taglia means "cut"), and frequently served over peppery arugula with hand-shaved shards of parmagiana and a squeeze of lemon. Lighter than its bone-in cousin but no less flavorful, it also tends to be cheaper and ideal if you're eating solo (or with a non-meat fiend). And Cicalone is an adorable and cozy spot that manages to sidestep the tourist hordes flooding in and out of the area.
Santo Spirito Basilica and Palazzo Pitti
7) Pizza at O Munaciello, Via Maffia 31r
Okay, so this one breaks the rules a bit. Pizza is decidedly NOT a Florentine specialty. However, due to its exported popularity, you can find versions all over the city, and they vary drastically in quality. The versions at O Munaciello will have you thinking you've died and gone to Naples (in the best possible way). Silky prosciutto, savory black truffle and mounds of soft ricotta were amongst our favorite toppings, but their wood-fired oven guarantees a delicious crust no matter what you choose to pile onto it. And its location in Oltrarno means it rarely gets overrun with tourists.

Carousel Antica Giostra Toscana
8) Pistachio gelato at Perché no!, Via dei Tavolini 19r
Gelato isn't specifically Tuscan, but Florence has a high concentration of shops, and again, the quality varies tremendously. A dead giveaway that you'll be licking something that might as well be in Baskin Robbins is bright colors: the best gelaterias rely on natural products to flavor their goods, and fluorescent pinks and greens are rarely found in nature. The pistachio gelato at Perché no! may be a duller color, but the flavor is out of this world. It's rich and nutty with the perfect balance of sweetness; the Carousel may bring out your inner child, but this frozen treat's sophisticated flavor is all grown up.
Conclusion
One thing is certain, no matter where your Italian adventure takes you, you can't go wrong in a country that does food this well. From pasta, to pizza, to gelato—Florence has all the important food groups (in our opinion) covered. It's just a matter of what you're craving.
Have a sweet tooth? Check out this list of 8 European Desserts.
If you want to host a trip to places like Florence, Rome, Venice or other European destinations (or other places around the world), come find out how you can get paid to travel sustainably. Your search for opportunities to travel the world ends here. As a Host you can travel with your community and we'll take care of the details. Find out how to host your own trip and support local communities.