What to do When Visiting Iceland
Your go-to list for Iceland's best summer and winter attractions.
Iceland is a Nordic island nation full of bucket-list activities. There are the northern lights, volcanoes and geysers. Not to mention waterfalls, hot springs, charming towns and dramatic landscapes. The country might look small on a map, but it holds more than you could ever fit into one trip. Of course, that just gives you more reasons to come back again and again.
Because there's so much to do in Iceland, the TrovaTrip team has put together a list of the best things to see and do in summer and winter. Your time is valuable and we're here to help you make the most of it, so let's get started.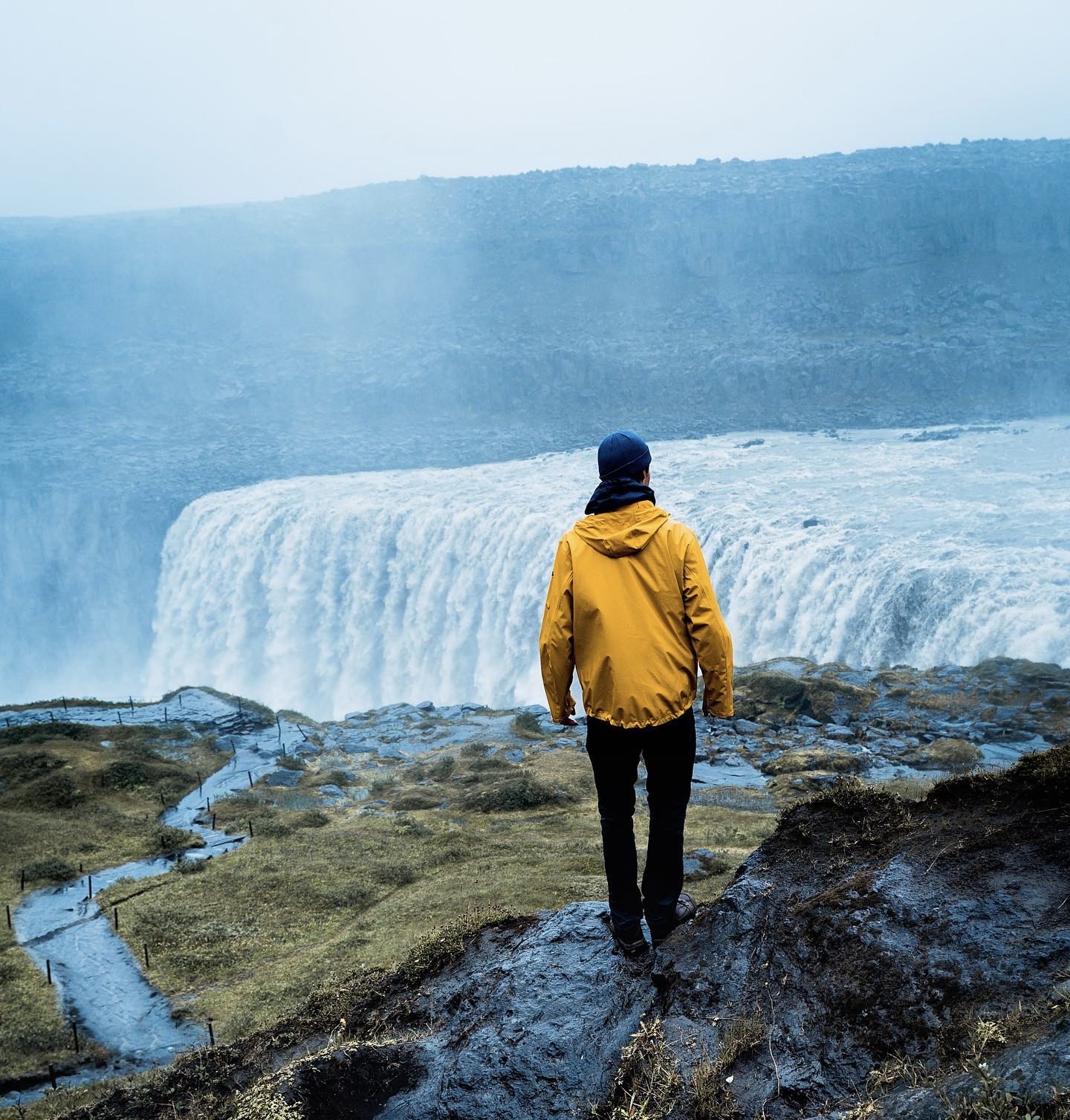 Join TrovaTrip Host Sebastian @sebpic_ and explore Iceland while taking hands-on photography/videography and editing workshops. You can't ask for a better backdrop!
Iceland in Winter
Yes, the temperature drops this time of year, but that's no reason to stay indoors! These are Iceland's top attractions during the colder months.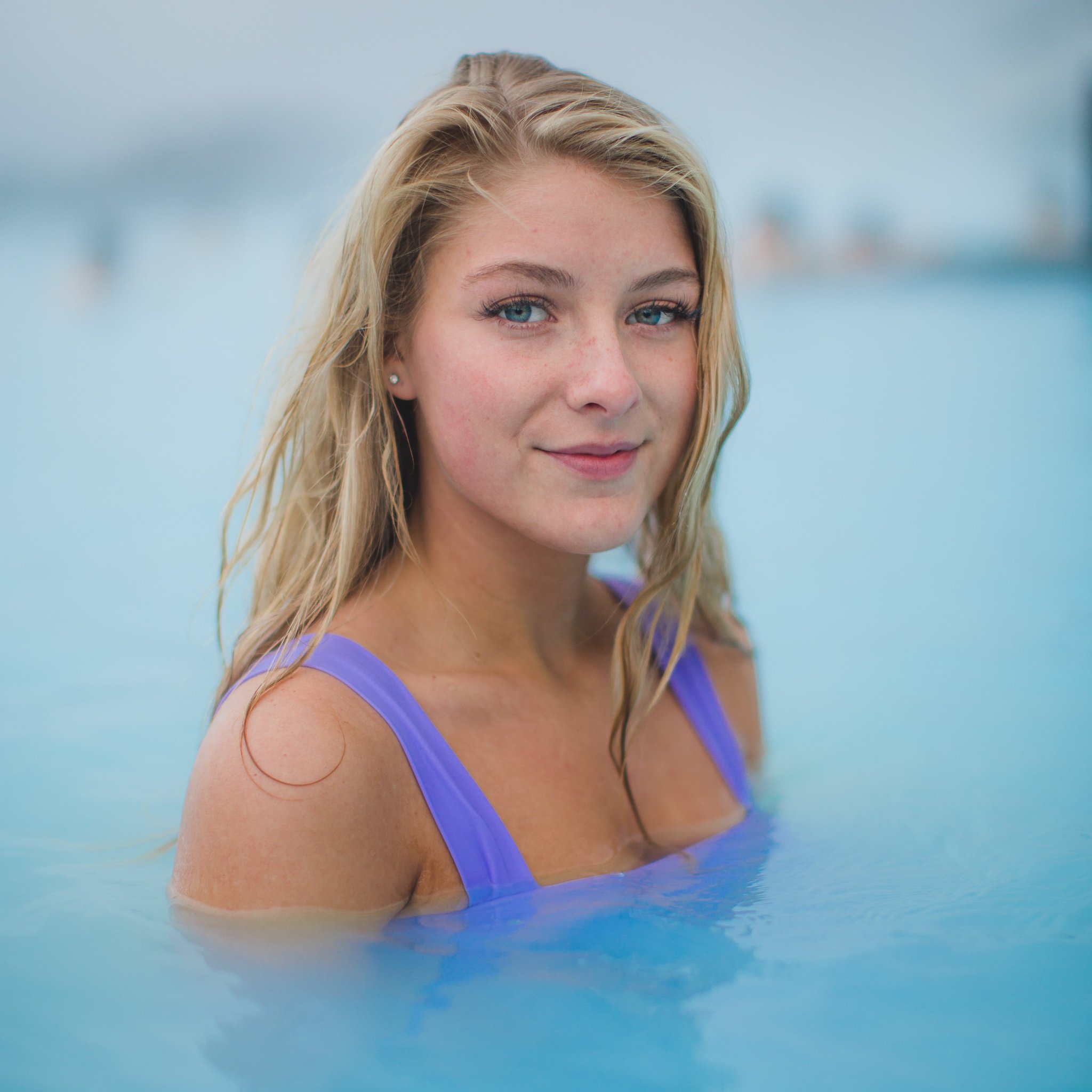 Soak in the Blue Lagoon
The Blue Lagoon is one of Iceland's biggest draws. For years visitors have flocked to this geothermal spa for its healing powers from mineral-rich water—believed to relieve stiffness from arthritis, psoriasis and leave your skin glowing after a soak. Be sure to try some of the soft white silica mud, it's known to have benefits for your skin!
Wondering what to pack when visiting Iceland? Here's your checklist.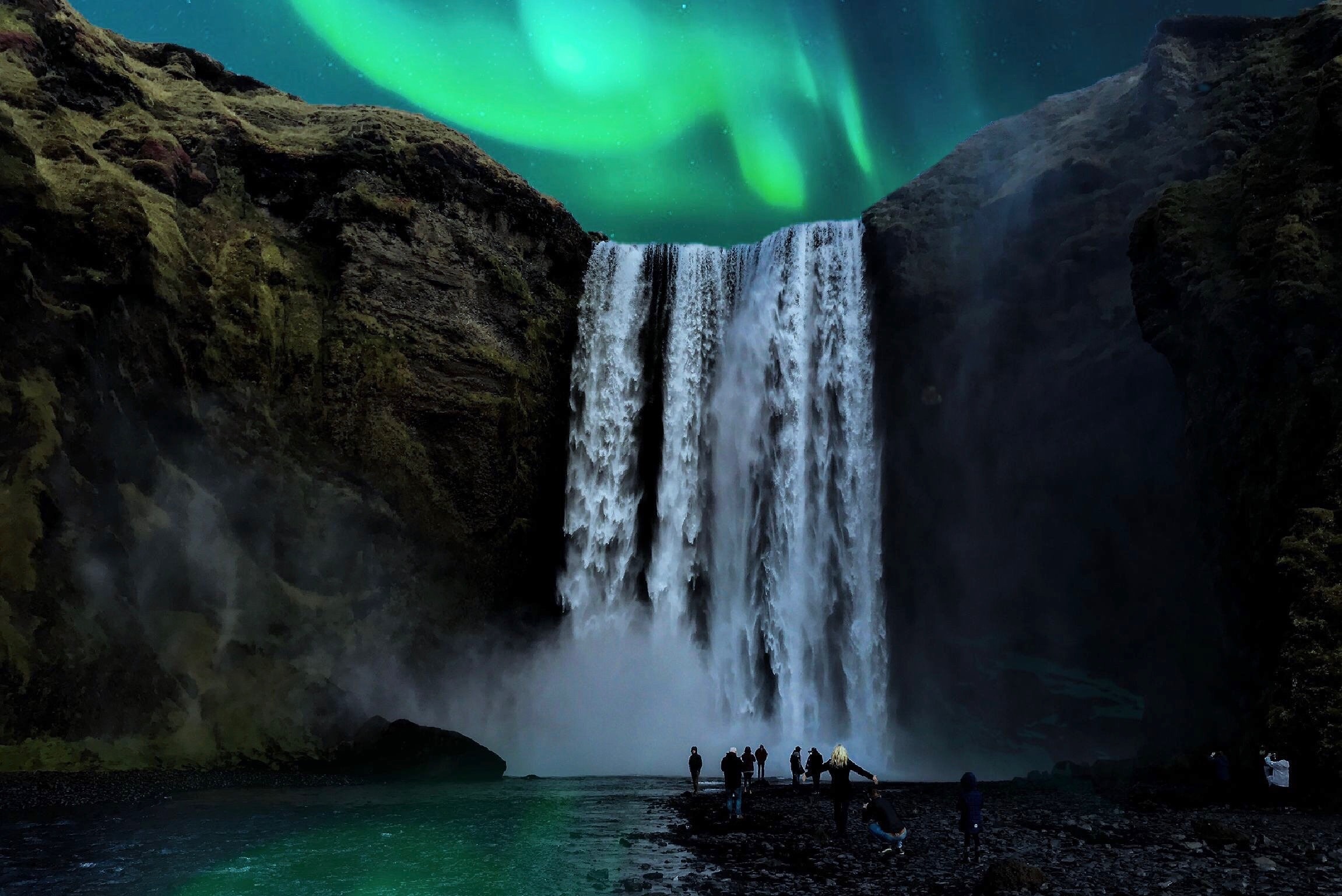 See the Northern Lights
There's nothing more enchanting than the northern lights (aurora borealis). These captivating waves of light are best seen about an hour before midnight and are at their brightest from September to April. If you choose to visit Iceland with Trova, expert guides who've chased the lights for years will take you to ideal viewing spots away from the bright lights of the city.
Tour Skaftafell National Park
An easy hike will take you to the Vatnajokull glacier. As Europe's largest glacier, it has an average depth of 1,300 feet and covers roughly 8% of the country. Pretty crazy, right? Vatnajokull contains at least 7 subglacial volcanoes. The most recent eruption was in 2004 from the Grimsvotn volcano, which is considered one of the most active volcanoes in Iceland.
The subglacial lakes that have formed under Vatnajokull Glacier contain freshwater and remain liquid due to geothermal heating. You can visit the Vatnajokull blue ice caves from November to March with a trained guide.

Visit Gullfoss Waterfall
Gullfoss, also known as the "Golden Waterfall", is a magnificent two-tiered waterfall that drops 105 feet into a narrow canyon 230 feet deep and 1.5 miles long. The Hvitá river flows from the Langjökull glacier before cascading down Gullfoss, which is Europe's most powerful waterfall. Geologists believe this canyon was formed by glacial outbursts many years ago.
Hike through Laki Lava Fields
The Lakagigar (also known as the Laki Craters) are a series of craters formed in one of the world's largest mixed eruptions in recorded history. A volcanic eruption in 1783 spewed lava and volcanic ash across an area of almost 16 miles, resulting in a remarkable lava field that covers a whopping 218 square miles. Now that's a hot fact (bad pun 100% intended).
Iceland in Summer
Nothing is more beautiful than Iceland in summer. Here's what you can do during the country's warmer months.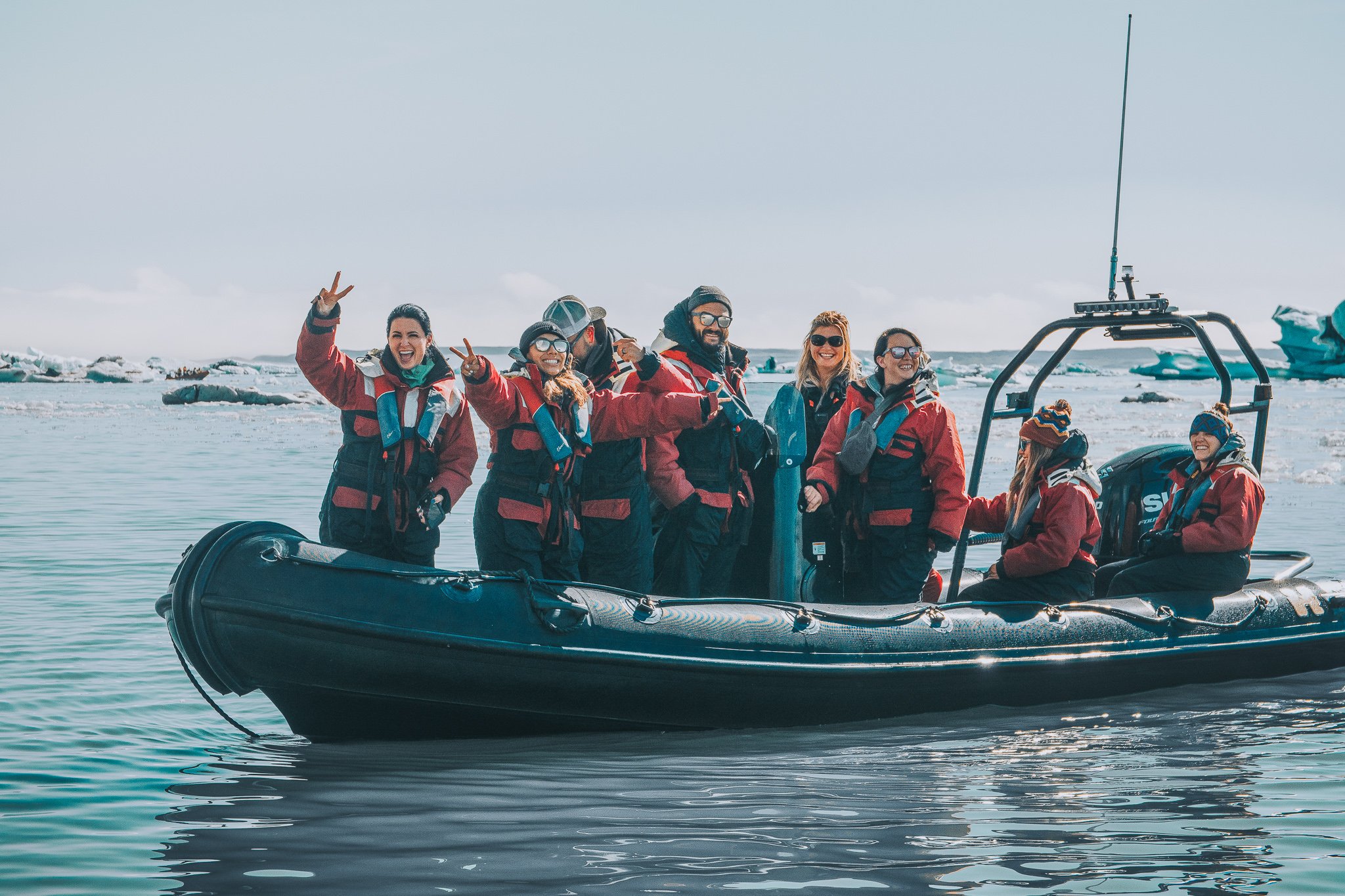 Iceland with @bonschro and @ihviiimattvincent by @swim_brandt_swim, 2021. You can join Bonnie and Matt for more adventures in Bali or Patagonia.
Take a boat ride to Jokulsarlon Iceberg

This picturesque lagoon formed naturally from melted glacial water. Jokulsarlon literally translates to "Glacier's River Lagoon." We recommend taking a boat tour around the lagoon to see the icebergs up close and watch seals play. The nearby black sand beach is known as Diamond Beach because the ice chunks sparkle and illuminate the sand.
Swim in the Secret Lagoon
Recharge your batteries in the healing waters of Secret Lagoon, which is on the Golden Circle, a scenic route that passes through popular attractions along the Icelandic countryside. This man-made geothermal pool was built in 1891 and is nestled in a lush green valley. It's the oldest swimming pool in Iceland and is surrounded by walkways, steamy hotspots and a small geyser. Whatever you do, don't forget your swimsuit!

Visit Reynisfjara Black Sand Beach
The area's dark caves, black sand and giant columns of basalt rock overlooking the Atlantic Ocean are like nothing you've ever seen, so be sure to bring your camera. When the northern lights shine above the beach, locals say the landscape looks like the surface of the moon.
Walk around the Great Geysir and Strokkur

As you stroll through the stunning hot springs and geothermal area of the Great Geysir and Strokkur, you'll feel like you're on another planet. The lively Strokkur shoots water 100 feet into the air, so have your camera ready. If you miss it the first time, don't worry, you'll have another chance every few minutes.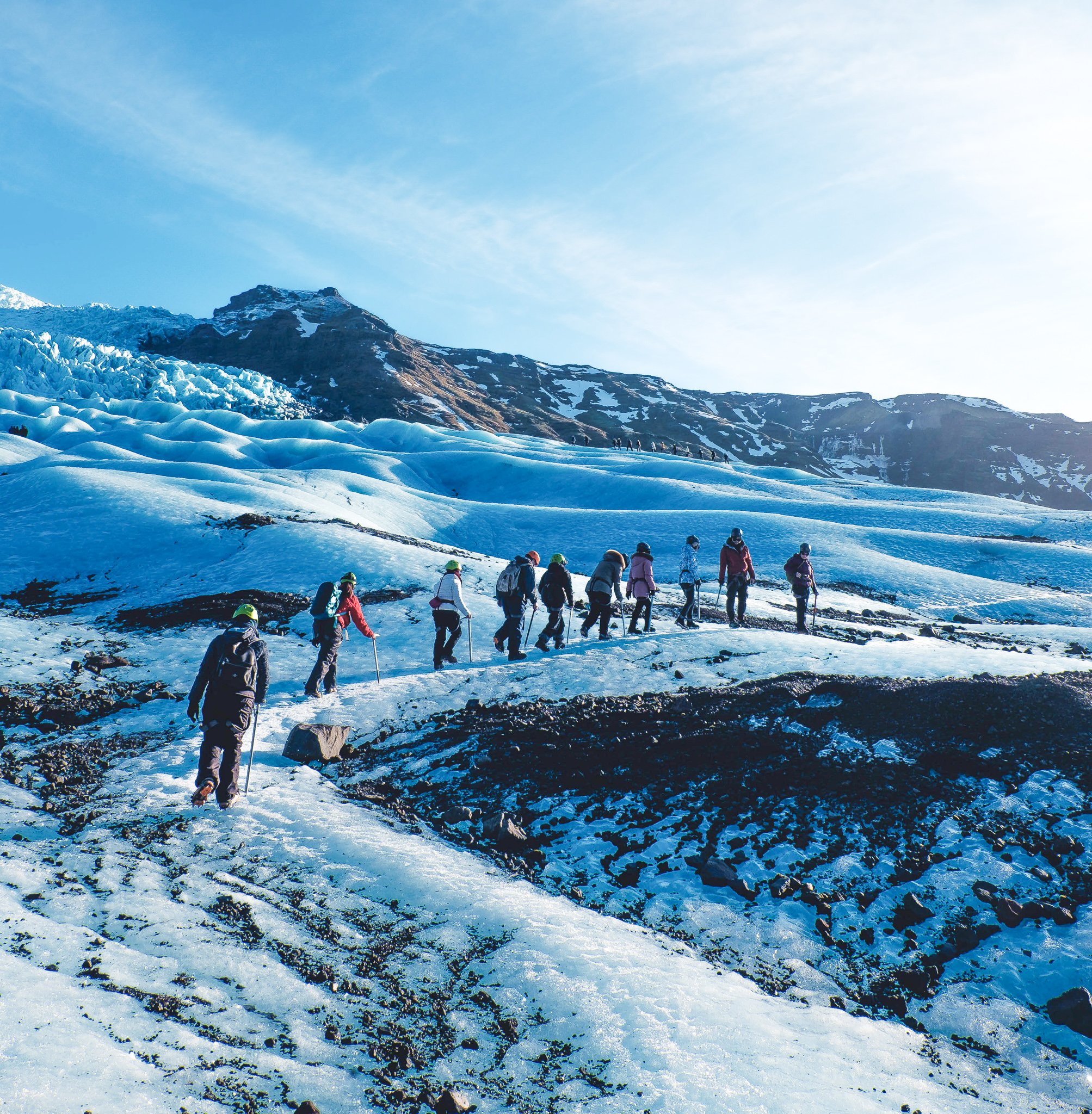 Hike on Breidamerkurjokull Glacier

Come explore the Breidamerkurjokull section of the largest glacier in Iceland called Vatnajokull. Visitors can't get enough of the terrain, which seemingly is filled with everlasting snow and ice. What's even more amazing are the magnificent crystal blue ice caves in the area. Now that's some serious ice, ice, baby.
See Fjadrargliujufur Canyon

You're going to love Fjadrargliujufur Canyon, one of Iceland's most beautiful gorges. This 1.5 mile-long, 328 foot deep canyon is millions of years old. The Fjarda River helped sculpt this breath-taking canyon over many years and deserves accolades for its artistry.

There's really nothing like Iceland
When it comes to fabulous things to see and do, Iceland is on a whole different level. Your trip to this legendary island is one that will stay with you forever, whether you travel in summer or winter. So you should probably take a trip in summer and then another in winter. Right?
Whatever you decide to do, get ready to explore like a Viking as you embark on new adventures each day.