How to Prepare for a Hike up Mount Fitz Roy, Patagonia
Learn how to train and what to bring.
Mount Fitz Roy in Patagonia is home to one of the world's most breathtaking hikes. The name Fitz Roy might not ring any bells for you right away, but surely you've heard of the brand Patagonia. The mountain outline on its logo is actually that of Fitz Roy mountain in Patagonia, Argentina! It's the tallest mountain in the area – as well as one of the most beautiful.
So where is Patagonia? It's the region that spans both Chile and Argentina at the southern tip of South America. This is where the Andes Mountains, expansive grasslands and arid deserts meet. The landscapes are incredible and unlike anything else on the planet.
If you're wondering if you can handle the Fitz Roy day hike, well, you're not alone. The short answer is if you set your mind to it, you can do it. It's long, yes, but it's also incredibly beautiful along the way, making it a rewarding hike with much to see. The hike itself is about 12.7 miles roundtrip and takes about 8 to 9 hours. What makes it difficult is the length and some of the uphill terrain.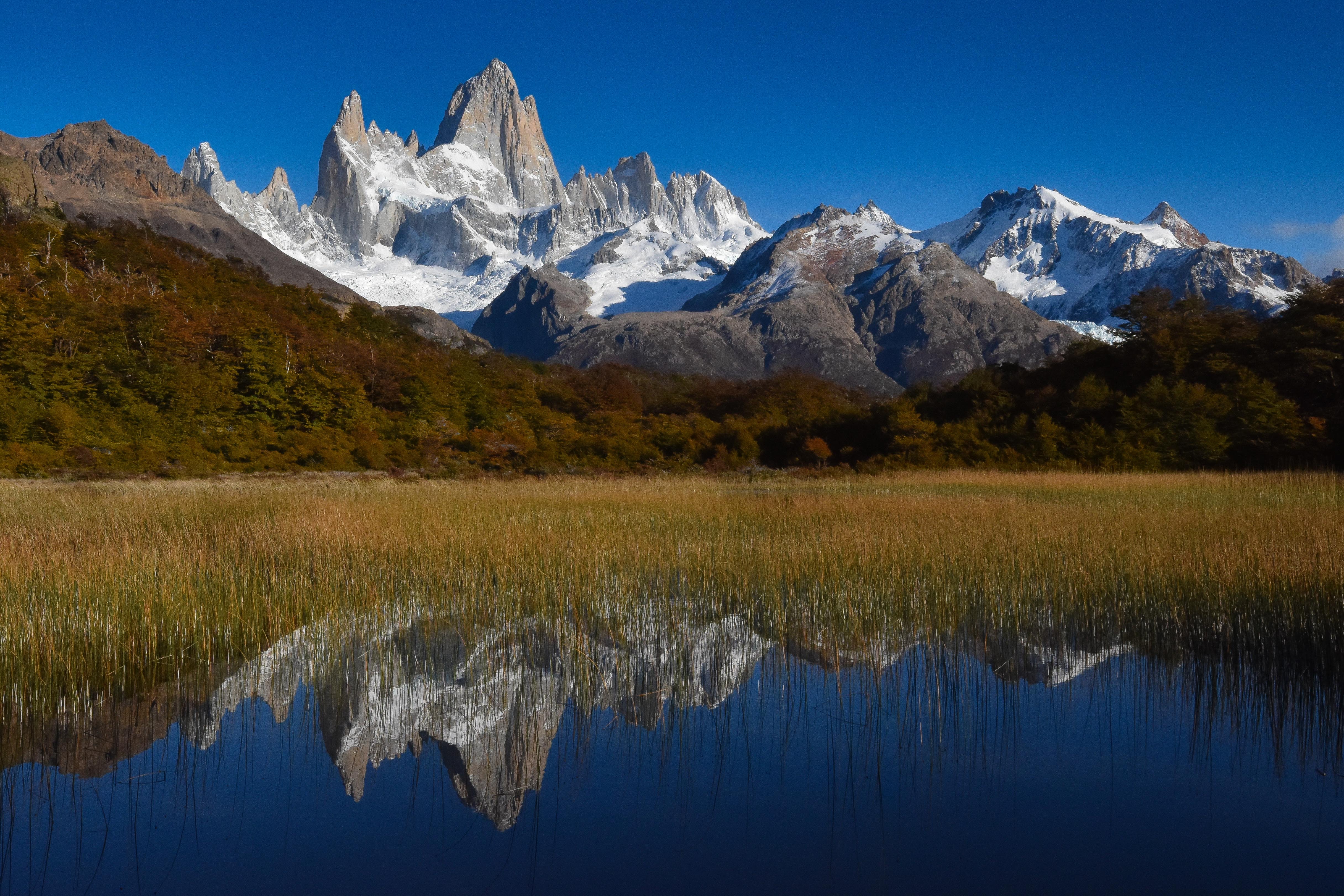 What to expect on the hike
The first 1.5 miles of this day hike are somewhat steep before it begins to flatten out. But after that first steep bit, most of the rest of the hike is relatively flat. A little before mile three you get your first awesome view of Fitz Roy mountain. But like we said, most of the views are grand and sweeping all along the way so you will be a happy camper–errr, hiker. And the view at the end makes all your hard work more than worth it.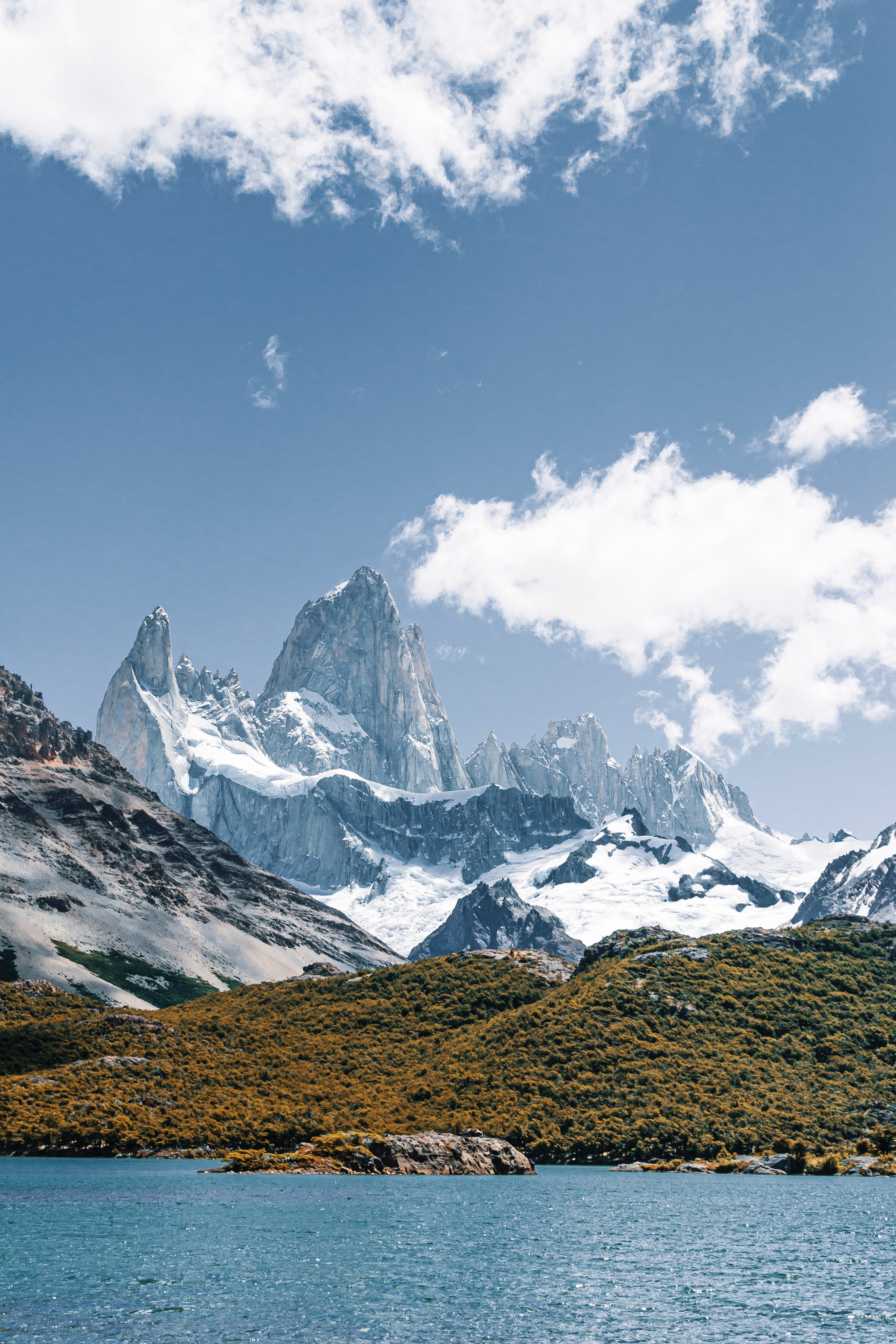 Time to train for your hike
So you're probably wondering how (and why) to train for this hike. Well, it's long enough that you want to be sure your body is prepared to take it on. After all, a little training is always a fun way to pass the time.
Some people think that to prepare for a hike all you need to do is go on a bunch of hikes. While any hiking will help you get ready, there are still other exercises you should do to strengthen your legs and core.
According to this great blog about training for a big hike, you should start by increasing the strength of your major hiking muscles and core muscles. You should also build strength and endurance in your back and shoulders. Activities like trail running, mountain biking and other aerobic activities will help get you ready. Start training at least 8 weeks before you go. But remember to go at your own pace. Don't force it or hurt yourself. Here's a good place to start:
Before we dive into what to bring, let's first talk about the weather in Patagonia. The weather here can be unpredictable because the land is surrounded by three oceans – Atlantic to the east, Pacific to the west, and Southern Ocean to the south. It can rain in the morning and be completely sunny in the afternoon. In short, you never know what you're going to get. That's why you should bring versatile layers. Then you'll be prepared for whatever Mother Nature throws at you.
Here's a list of what to bring according to this helpful blog:
Shell jacket and pants - Patagonia is generally dry, but once in a while rain does fall. A shell jacket and pants will keep you from getting too wet. They're made from wind and waterproof material. When packing, put your shell clothing at the top in case you need it quickly.
Down jacket - Down is so light and compressible it shouldn't take up much room in your pack. But it's absolutely essential on your trek. Make sure yours uses hydrophobic down, which means it can still insulate even when wet.
Trekking pants and shorts - Modern hiking pants are generally stylish enough to wear on the trail and to dinner. You probably only need a pair or two. Some trekking pants zip off at the knee and turn into shorts. Now, these probably won't win you any fashion points, but boy are they handy when you want to go from pants to shorts lickety split.
Merino wool base layers - Merino wool is a must when you're adventure traveling. It's comfortable and works in cold and warm weather. It dries quickly and has natural moisture-wicking properties. Better still, merino wool has antimicrobial properties that keep it from absorbing odors. Three cheers for merino wool!
Hiking boots and shoes - There's nothing more important than keeping your feet happy on a big trek. Since you're going to hike Fitz Roy, you should probably invest in a pair of hiking boots designed for rougher terrain. Make sure you break your boots in waaaaay before you ever get to Patagonia. Don't make the rookie mistake of bringing unworn boots. Bring some merino wool hiking socks, too. No cotton socks, please. Merino is way comfier and dries faster.
Backpack - Get a backpack with a built-in rain cover that can hold all the gear you'll need, including snacks, camera equipment, extra layers and water bottles. A pack with a 30 to 35-liter capacity should do the trick.
Trekking poles - Poles help maintain balance and can help you through muddy terrain and inclines. They also help your legs last longer on lengthy hikes.
Gloves, hat and scarf - Bring lighter and heavier gloves (so you can switch them according to the weather), a wide brimmed hat (sun protection) and a beanie in case it gets cold. A scarf will also further protect you from cold wind.
Accessories and other important stuff - Be sure to pack sunscreen, chapstick, wet wipes, toothbrush and toothpaste, toilet paper, a multi-tool (like a Swiss army knife), other hygiene items you need, insect repellent, hiking snacks, sunglasses, headlamp, camera (try to bring more than your cell – even it can't fully capture the grand landscapes you'll want to remember) and USB battery pack for recharging your devices on the go. Dry bags will help keep your passport and phone dry, should you need them.

Get ready to have the time of your life
There's really nothing like hiking and trekking here. Fitz Roy is one of the best hikes in Patagonia. Prepare to be blown away by the intense beauty and sheer majesty of the area. It's literally picture-perfect. The stories you come back with will make your friends and family jealous. Perhaps you can convince them to come with you when you return. Because you're going to come back, right?