How Content Creators Are Shaking Up Solo Female Travel
Travel influencers are paving the way for women to explore the world.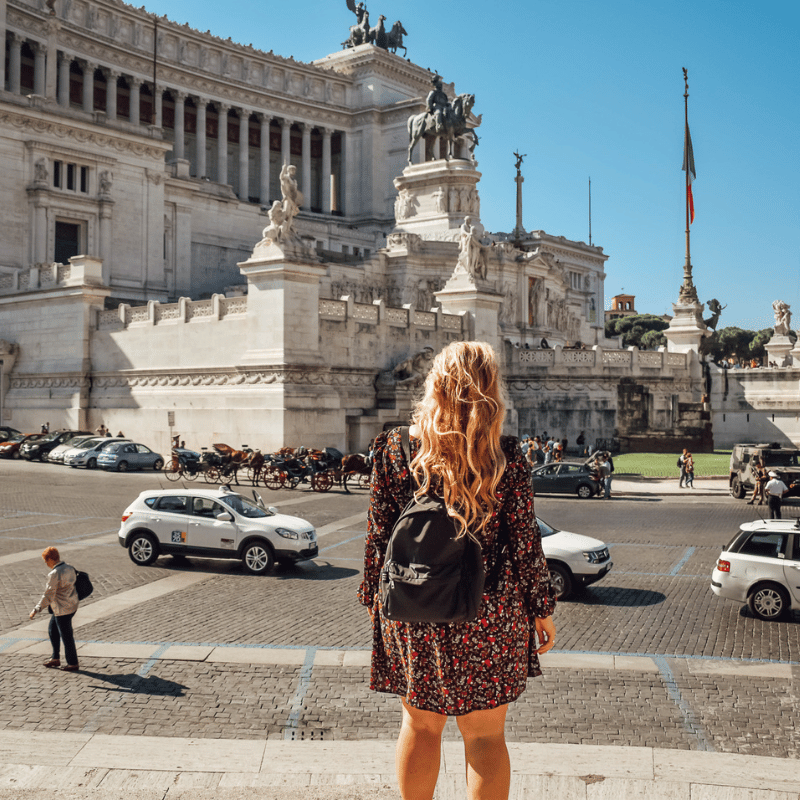 Key takeaways:
---
Traveling solo as a female can be intimidating, but with a growing number of women taking the leap and exploring the world independently, it's steadily becoming the norm. Largely to thank for this are the travel-savvy female Content Creators who document their adventures as they navigate the world.
With a transparent approach, female-identifying travel bloggers are inspiring women everywhere to boldly and confidently set out on their own adventures. In this blog, we'll explore how Content Creators are shaking up solo female travel, the barriers women travelers face, why it's worth it to take the trip, and even how you can host your own trip! So, let's grab our passports and join the ranks of these trailblazing Creators, because solo travel has never been more achievable.
My background as a female travel influencer
Confession time: I used to be a solo travel skeptic. The thought of wandering around a foreign country all alone sounded about as appealing as a root canal. But then, fate (and a killer deal to the island of Corfu, Greece) intervened. When my husband couldn't make the trip, I found myself faced with a dilemma: stay home or take the plunge and go solo.
Long story short, I went. And my world was never the same.
From the moment I arrived, I felt like a whole new person. There was something liberating about being able to set my own schedule and explore at my own pace. I was free to indulge my wanderlust without having to worry about anyone else's needs or preferences.
I discovered that solo travel was the ultimate act of self-care. It was a chance to recharge, to get in touch with myself, and to create memories that I would cherish for years to come. From that moment, I was hooked.
But I quickly learned that some women were even more skeptical than I had been. In fact, some of my friends were downright terrified at the thought of traveling alone. That's when I decided to start hosting group trips with TrovaTrip (a group travel planning and booking platform for Creators) to show other women that solo travel doesn't have to be scary.
At first, I was nervous. What if the group didn't get along? What if we got lost? What if we accidentally ordered snails for dinner? But those fears were quickly put to rest as we explored new cities, tried new foods, and bonded over shared experiences—all with a local Guide to ensure we never got lost or surprised by an unexpected entree.
I loved seeing how the other women on the trip blossomed and grew more comfortable with themselves. It was like watching a bunch of caterpillars transform into beautiful, confident butterflies (only instead of enveloping ourselves into a lonely cocoon, we got to explore a new country together).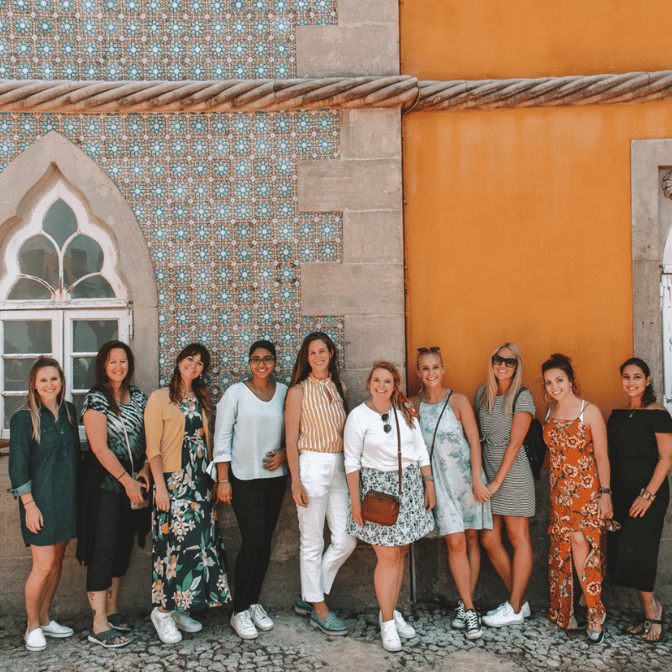 Take Laurel, for example. She had always dreamed of traveling but never thought she had the courage to do it alone. After joining one of my group trips as a traveler, she discovered a newfound sense of empowerment. Now, she travels solo all the time and even hosts her own group trips for other women.
Or, Sarah! She had never been to Europe before attending one of my trips. After the encouragement she got on the first trip, she now travels solo and takes group trips every year.
We all want to explore the world on our own terms. I know I'm often asked from my own audience on Instagram and TikTok on the best places to travel as a woman. Many of your followers might be skeptical of going solo, or they crave a different kind of adventure but aren't sure the next steps to take.
Hosting a group trip is the perfect way to allow your audience to connect with you and give them the opportunity to travel fearlessly.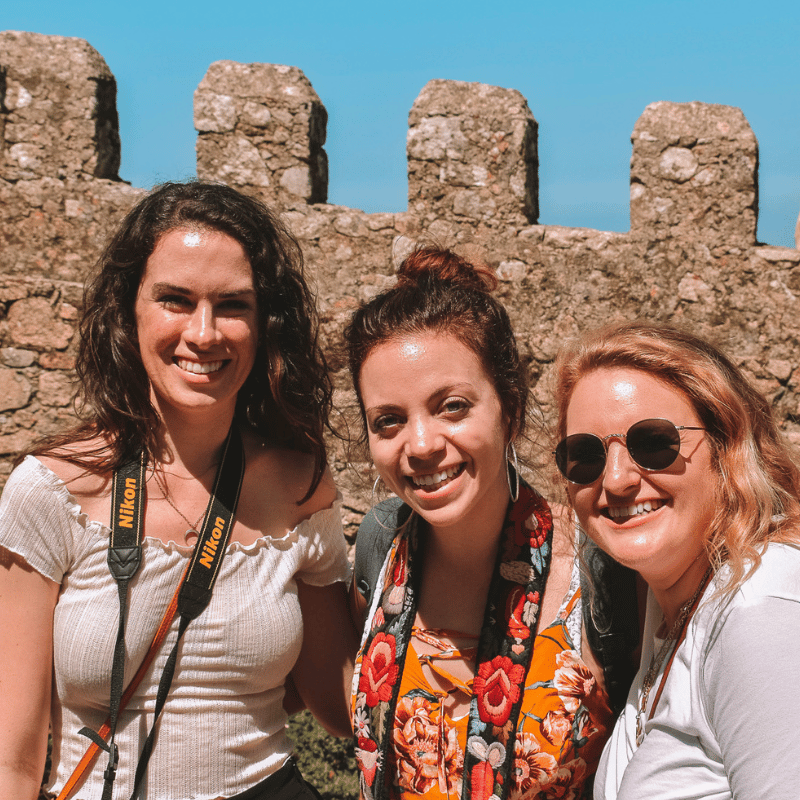 A historical background of barriers women have faced in travel
Throughout history, women have faced numerous barriers in the travel industry. From gender discrimination to societal expectations and safety concerns, they have often been relegated to secondary roles or excluded altogether from the world of travel.
One of the main barriers that women and non-binary folks have faced in the travel industry is access to information and resources. For many years, travel guides and resources were primarily created for and marketed to men, leaving other genders with limited options for planning their own trips. Additionally, women were often excluded from certain destinations or activities due to societal expectations and norms around gender roles.
Another barrier that women have, and continue, to face are safety concerns. As a woman traveling in an unfamiliar place, there are valid concerns ranging from verbal harassment to physical safety, which can make solo travel feel unsafe—or even impossible. As a result, women have often relied on male travel companions or missed out on travel opportunities altogether.
Despite these barriers, women have been instrumental in shaping the travel industry as we know it today. In fact, it's often women who are the ones doing the trip planning and organizing group trips for themselves and others.
With the surge of inspiring female travel bloggers and Content Creators, women now have an abundance of resources and encouragement to set off on their own solo escapades. Through trusted companies like TrovaTrip, female travel influencers have created a community of support and empowerment, inspiring others to step outside their comfort zones and explore the world on their own terms.
How group travel is changing the way women experience the world
Traveling solo as a woman can be a daunting prospect, but group travel can be a game-changer when it comes to feeling safe and supported. While solo travel can offer a sense of independence and adventure, it can also come with unique safety concerns and challenges that make it intimidating for some women. Enter group travel—an increasingly popular way women are choosing to explore the world.
One of the biggest advantages of group travel is the sense of community and camaraderie that it offers. When traveling with a group of other women, there is a built-in support system that can help to ease feelings of vulnerability or isolation. Group travel can also provide a sense of safety in numbers, making it less likely that women will be targeted for verbal or physical harassment.
In addition to the social benefits, group travel can also provide practical advantages for solo female travelers. For example, group tours or excursions can offer a structured itinerary and planned activities, taking the guesswork - and by guesswork I mean literal the time and effort spent researching - out of travel planning and reducing the risk of getting lost or stranded. Group travel can also provide access to resources and support that may not be available to solo travelers, such as local guides or translators. When you host with TrovaTrip, you always get a local Guide to ensure you're getting the safest, and best possible experience for you and your travelers.
Maybe most importantly, group travel can offer a sense of empowerment and confidence that inspires women to continue traveling on their own. By providing a safe and supportive environment, group travel can help women overcome their fears and build the skills and resilience needed to tackle solo travel in the future.
I remember heading to Paris for a girl's trip. I went a few days early and I was walking through the street in the early hours of the morning and I felt like someone was following me. While I was excited to explore the City of Light on my own terms, I also couldn't shake the feeling that I was being watched.
The worst part was that I didn't know what to do. I was in a foreign country, alone, and feeling increasingly anxious and vulnerable. I started to regret my decision to travel solo, wishing I had brought a friend or family member along with me for support.
The trip - and my excitement about exploring Paris - got back on track the next day when I met up with a group of friends. I had a sense of security and people to rely on, a grounding contrast to how adrift I had felt the night before.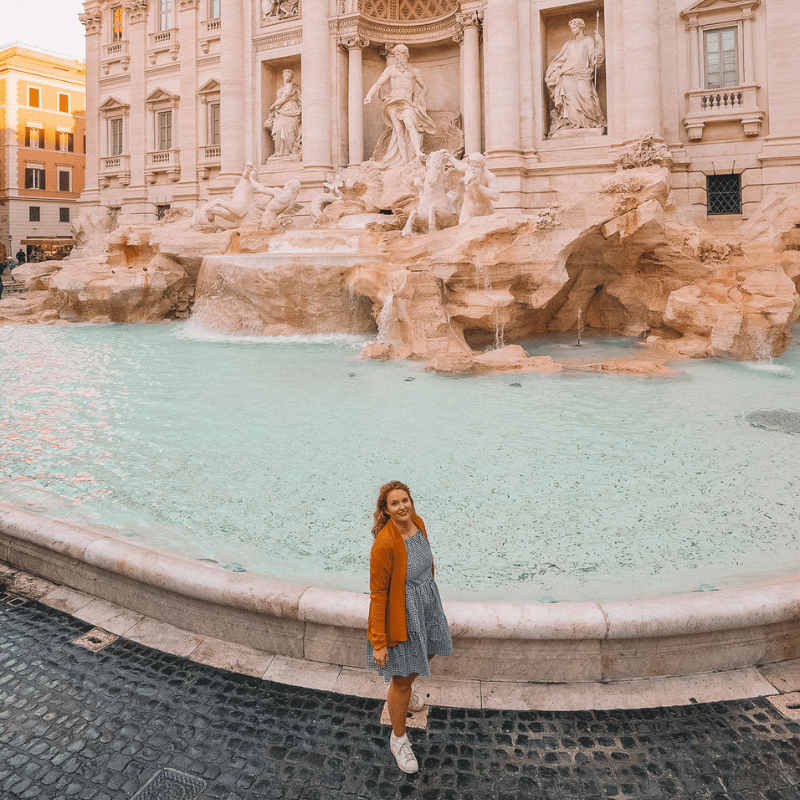 Statistics on the rise of solo female travel
More than ever before, women are embracing the opportunity to explore solo travel. These recent studies highlight the growing trend and the factors contributing to its popularity among women:
Metasearch engines are showing increased intent for solo travel. Kayak

shows searches for single-traveler flights are 36% higher for 2023 travel than in 2022.

A survey by Skyscanner reports that 54% of respondents are considering traveling solo in 2023. SoloTravelerWorld


65% of American women are interested in taking a solo trip in the future.

Booking.com

Solo female travel increased by 45% between 2015 and 2017.

Hostelworld
Contributing to this statistic are TrovaTrip's own travelers. TrovaTrip found that 79% of their travelers are female-identifying, a clear indicator of the sheer demand for female travel. Moreover, it indicates that women are feeling empowered to seek out and embark on their own adventures, and feel safe traveling with the company.
These statistics highlight the growing trend of solo female travel and the increasing interest among women to explore the world on their own terms. With more resources and support available than ever before, it's clear that solo female travel is here to stay. Whether it's a weekend getaway or a year-long adventure, women are embracing the freedom, independence, and empowerment that comes with traveling solo.
My tips for solo and group travel
As someone who has experienced solo and group travel, I have to say…I love both! That's why I make sure to take at least one solo trip and one group trip every year. As a TrovaTrip Host, it's truly an incredible experience to connect with your audience on a deeper level, fostering genuine relationships and shared memories that extend beyond the digital realm.
When it comes to solo travel, my biggest tip is to be prepared and stay safe. This means doing research ahead of time, being aware of your surroundings, and having a plan in case of emergency. I also recommend staying in accommodations that are safe and reputable, such as hostels or hotels with good reviews.
For group travel, my advice is to work with a company that knows the ins and outs of curating memorable, authentic experiences while prioritizing safety and fostering a supportive environment for all participants. With TrovaTrip, you'll have a trusted partner to power your trips. They offer over 150 itineraries across the globe that enable you to explore with your audience without having to plan the difficult (yet critical) details such as activities, accommodations, transportation, and more.
Group travel is an incredible way to connect with others and create unforgettable memories together. You can also find people in the group that want to venture out with you if you want to safely sample traveling without the numbers. For example, if you want to hit a library you might find that one or two come with you, while others might want to go to the beach. Remember, you don't always need to stick together the entire time! When you host a TrovaTrip, you're able to connect with your audience, and they will form connections together, too. This is one of the best parts of hosting a trip. People crave that connection and YOU get to provide it.
Whether you prefer solo travel, group travel, or a combination of both, I encourage you to embrace the adventure and see where the journey takes you—so many good things happen when you do.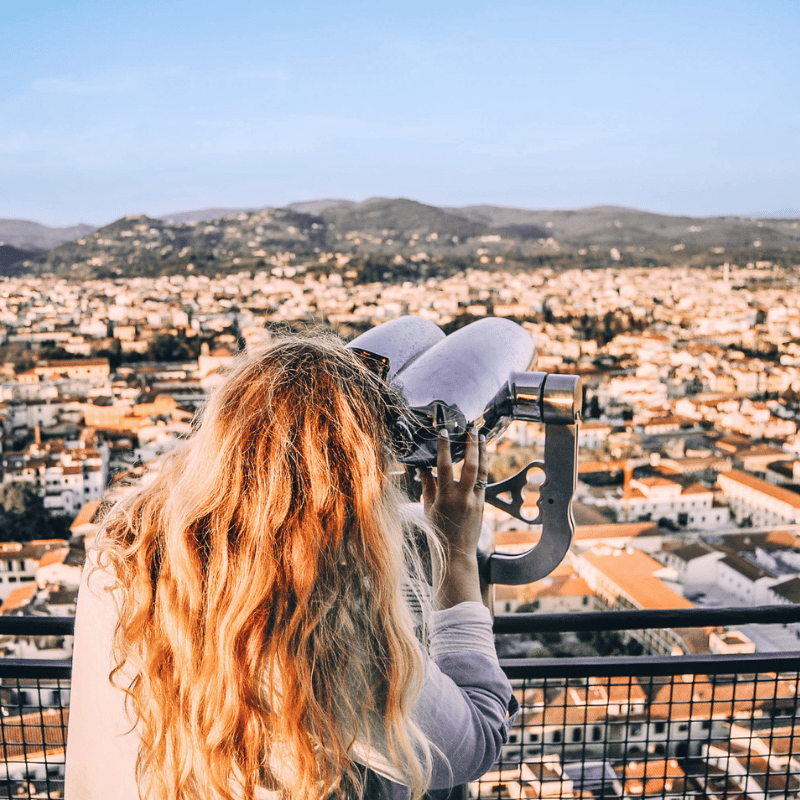 Want to make your stamp as a Creator? Host a women's trip
For me, hosting my first trip in Portugal was a turning point in my own travel journey. Not only did I get to explore a new destination on my own terms, but I also had the opportunity to connect with a group of incredible women who would become lifelong friends and travel companions. We shared laughs, stories, and adventures, and even grew our content creation and social media skills together. In fact, some in the group even became full-time Content Creators!
Looking back on that trip, I realize now how much I gained from both the solo and group aspects of the experience. I had the freedom and independence to explore Portugal on my own, but also the support and connection of my like-minded community.
As a travel Content Creator, hosting group trips can be a fantastic way to share your love of travel, connect, and empower women to get out and explore the world. If you're interested in hosting your own group trip, Trova equips Creators with the tools they need to make it happen. Take it from me—running trips that inspire your followers to break free from their comfort zones, embrace independence, and nurture a sense of empowerment is one of the most rewarding feelings you can have as a travel influencer.
Plus, not only does Trova handle all the nitty-gritty details of planning and logistics, but they also create an incredible environment for like-minded adventurers to connect and create lasting memories. As a Content Creator, it's an amazing opportunity to engage with your audience on a whole new level, share your passion, and grow together in an authentic setting.
Survey your audience:

Sign up with Trova to access a link that you share with your followers to learn where they want to go, when, travel budget, and more.

Use that data to plan your trip:

Choose from one of over 150 itineraries that best fits what you and your audience want to do.
Promote your trip: Share your trip on social media, email newsletters, your blog and other marketing channels to raise awareness about your trip and encourage those in your community to book.
Host your trip: Travel the world together. Yep, really. You get to travel the world with your audience and the connections you form and experiences you share are nothing short of life-changing.
Sign up to Host a Trip With Your Followers
I know, it all sounds too good to be true. But hundreds of Creators just like us have hosted with TrovaTrip and have had amazing things to say—read some of their reviews for yourself here!
Planning and running your trip with Trova is easy, but perhaps most importantly, TrovaTrip empowers Content Creators to foster travel experiences where women can connect and explore the world together confidently. So why not take the leap and learn about offering your own group trip today?
Ladies, let's get out there and travel!
As female travel bloggers, we're blazing the way for more women to get out and explore the world that is just as much ours as anyone else's. Forging space in the travel industry where we confidently add stamps to our passports and rally behind each other in the process.
Traveling solo or with a group are both incredibly rewarding experiences, as long as they're done in the right ways. And with the powerful tools that now exist, and supportive companies like TrovaTrip, there's no shortage of opportunities for female travelers to explore - and change - the world. So let's go do this, one trip at a time.