How to Make Money on Social Media
A guide to monetizing your social following in a creative and authentic way.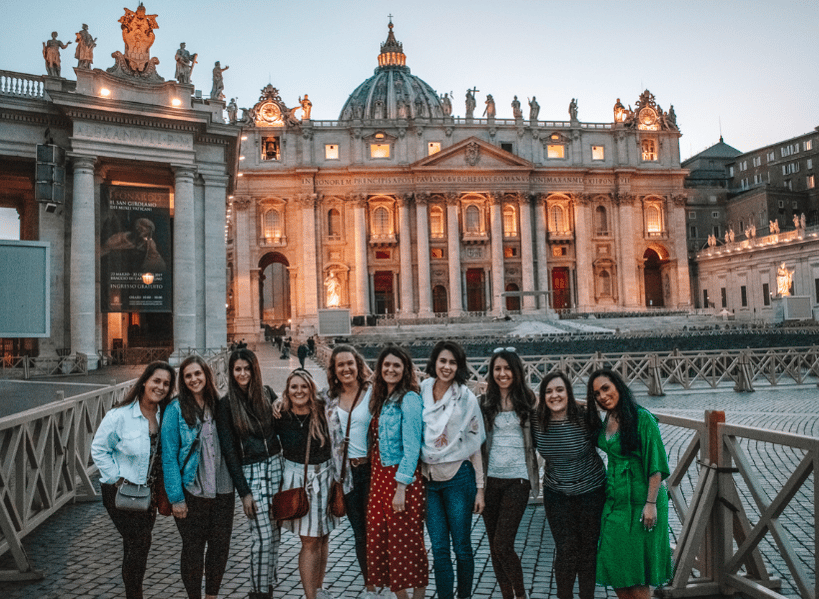 TrovaTrip Host Helene Sula with Travelers on her group trip to Rome, Italy.
Wondering how you can make money on social media? This guide will show you the best ways to make money while staying authentic. You don't need a huge audience to make a full-time living from social media.
We know that social media connects us with the world, and helps us see amazing places, but it's also a great way to monetize.
As an influencer, you can make money on social media in a few different ways. You can charge for sponsored posts, become an affiliate, sell products and services, or even create and sell your own physical products. But there are more than a few ways to monetize your following. In this article, we'll discuss how to make money on social media.
Whether you're an Instagram influencer, a TikTok star, a YouTube pro, or a burgeoning blogger, you can start to make money right now.
Why You Should Monetize Your Social Media
You're working hard to create content, share your experience, and grow your following—you should get paid for the community you've built! The value of using social media to promote brand recognition is indisputable. But, let's face it, social media is time-consuming. You're always playing by TikTok or Instagram's rules, and you might be wondering if all your time and effort is worth it.
The answer is yes! Not only can you make a great living by monetizing your social media, but you can do it on your own terms. You're in control of the narrative and how you want to be perceived online.
When most people think about monetizing their social media, the first thing that comes to mind is charging for sponsored posts. And while this is a great way to make money, it's not the only way. In fact, there are quite a few options available to those with an established social media following. This guide hopes to expand on those different options!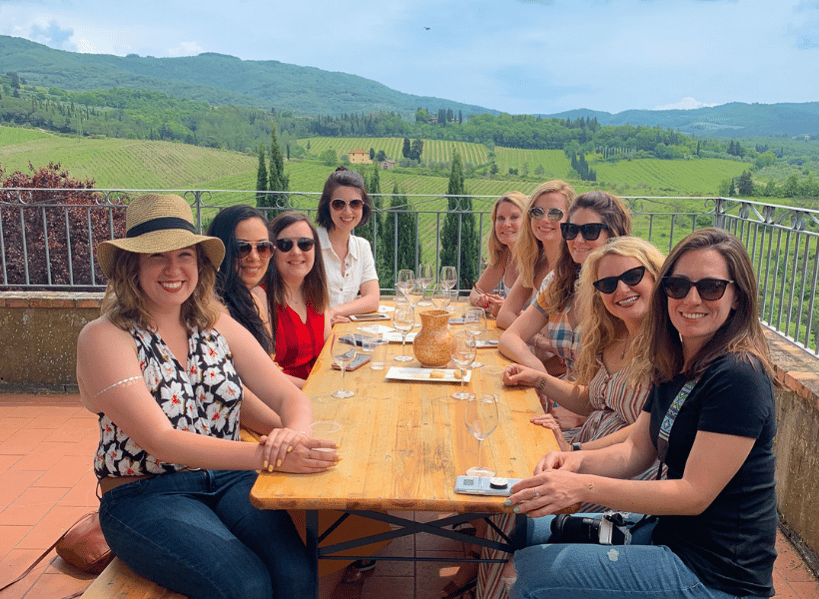 TrovaTrip Host Helene Sula and Travelers winetasting in Portugal.
Ways to Make Money
How can you make money as a content creator or influencer? The answer is: many, many ways.
I personally have multiple income streams. Even as a travel influencer you'd be surprised at the number of ways to monetize. When I first started, I was only charging for sponsored posts. Now, I make money in so many different ways that it would be impossible to go into detail on every strategy in one article!
1. Sponsored Posts
Sponsorships and partnerships with businesses are the most popular methods. This might be in the form of product placement, ambassador programs, or simply getting compensated to talk about a company. This may be an Instagram Reel or a static or carousel Instagram post. Instagram Stories, a tweet, a Facebook comment, or a blog article are all viable options.
The key to success is to share about a brand or product that 1. relates back to your audience and 2. is something you actually use or care about.
Some brands or businesses may contact you and request your pricing, which is also known as your rates. For example, the cost of an Instagram post or TikTok. It's critical to have an idea of how much to charge. Don't sell yourself short! Whether you have a large or small audience, that is impressive.
For example, VisitColorado reached out to me to take a trip to Colorado and share it on social media during my stay. After a few emails back and forth to find out what kind of content they were looking for, I offered a package deal for 2 Reels, 2 TikToks and Instagram Stories for a rate that we both agreed on. It's a win-win!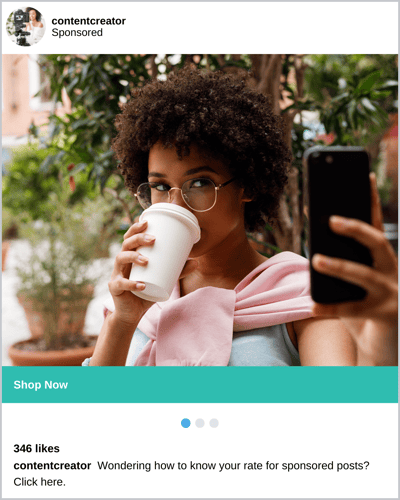 How to come up with your rates:
It used to be that a brand would mostly focus on the number of followers. I'm happy to report that's no longer as big of a determinant!
Right now, the most important factor for determining your rates is your impressions. Whether that's for your Instagram stories, posts, TikTok videos or blog posts. For example, let's say, for easy math, your stories are averaging 10,000 views per story. Typically, you can charge $1,000 for every 10,000 impressions.
However, you can add in more for the type of post, your audience, and your overall impact. Let's say you're sharing often about your curly hair routine and you're working with a brand wanting to promote products for curly hair. This is a good opportunity to up your rates because your audience fits directly in with their target demographics. You can also specify whether you'll be shooting in high quality or provide images and use these tactics to up your rates.
A good rule of thumb for calculating rates is:
# of impressions per post x $.10 + added benefits (ex: $300 for niche targeting) = your rate
It's important to share with brands and businesses you work with your unique ideas and how you can help further grow their brand. I suggest going a little higher than you normally charge and negotiating from there.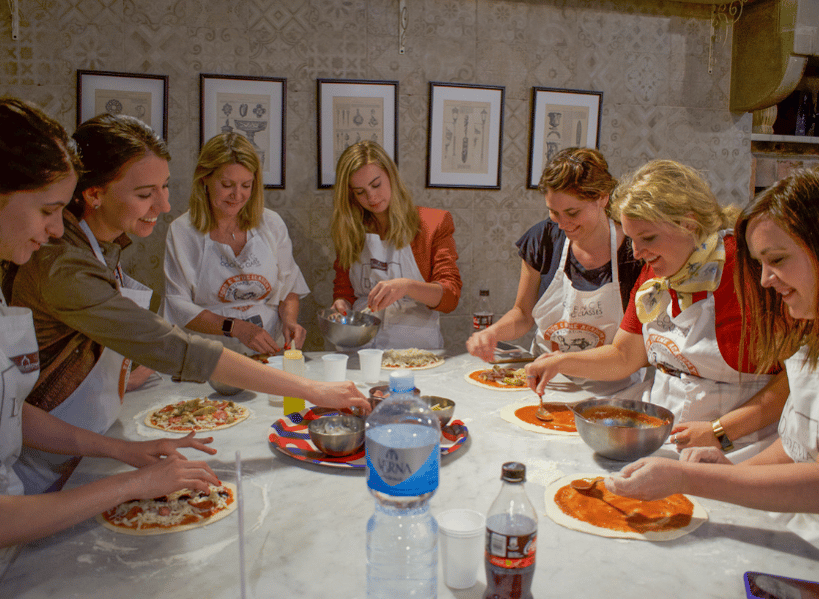 TrovaTrip Host Helene Sula with her group taking a local-led cooking class in Italy.
2. User Generated Content (UGC)
What is "UGC?" User-generated content is content you create for social media. And all brands need content! In fact, they need videos and photos now more than ever. Brands are seeking out UGC content because it allows for a level of authenticity that traditional advertising doesn't. UGC comes in many forms, including images, videos, reviews, a testimonial, or even a podcast.
This is a great way to monetize if you're just starting out because there is little to no overhead cost. All you need is your phone and an idea!
3. Sell Your Own Products or Services
Whether you want to sell digital products, services, courses, physical products or merchandise, this can be an excellent way to monetize.
Think of what you're an expert in or what people consistently ask you about, then create content that is downloadable. These can be ebooks, a membership site, template, or courses. If you're selling a service, this could be one-on-one coaching, consulting, or even leading a group program.
There are endless possibilities here - get creative!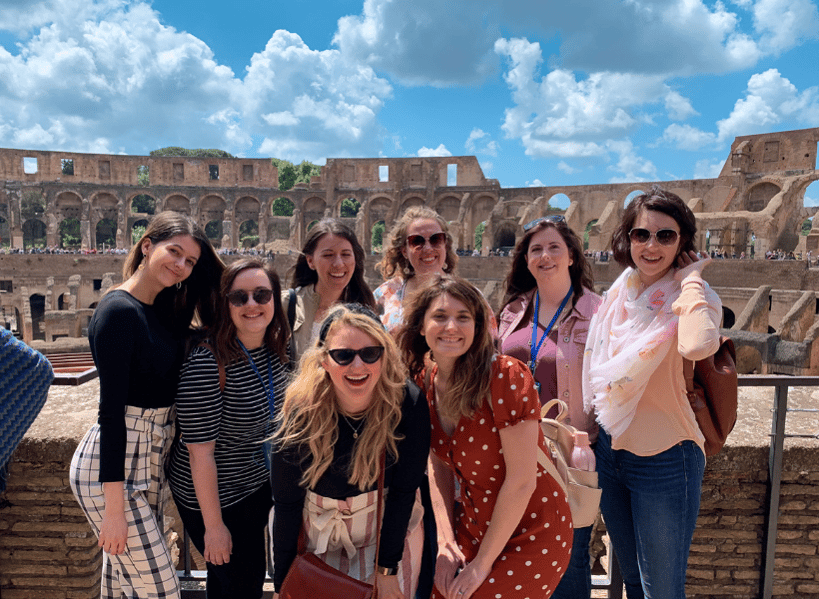 TrovaTrip Host Helene Sula with Travelers visiting the Colosseum in Rome, Italy.
4. Host a Trip
This is one of my favorite ways to monetize! Not only do you create an in-person connection with your following, you get to share your joy and passion with them! The options here are so wide and you can tailor a trip to your interests. With TrovaTrip, you get to learn where your audience wants to go and pick an itinerary that fits you and your community's interests. Some ideas:
Travel with your audience to Northern Thailand and host a photography workshop
Host a yoga retreat on the beaches of Bali
Embark on a culinary experience in France to eat and drink your way through the country
Hike near volcanoes and under waterfalls in Iceland
Take in the culture and views in Machu Picchu, Peru
I've personally hosted trips in Portugal and Italy and not only was I able to meet followers in person, but I also created buzz with my audience, and was able to monetize too!
The best part is that TrovaTrip takes care of the details, the planning process, the insurance, and the nitty gritty like transportation and accommodations. You can sign up to host your own trip through the form below! After submitting, you will receive an email with next steps on how to find out where your audience wants to go, your travel budget, and more.
Host a Trip With Your Followers
Here's a quick overview of how it works.
5. Advertising
This is where companies promote their products on your platforms.
I love advertising because it's passive income. You can apply to Google Adsense, Mediavine, and other advertising networks if you have a blog, website, or YouTube channel with a significant number of visitors.
You will get paid per click or per view and it is a great way to make money passively. This is called CPM which stands for cost per 1,000 impressions. It's different from CPC (cost per click) because you're not necessarily getting paid per click, but per view.
6. Affiliate Marketing
There are also affiliate marketing programs where an influencer gets a cut for every sale they generate. Let's assume you're writing about a product you like from Amazon. You include an affiliate link in your story. For each consumer or follower that makes a purchase, you get paid.
This is an excellent approach to making money without having to create new material all the time. You may simply share items you already enjoy with your audience and earn a commission.
The great thing about this is that anybody can join affiliate programs. You may sign up for Amazon, RewardStyle (LikeToKnowIt), Commission Junction, Affiliate Window, and other similar services!
How to Get Started Monetizing
1. Authentically Monetizing
If you want to earn money from social media, you must understand the distinction between spam and legitimate advertising. The best way to do this? Be authentic in what you share.
When you're genuine, your audience can tell, and they'll be more likely to trust you. This is essential because people are more likely to buy from someone they know, like, and trust.
The best way to be authentic is by sharing your story, experiences, and journey with your following.
This is why I love hosting trips! You can create workshops around things you love, such as how to photograph landscapes in Portugal or how to capture the perfectly twirled pasta in Portofino. Plus, by taking trips with your followers, you get to share once-in-a-lifetime experiences in places that you couldn't otherwise. Think: road tripping through Iceland or swimming under waterfalls in Bali! This is an excellent way to be authentic while also monetizing your social media platforms.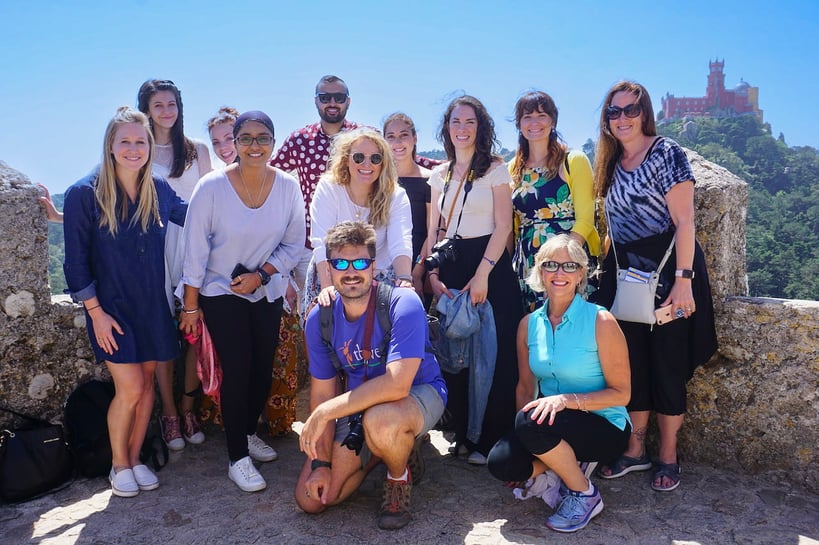 TrovaTrip Host Helene Sula with Travelers smiling for group photo in Portugal.
2. How to be an Expert in Your Field
Who is your target audience? What do they need help with? And how can you combine your unique history and knowledge with your passions and goals? These are questions you should be asking yourself as you share content online.
If you want to be an expert in your field, you need to have a deep understanding of the topic you're covering. This doesn't just mean being able to regurgitate what you've read–it means taking the time to research, experiment, and form your own conclusions.
You can further establish your expertise by hosting trips and focusing on your fields of interest! When you host a trip and provide a photography workshop or yoga retreat you help to build trust in your specialty.
As a blogger, I held a blogging workshop on my trips to help bloggers to gain pageviews and authority on their blogs. This also allowed me to grow my influence as a resource for bloggers!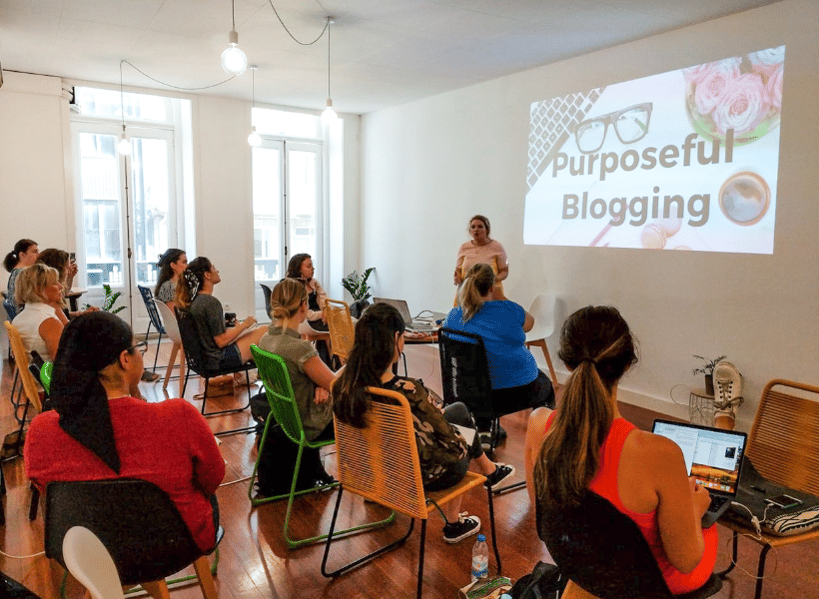 TrovaTrip Host Helene Sula leading a blogging workshop on her trip.
You need to be able to back up what you're saying with evidence, whether that's data-driven content or first-hand experience. And you also need to keep up to date with the latest developments in your niche so that you can provide valuable insights that show you're ahead of the curve.
When you become an expert in your field, people will trust what you have to say and be more likely to follow your recommendations. This is essential if you want to monetize social media, as it gives you credibility and authority.
It's also worth noting that becoming an expert doesn't happen overnight. It takes time, effort, and dedication to develop the necessary knowledge and skills. But if you're passionate about your topic and committed to providing value, it's definitely achievable!
Host a trip to teach your skillset!
Sign up here:
There are a few key things to keep in mind if you want to be an expert in your field:
Do your research: Take the time to read up on your topic, experiment, and form your own conclusions.
Keep up to date: Stay up to date with the latest developments in your field so that you can provide valuable insights.
Be passionate: Share about a topic or cause you love or are highly interested in and commit to providing value.
TrovaTrip Host Helene Sula with Travelers smiling for group photo in Italy.
Bottom Line for Monetizing
There are endless ways to monetize your social media following. The most important thing is to be authentic in what you share and who you partner with. If you're genuine, your audience will trust you and be more likely to buy from you.
To learn more or to Host a Trip with TrovaTrip visit our Host Page.