How Group Travel Impacts Connections With Your Audience
An interview with Brooke Wilson about forming meaningful connections

.

We caught up with adventure-guru and outdoor Creator Brooke Wilson to really understand how she's used group travel to strengthen her community and form deeper connections with her audience. Brooke has been a part of our close-knit Trova family since 2018, has already hosted 2 trips with us to Patagonia and Peru with 6 more on the books for 2021/22. We wanted to share what Brooke has learned through these group trips with hercommunity as she opens up about her 'why' for traveling with her followers, her love for the outdoors, and some of her favorite memories from her trips.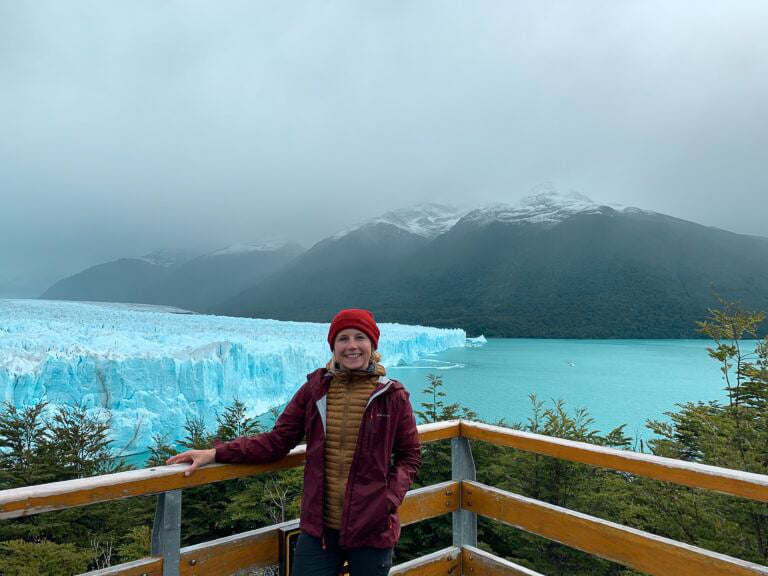 How did you find out about TrovaTrip?
I was contacted via email 3 years ago now, by the business development team, asking if I would like to host a trip. TrovaTrip was so new at this point, I had never heard of it before. A bit weary/nervous as I was unsure if I would be able to sell enough spots for it to happen. I took a call with the co-founder Nick and agreed to just go for it and see what happens! To get started, I polled my audience back in the fall of 2018 asking whether they would like to go to Peru or Costa Rica, and Peru came out on top. So we got that booked for July of 2019 and the trip sold out pretty quickly. Glad I took the chance! My audience responded so well to it.
You've hosted 2 trips with Trova so far, which destination was your favorite and why?
That is SO hard. Both Peru and Patagonia were GREAT. I had been to Peru a few years prior, but never Patagonia. I met the most amazing travelers in July of 2019 in Peru – lots of them joined in Patagonia too, after having such a great time on the first one.
They were both special for different reasons. I was a bit more nervous for Peru because it was the first and I didn't really know what to expect or how I would feel as a Host. Then when Patagonia came around I was a lot more comfortable. Both places were SO scenic and adventurous, which tend to be my top-selling destinations. Ones with hikes, views, photographic scenery. Both gathered such an amazing group of like-minded people that really connected with one another.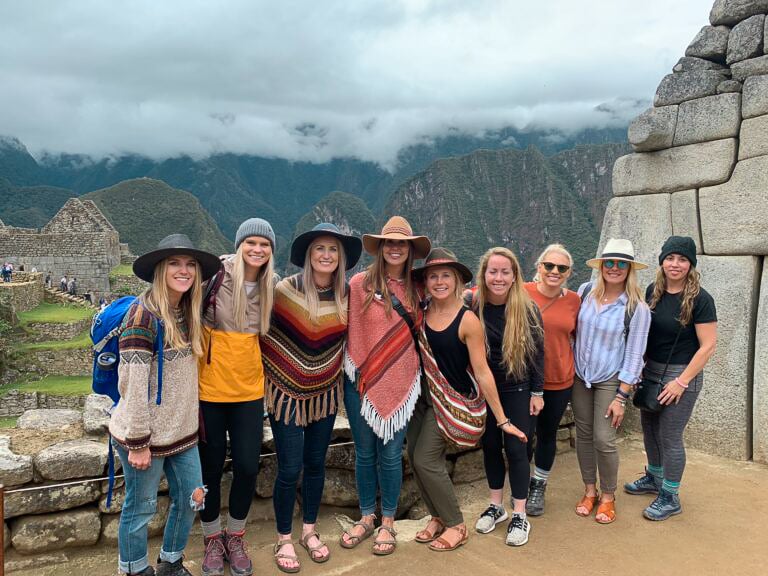 What would you say are some of the most memorable moments from your trips?
Honestly, just the connections made between myself and the travelers and seeing the trips through their eyes. Like I said, Peru I had traveled to before so it was neat taking more of a back seat and seeing the travelers enjoy it, helping with photos, and ensuring they had a great time! I have become great friends with people from the trips and hope to continue to make those connections as the trips go on! Also seeing travelers connect with each other and stay in touch outside the trips, over Instagram, and in person.
The hikes were pretty good too. 😋. I loved how on the hikes everyone was encouraging each other and supporting along the way, the conversations that came out on the trail, then reaching the destinations together and enjoying the reward at the end!
The Patagonia trip ended RIGHT before the world kind of 'shut down' last March. So to be able to have that experience together as the last 'hurrah' of travel before not being able to was kinda neat. Though I wish the world would open so we can experience more.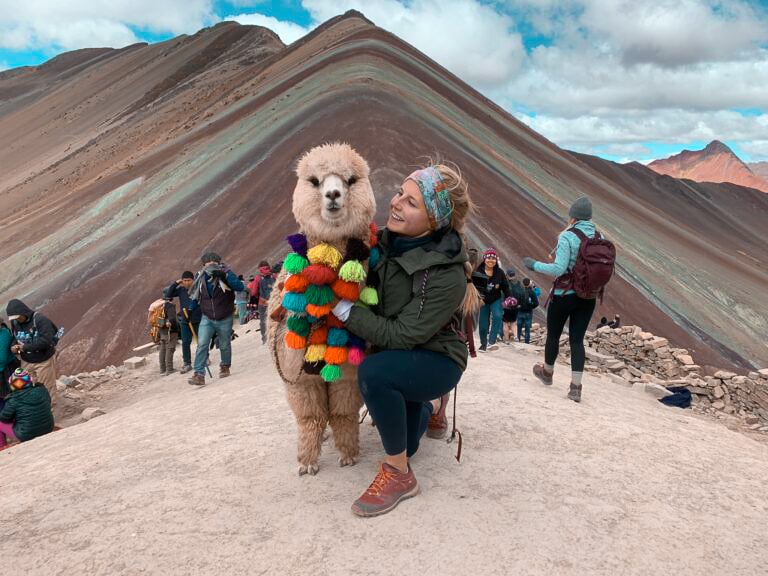 How has hosting group travel impacted your connections with your audience?
I am SUCH a personable person, and of course, it's helped me connect with my audience even more. It can be hard over an app like Instagram to stay genuine and connect with people. In person it's totally different. Because the trips were so adventurous, they definitely drew together like-minded individuals.
We created an instant family from the start of each trip, and I think people were very open with one another and felt welcomed. I am always trying to answer every email, or direct message I get cause I feel like it helps me connect with people, or sending audio notes and answering questions. Being able to meet up in person and experience some amazing things together is something you can't really explain. Once the trips ended, it was nice to then message back and forth having made those memories together, and reminiscing about the good times!
Do you feel like it's helped you grow your personal brand?
For sure it did! People see me as an actual human being, with a little more respect for me I think. I love to hike, run, adventure, travel on my own, and share that with my audience. People see my page as inspiration to get out there, see the world and experience new things. Breathe the fresh air of new places. Launching trips where my audience can actually book a trip to experience some of that with me is pretty cool. I WANT my audience to get to see and do the things I have been so fortunate to be able to do. The world is our oyster!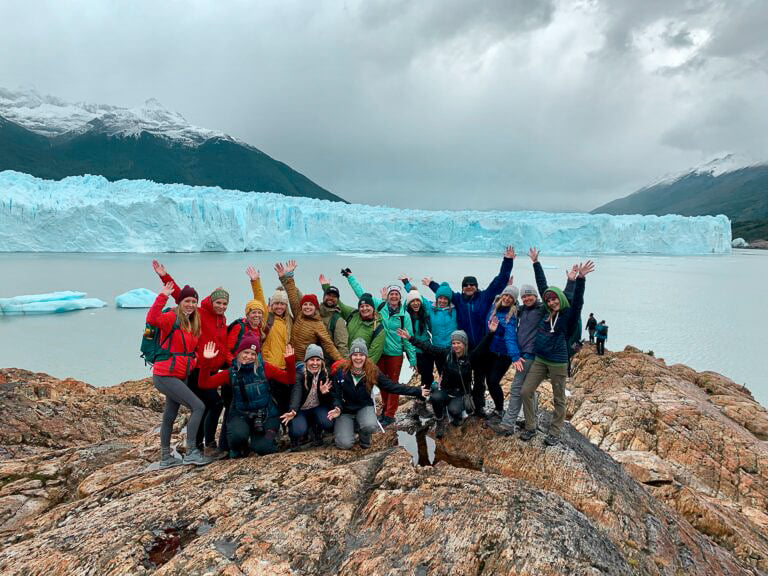 Would you say hosting with TrovaTrip has taught you anything?
It taught me to be more open. To be vulnerable and just believe in myself. When Trova contacted me back in mid-2018, I didn't really believe I could even fill one trip, let alone EIGHT now. Hosting Peru upped my confidence and then filling up Patagonia and my other six trips. I believe in human connection even more than I did before, which was hard to beat. I love in-person adventures. Way back at the start of the Instagram days I used to host little 'Instameets' in the mountains, where I would tell my audience that we were meeting 'here' on 'this date' for a hike, or to take photos and meet one another. These helped people connect and build relationships outside of Instagram. Solo people would come out, connect, and then after the meet up would then feel comfortable in getting together in smaller groups. I wanted to bring people together!
There is a lot of people out there who WANT to travel so badly, but I have learned that most just feel overwhelmed, don't know where to start planning, or have no one to go with. Trova has made this possible for those people. You can sign up solo – they plan the trips! You just have to commit. 😋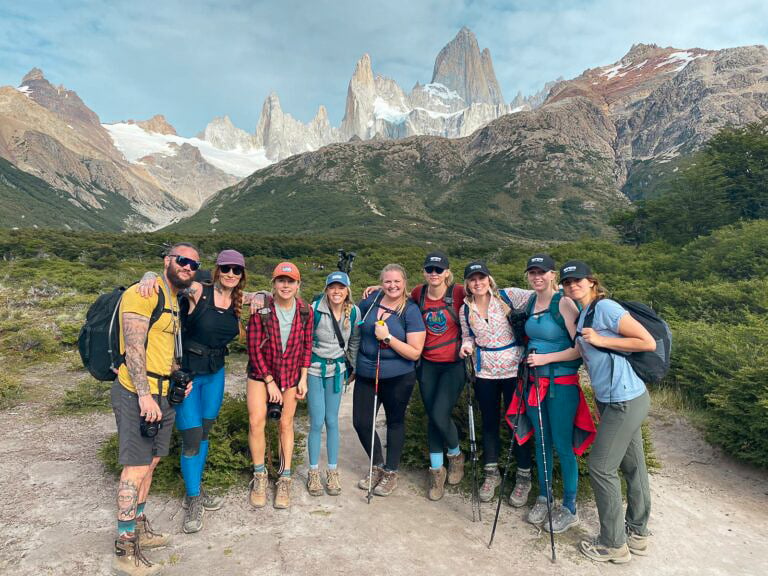 Can you speak to how hosting has given you the opportunity to see the world and travel with impact?
Like I said, yes it is fun to travel around solo, or with my fiance and dog, but being able to connect with my audience in person makes me feel like I am contributing to people's happiness even more so. Sharing those special memorable moments together. I don't want to just post amazing photos, stories or talk about my own memories, but I want my audience to have those memories too! It's so cool to think that because of Trova, and myself, these particular group trips can even happen. The connections between people, friendships, and bonds wouldn't be a thing. It is amazing to feel like you have that impact on people's lives and giving them the opportunity to see the world. The trips are SO well organized, people can sit back and enjoy, and not have to worry about planning things every day 'cause Trova has you covered and has organized the most amazing itineraries for these different destinations.
Speaking of traveling with impact, we know you have a strong passion for the outdoors. Can you tell us more about that and share how hosting trips around the globe has impacted your passion for the outdoors?
I LOVE and appreciate the outdoors. My hashtag #freshairandfreedom speaks to just that. The outdoors has changed my life. Everyday life can get a bit overwhelming, work-life, demands, etc. and when I go to the mountains, go for a run, or travel, I instantly feel more at peace and settled. Even though we haven't been able to travel over the last 10 months, the outdoors has not been canceled. Whether it's getting outside for a hike, run, bike ride, or just sitting on my deck for a bit – the fresh air helps!
I love connecting with people outdoors also (on the trail, at campsites, etc.) We are all drawn to it for different reasons, but it's cool that we all have a common love for being outside and that's a conversation starter on its own. I appreciate the diversity in the outdoors too, we have been gifted SUCH an amazing world, and to be able to see all the different landscapes, cultures, scenery, etc. is pretty special. I have been to 22 countries, and even though I love to travel, coming home to Alberta also brings me so much happiness. I LOVE where I live, and appreciate the Rocky Mountains.
I would love to host a Canada trip and show people around my own backyard one day!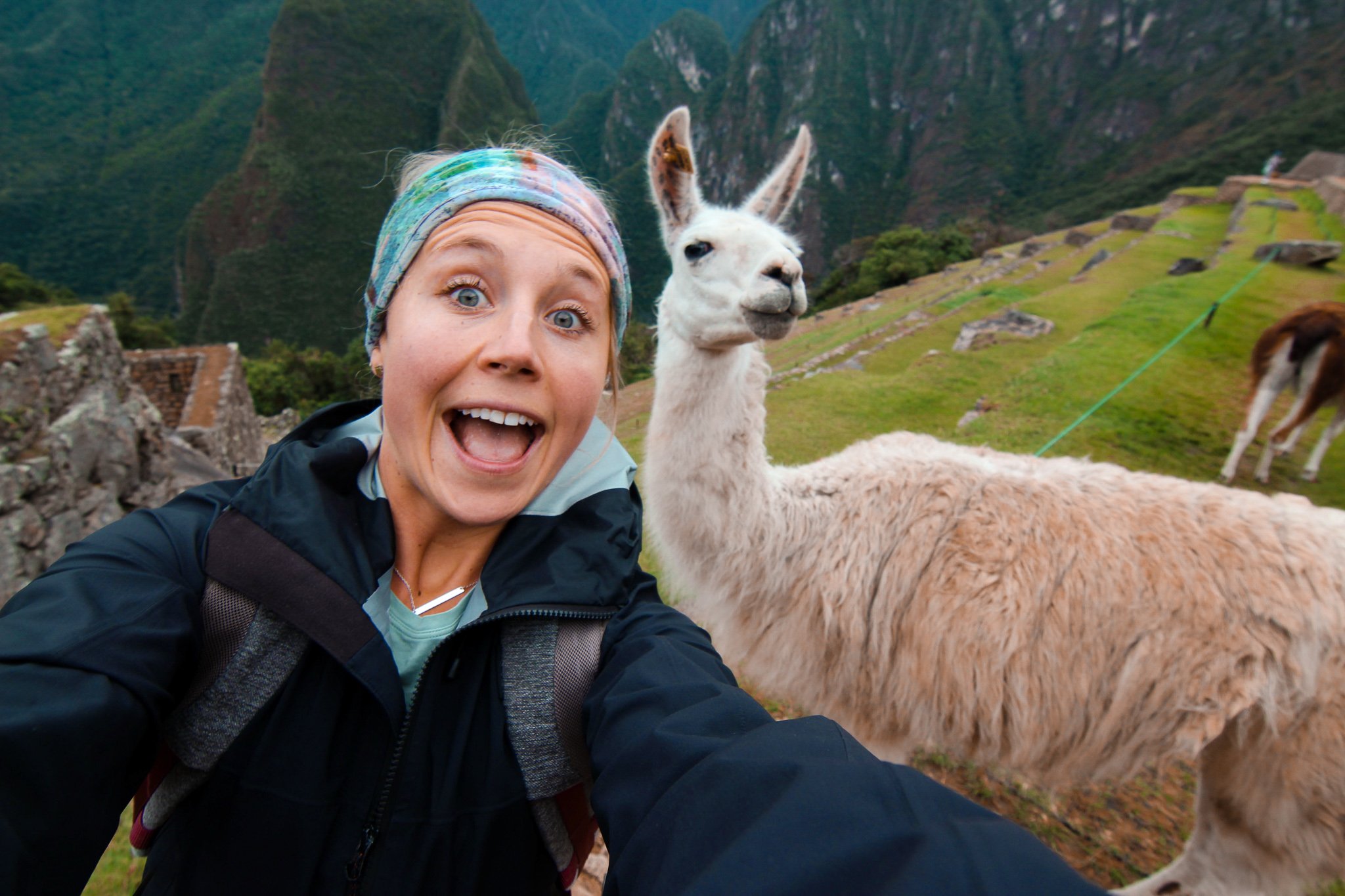 What are you most looking forward to on your upcoming trips?
TRAVELING. Meeting more amazing people in person! That sums it up. I can't wait for the world to open back up. Our appreciation for travel will certainly be on a whole new level when it does!
To sum it up…
Brooke uses the TrovaTrip platform to host memorable excursions with her audience and share life-changing moments. On her future adventures, Brooke plans to continue to make her mark on the outdoor community by bringing together nature-lovers after a long year of solitude. Interested in joining Brooke and her crew of explorers as they breathe in that #freshairandfreedom and pave the way in the outdoor/adventure space? Don't hesitate to secure your spot, there's room for just a couple more travelers on her Bali, Coyote Gulch, and Escalante River trips.
Does creating community through travel sound like something you'd like to do to take your brand to the next level? Apply to become a Host. Come find out how to strengthen your brand through travel and earn income through traveling. Yes, there really are jobs that travel the world and support local economies, and you can be part of it.