Choosing the Best Business Entity as a Content Creator
The Business of Creating blog series.
The Business of Creating blog series is brought to you by TrovaTrip and Creative Juice.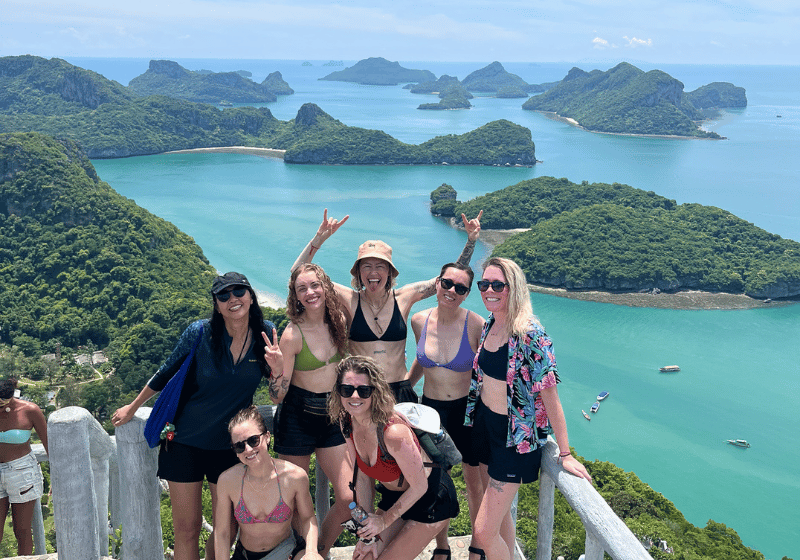 Life as a Creator is a little bit like an iceberg — the rest of the world only sees a small piece of it. Creating content? Fun. Connecting with the online community you've built? 10/10 dream job. But underneath the surface? It's a lot of work.
There are the underlying operational aspects of running your business. You know, the stressful things like deciding on the right business entity for your brand, navigating tax season, managing your cash flow, negotiating with brands to get what you're worth. It's enough to make your head spin just thinking about it. And while we can't take away the paperwork, we've teamed up with the Creator-friendly finance experts at Creative Juice to try and make running your own business a little less work. In this blog series, you'll learn all about the essentials of managing your business to set yourself up for success.
First things first: Decide on the best business structure for you and your brand.*
*Any information provided in this blog should not be considered legal advice. Please consult with an expert.
You did it! You're making sweet, sweet money, creating great content for your followers and brands. That means you're officially in the business of being a business. Don't panic if the "being a business" part wasn't actually in your plans — we hear that it's common for Creators to feel like they "accidentally" became successful and had to learn to manage a lot at once. Take it one step at a time, this is when you get to decide how you define your business and set it up to grow!
You need to decide on the best model given your business needs. Let's talk sole proprietorships, LLCs and how to decide which business entity is the best fit for you.
Sole Proprietorship
As a Creator, you can choose to operate as a sole proprietorship, meaning a business owned and run by one person in which there is no legal distinction between you, the owner and you, the business. Forming a sole proprietorship is truly simple — if you (with no co-owners) begin operating a business, you're a sole proprietorship. Ta da! No formal paperwork required. To make the financials more streamlined, you can open a Business Banking Account with Creative Juice that easily separates your personal and business expenses for you. Piece of cake.
LLC
If you want to create liability protection between your business and your personal assets, an LLC (Limited Liability Corporation) is your best approach. An LLC is simpler than a C-corp (where the owners are taxed separately from the corporation) and for most Creators should do the trick.
An LLC can protect your personal assets from business liabilities but keep in mind that it can cost more as there is a set up cost and annual registrations. Don't stress too much though, these are deductible!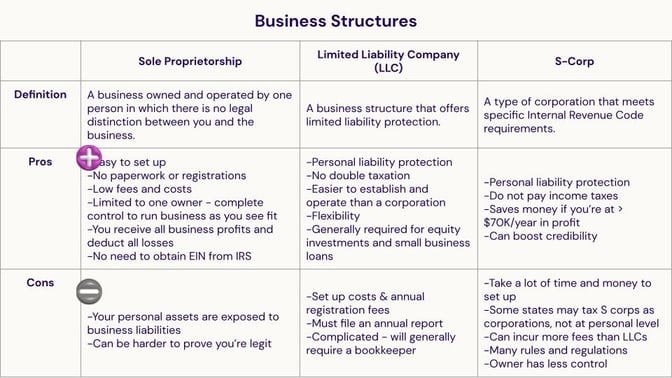 Choosing between an LLC or sole proprietorship.
If you're still growing your business, a sole proprietorship may make more sense. If you have personal assets to consider or start forming brand deals or launching products, you may be exposed to more liability, and an LLC may be a better fit for you the protection you need.
Once you decide the best route, you can get back to doing what you do best: creating!
Pro tip: With Creative Juice, Creators can get direct access to a Creator-minded CPA concierge, so you no longer have to work with tax professionals unfamiliar with their business. A Creator-minded CPA can help you with business entity creation, monthly bookkeeping and more.
Time to apply your learnings.
There's no playbook on being a Creator. And until there is, we're making it a priority to pair with experts like Creative Juice to help you navigate uncharted territories, like the Business of Creating.
At TrovaTrip, we've spent the last 3 years helping 575 Creators host life-changing group travel experiences with their communities while diversifying their revenue streams (and increasing their incomes). And Creative Juice offers automated Creator business tools and community so you can focus on what you do best — creating. Together, we want to bring you Creator-specific knowledge about how to manage, grow, and maximize your business.
So go put your learnings to work and we'll work on bringing you the next wave of learnings. Now get out there and run your business.
---
Read more in the Business of Creating series:
---

About Creative Juice
Creative Juice is funding, banking and automated business tools for Creators. Creative Juice's ambition is to make Juice banking and financing accessible for all monetizing Creators. Founded by fintech leader Sima Gandhi and Creator business vet Ezra Cooperstein, Juice creates financial opportunities for Creators to scale their businesses. The platform offers personalized funding to supercharge Creator growth, banking that manages Creator income, expenses, invoicing and bookkeeping and community to connect with fellow Creators. For more information, visit getjuice.com.