Your Ultimate Guide to Group Travel
Considering group travel? Here's what you need to know

.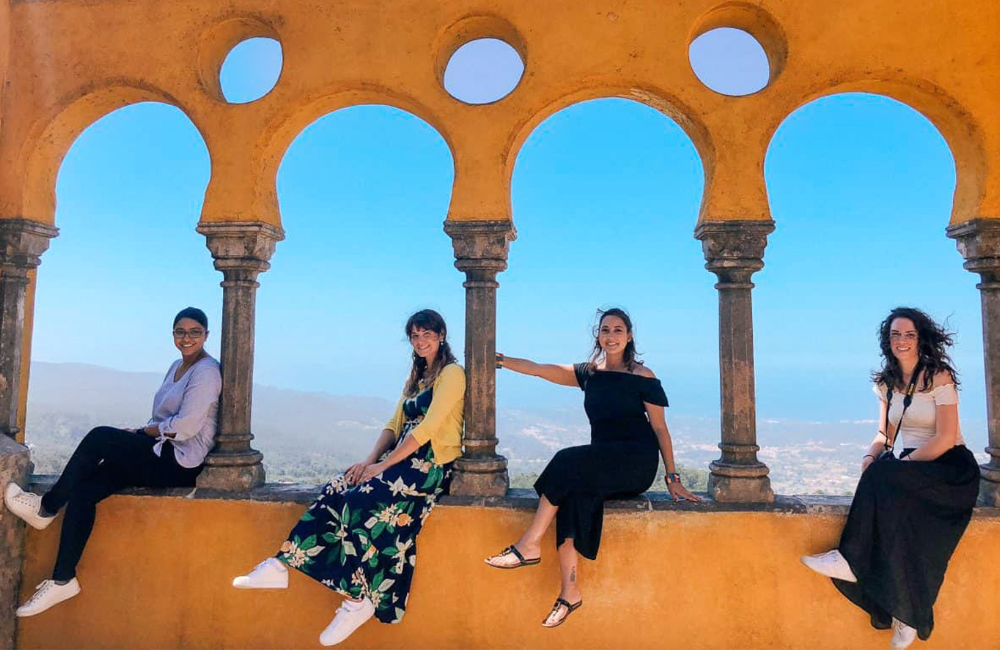 With a 50% increase in group travel booking rates since 2021, it's no secret that group travel has emerged as one of the best ways to explore the world. If you're looking for a unique way to travel and make lasting memories, then group trips are for you! And whether you're an experienced traveler or just starting out, there are so many benefits to going on a group trip. Let's dive into what group travel is all about and why it's a great option if you want to meet and travel with like-minded people without the stress of planning a trip.
What is group travel?
Simply put, group travel is exploring the world with like-minded people. But it's so much more than that—it's an easy and seamless way to experience a destination without endless researching, booking and planning.
For anyone that's been on a trip, we know there is a lot to navigate which can make a vacation more stressful than fun. That's why it's necessary to have a skilled professional organize your trip. I turn to TrovaTrip (a group travel planning and booking platform designed for Content Creators) to ensure my trips are planned seamlessly with unique itineraries, great restaurants, hotels, and local guides who make sure all my guests are taken care of.
Plus, group travel leaves you with experiences that are truly unforgettable; like the time I was in the middle of the streets of Florence, a warm summer breeze tickled the back of my neck. Suddenly an entire band in full black and white ensembles approached the streets and started serenading the group of 18 women. "We had to sing for all the beauty!" one man exclaimed after finishing his Italian song. This is the type of experience you can only have when you take a group trip.
After all, a good trip is nothing short of life-changing—and I should know! The first trip I hosted to Portugal was back in 2017. I recently traveled with 2 women who went on that trip in 2022...5 years later! These relationships, connections, and friendships are priceless.

The benefits of group travel
Stress-free travel
Let someone else worry about the planning and logistics. One of the biggest benefits to group travel is that the itinerary is already designed which allows you to truly enjoy, relax, and learn. Group travel is the perfect way to explore a destination and spend your time discovering, rather than worrying about if your taxi is going to arrive or if your hotel will live up to its online reviews.
Have a local guide to lead the way and speak the language. Another perk of signing up for organized group travel is that the trips offered through companies like TrovaTrip are professionally designed and managed by experienced operators who know all the ins-and-outs of the destination. This means all activities are vetted and planned for the group in advance—no searching required! The operators even employ local guides who know everything about their city or country, and provide incredible insight into what makes this place special, creating an unforgettable journey for everyone involved.
Want to know the best place for paella in Barcelona? Your guide will tell you. Decide on a whim to take a flamenco class? Your guide knows where to go!
Having an experienced guide who knows the area means that you can ensure you're getting an enriching and meaningful experience.
Form connections
Travel has a way of broadening our perspective and opening us up to more people and experiences than we might have at home. When we do this, it naturally sets us up to form connections unlike any other.
On one of the group trips I hosted with TrovaTrip in Europe, it was several people's very first time abroad. One night, we celebrated a traveler, Megan's birthday. We surprised her with a cake and all 16 of us crowded around the table, shrouding the cake lit with candles and uncontrollably giggling as we sang "Happy Birthday." It was in this moment that I realized these strangers - mere days ago - were now lifelong friends. You simply can't recreate this type of environment anywhere else!
It's safe!
Maybe you're itching to explore the jungles of Bali or the volcanoes in Iceland. Now, you get the benefit (and memories!) of going with others.
Being a part of a group decreases the likelihood that you will be targeted by thieves, and having secure lodging every night eliminates any chance that you might find yourself wandering through an unfriendly neighborhood in search for a hotel at 1am. You also have reliable transport and your guide knows which areas to avoid.
Group travel is also a great option for solo female travelers who may be hesitant to explore on their own. When traveling in a group, there are others to share and navigate your experiences with, and your local guide is there to show you the way, making it much safer than traveling alone.
Having been on a group trip to Morocco, I know it's an incredible destination, but not one I'd choose to visit solo. Having a group to explore the streets at night made me feel so much safer than I would have wandering around on my own as a woman.
By traveling in a group, you feel empowered and ready to explore unfamiliar cultures and environments with confidence. There is safety in numbers and much less of a chance of getting lost on your own. With group travel nothing holds you back from experiencing all that's out there—whether it's taking an evening walk along the shoreline or wandering through remote Mediterranean villages.
Interested in learning about hosting your own trip? Fill out the form below.

What's it like going on a group trip?
I tend to freeze up in new environments when I'm meeting new people. But something about group travel is different—it presents ample opportunity for discussion and you already know you're surrounded by like-minded people. Plus there is no better way to bond than by experiencing new things together!
In a pasta making class in Rome, one of our first group outings, we all sat at tables getting to know one another. After making the pizzas, we all cut them up into 20 different pieces so everyone could try each person's concoction. We then spontaneously voted on whose was best. At the end, the staff was so tickled that they gave bottles of wine to our top picks! We ended up all splitting the wine. It's a memory we would never forget, and from then on we might comment on each other's Instagrams with "Pizza Competitor" as a reminder.
These inside jokes and shared connections form lasting memories you simply can't create from behind a screen.
So, who's on these group trips? Typically you'll find that most travelers are solo. Meaning, they booked the trip alone. You'll also find couples, friends, and sometimes a mother-daughter duo in the mix. But rest assured that everyone who books the trip goes with the intention of making new friendships!
And while you make long-lasting connections, you also grow personally. You'll be able to reflect, take a break from the norm, and learn about yourself throughout the process.

Logistics of group travel
Pace and physical activity of a trip. The pace of the trip and physical activity level are up to you! If you check out TrovaTrip's website, you'll see a variety of trips and options. They are different lengths of time, places, and activities with everything from days spent lounging on the beach, to summiting Mt. Kilimanjaro! The trips are even rated 1-5 based on the level of physical exertion they require so you know what you're getting into when you sign up.
Rooming and privacy. Group trips tend to vary, but often provide a couple rooming options to choose from. You can either have a shared room, or choose to have your own private room depending on the trip. I always recommend sharing a room because it's a great way to make friends! With TrovaTrip, Hosts have their own room while travelers typically have a double occupancy room unless otherwise requested.
What's included? Total cost of the trips depend on what is included. Examples of inclusions provided by TrovaTrip are accommodations, some meals, activities, transportation to and from airports, and your local guide.
Typically flights to and from the destination are not included, but it depends on your package. In short, you'll usually see a fixed total price that lists all these elements before booking.
Pro travel tip: A benefit of not having every meal included? You get free time to try that local café on the corner that caught your eye!
The local guide is there to run the show. Your local guide is the go to expert for your trip. They not only ensure your safety they help facilitate trip logistics, help you maneuver in your destination to make for a wonderful trip. Your guide is also fluent in the local language and knows all about the local customs, history, and cultural norms such as tipping.
I remember on one of our trips our train was delayed which meant we'd miss a connection. Our guide helped to swiftly navigate our group and we were only five minutes delayed. These kinds of travel hiccups can happen and having a local guide helps ensure a smooth trip.
Your guide also points you in the direction of the best places to eat, hidden gems, nightlife, or get you to a bank, pharmacy, or hospital.
One of my favorite memories was going to a local bar in Florence recommended by our guide and it was the absolute perfect place for us! We'd never have found it if it wasn't for our guide.
As a Host with TrovaTrip, you can feel confident since your guide is the authority on your trip. Their job is to make the trip go off without a hitch and give you and your travelers the ability to relax and focus on having fun and making connections!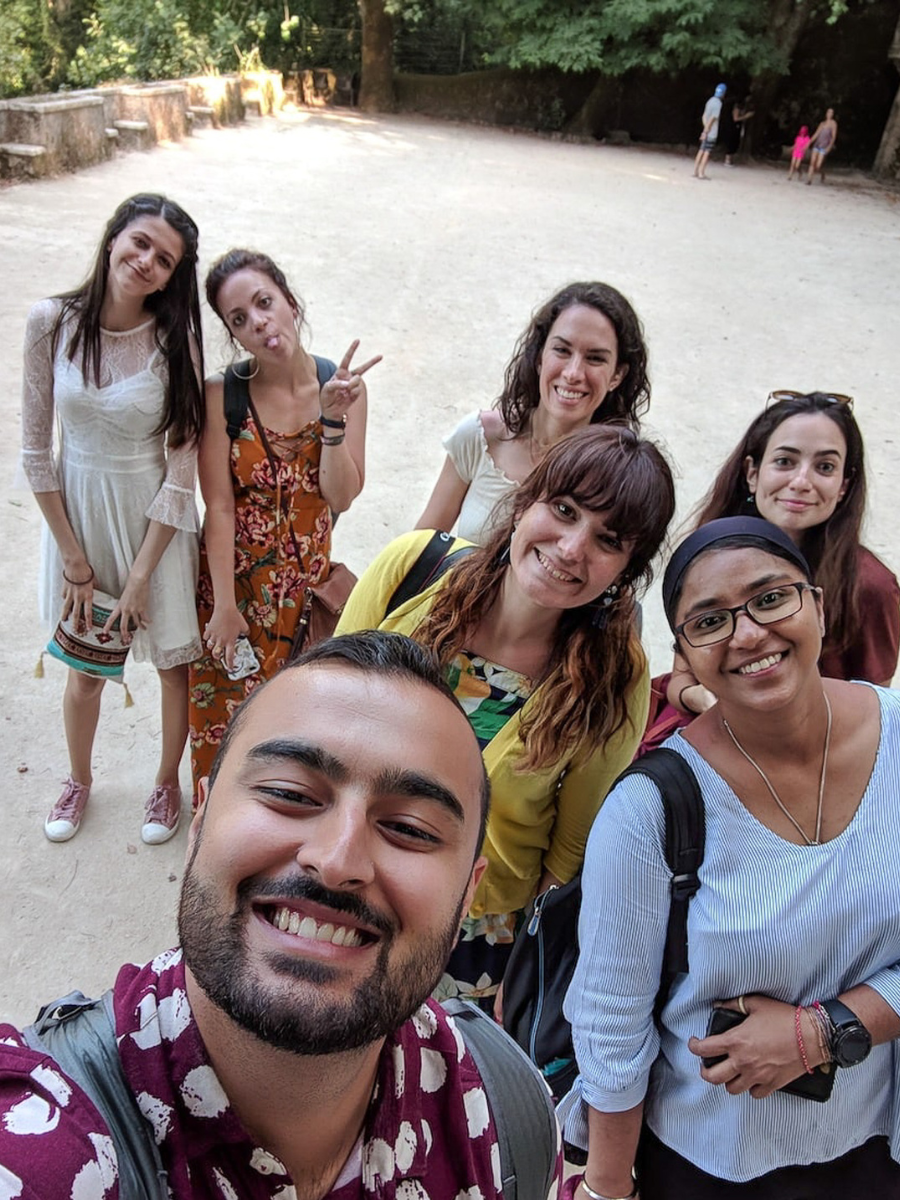 What kind of group trip should you take?
Now that you know all about group trips, what kind of trip would be best for you? I would recommend choosing a trip with an itinerary and destination that reflects your interests and passions!
One way to find a trip is to see what options creators are offering for their trips. For example, I'm from the USA but I love sharing my passion for travel in Europe. I often select city itineraries that are a mixture of food, wine, tours, and time to explore. So my travelers tend to be those highly interested in Euro-travel with an interest in content creation.
Do you like to explore and see as many different places as possible? Or do you prefer to stick to a few cities or regions? Do you like adventures with lots of hikes or would you rather spend time relaxing at beaches or pools?
If you want to host a trip, TrovaTrip provides a survey so you can learn exactly what your audience interests are, their budget and what your followers might want out of a trip. Maybe an adventure in Patagonia, a photography tour in Morocco, or an exploration of Costa Rica. You can cater the trip to your needs!
No matter what type of group trip you choose, you can be sure that you'll have unforgettable experiences, new friends and countless unique stories to share!
What makes TrovaTrip travel experiences different
Connections. TrovaTrip enables Creators to bring their communities together, uniting those of similar interests, and generating strong connections that can transform lives.
Peace of mind. Group travel offers something special—the chance to really immerse yourself in your destination without having to worry about planning every little detail yourself. From meeting new friends to exploring unique experiences together, there are so many reasons why joining a group on your next adventure might be the best decision ever!
Your safety is always the number one priority at TrovaTrip. For female solo travelers, visiting destinations such as Morocco or hiking solo in Bali can be a daunting experience. TrovaTrip is committed to providing an environment of safety and assurance while enabling women and explorers to bond with like-minded adventurers.
Giving time back. TrovaTrip allows creators have time to focus on what they're passionate about—making meaningful connections with their audience. Plus, all the difficult logistics are taken care of so that even more energy and attention can be devoted towards enjoying amazing experiences!
With so much of the world to explore, a unique group travel experience awaits! If you're looking to host a group trip with your community, fill out the form below to learn more.
Looking to join a trip as a traveler? Book a spot on an upcoming trip.
---
Group Travel FAQ
What types of destinations and experiences can you do with group travel?

Group travel can take you all over the world! You can choose from a variety of experiences, such as photography tours in Egypt, adventure trips in New Zealand, relaxing beach getaways in Thailand, and more. The possibilities are endless!

How many people go on a trip?

Most trips usually have around 10-20 people. This allows for a perfect balance of togetherness and personal space.

Do I need to be outgoing to host a trip?

Not necessarily. As a Host, you can survey your community to learn insights and pick the perfect itinerary; selecting locations and activities that are the best fit. Plus, when you have the added benefit of an experience, it makes an easy way to connect. Sharing new experiences makes it easy to connect with people, even for those who may feel shy at first.

What is the rooming situation like on a group trip?

Most often you'll find double occupancy rooms. So

2

to a room, each with their own bed. With TrovaTrip, Hosts have their own room and travelers share a double occupancy room unless otherwise requested.

Is there privacy or downtime on a group trip?

Of course! Trips are full of activities and experiences, but there is also plenty of downtime for you to relax or explore on your own. After all, it's your vacation!

Do I need to be an experienced traveler?

No experience necessary! TrovaTrip's team of experts are always available to help make sure you have the best trip possible. They'll handle all the logistics, so you can relax and enjoy your journey.