Why TrovaTrip May Be Your Next Great Career Move
We're investing in our team to change the world through travel

.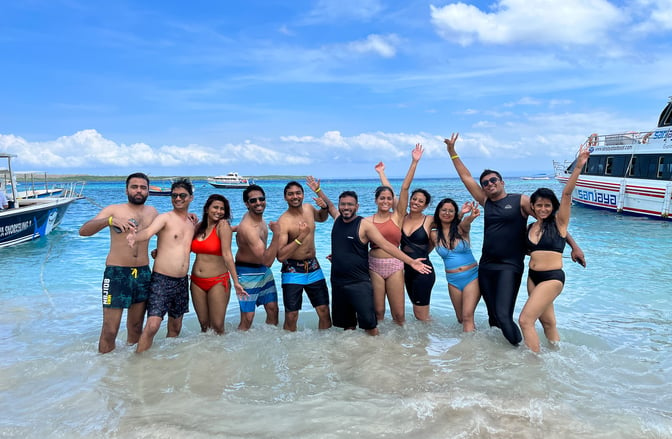 TrovaTrip Host @kritika_goel and Travelers at the beach, Bali 2022.
We all make career moves. But what do you consider when looking for a new role? Growth opportunities? Flexibility? Having purpose behind your work? Whatever your checklist, you should never settle. And your next transition doesn't have to be just another "job," it can be a career filled with true adventure and possibilities. If that's what you're looking for, TrovaTrip could be the next great move you make.
We're proud of how far we've come as a company and the best is yet to come. We're fortunate to be in our own growth phase as we celebrate new funding of $15M from Madrona Ventures. This allows us to invest in top-tier talent and develop our platform to provide best-in-class technology for creators and their communities. All while empowering our team to live our mission of making travel easier, safer and more accessible to all.
Fulfilling our vision starts with finding talented people who are passionate about travel, technology and being a part of something bigger. Our TrovaTrip family has grown in leaps and bounds since the beginning of 2021 when we had just 15 talented teammates. Today, we're close to 60, and our new funding allows us to recruit passionate, skilled individuals who are dedicated to changing the way the world travels.
But first, it's good to know our story.
Our founders (and all of our teammates) believe that life is enhanced through meaningful connections, learning and exploration. That's the essence of what makes TrovaTrip so unique—we allow creators to bring people together over a shared passion, form lifelong connections and explore somewhere new. And that, if you ask us, is pretty rad.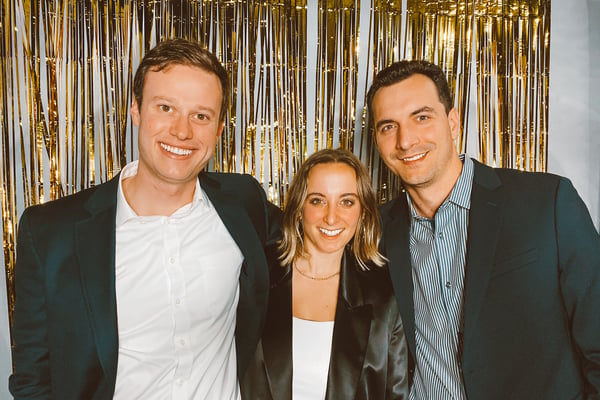 TrovaTrip founders CEO Nick Poggi, CRO Lauren Schneider and CTO Brandon Denham.
Our founders, Nick Poggi, Lauren Schneider and Brandon Denham, had different backgrounds and experiences that led them to start TrovaTrip. They came from finance, tech and sales, but their passion for connecting people through travel brought them together.
"We all started somewhere else in our careers," says Poggi. "But the power of travel inspired us and we had complementary skills and experience that made it clear this was worth pursuing."
The first trip that they booked was to Italy in April 2018. Since then, over 400 content creators and small business owners have joined TrovaTrip as Hosts, and 15,000 Travelers have booked experiences using our platform. 51 countries and over 150 itineraries later, it's safe to say that the past few years have been a wild ride and experiencing exponential growth (even during a pandemic) has us feeling like the sky's the limit.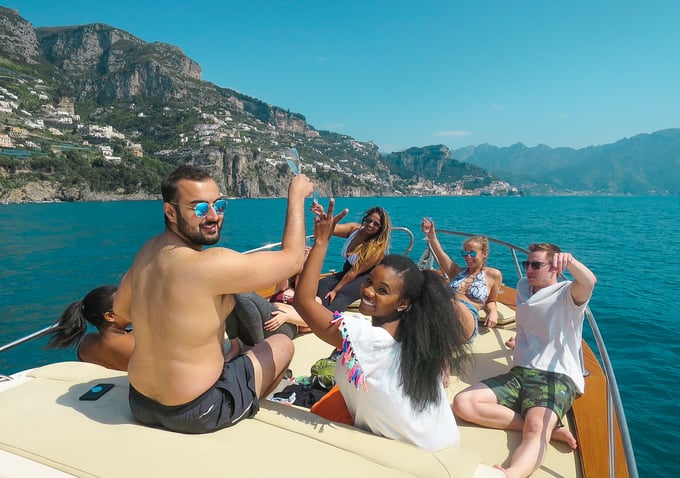 CRO Lauren Schneider and Travelers in Italy on first-ever TrovaTrip trip, April 2018.
It's the people who make the culture.
Ask any employee, and they will proudly say that TrovaTrip's culture is one of our primary strengths. We foster a work-hard-play-hard environment where your co-workers truly become your allies and best friends. There is a drive to succeed and win together, while supporting each other when times get challenging.
"In my 2 years here, there have been a few key things that have stood out to me about working at TrovaTrip: the opportunity for growth, seeing feedback being implemented, and my incredible coworkers. I started out as an Account Manager with no previous sales experience, and through the guidance of my managers and team, I've been able to hone in on effective sales strategies and have since moved up to Senior Account Manager. Additionally, it's been nice to see that any feedback given to management is actually taken into consideration and we've seen tangible benefits and changes effected rather quickly. Lastly, we arguably spend more time with our coworkers than anyone else in our lives so it's amazing to work with so many talented people that are supportive, solution-oriented, and collaborative—and we are all bonded by our love of travel. Some of my colleagues have become some of my best friends." - Vivian Lei, Senior Account Manager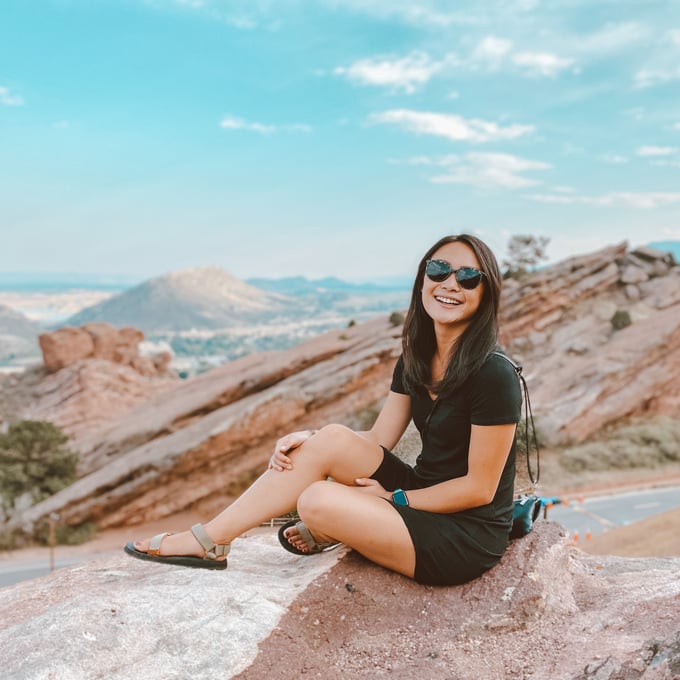 Senior Account Manager, Vivian Lei.
A motivating, positive leadership and management team support our employees to become their best while respecting the space they need to lead a balanced life. Importantly, everyone believes in the company's commitment to inclusion and the uniqueness of each individual. Our DEI and Culture Committees constantly work to improve the impact we have on our employees' lives, and the lives of those within our community. Some current initiatives we have in the works include an internal mentorship program for new employees, a company-wide volunteer day and donation of funds from office cans and bottles to local charities.
Far beyond the basics of company benefits.
Nothing feels better than knowing you're taken care of by the place you work. That's why we place a high priority on continuing to improve the benefits we offer to our employees. TrovaTrip's benefits continue to evolve, but some of our current highlights include the following:
Several medical, dental and vision insurance options with a standard of 85% company coverage on our base plan
A 401(k) matching program
Generous PTO upon hire and additional accrual with tenure
Fully paid leave for new parents
Flexible hybrid work schedule
And, of course, since we're a travel company, there's a great perk for full-time employees that allows you to see the world. You'll get to go on one trip with Trova per year (which includes additional PTO) to see what all the buzz is about!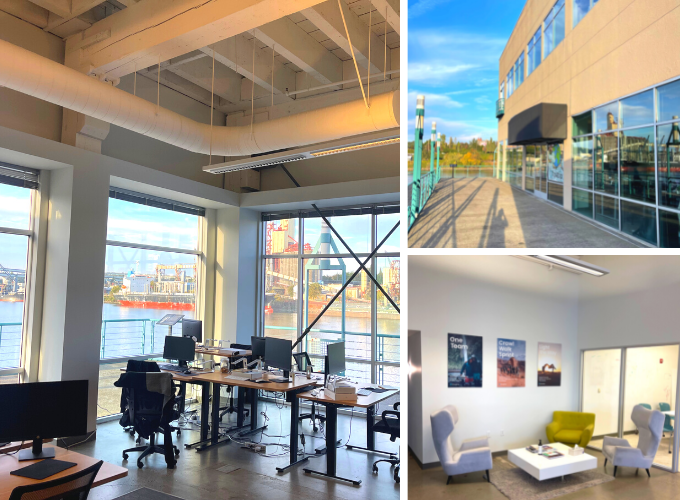 View of the TrovaTrip office located in NW Portland, Oregon.
Oh, and did we mention our office space? If you'd like an upgrade from the view of your cubicle, TrovaTrip's headquarters is located on Portland's NW waterfront (you'll get a free parking pass) in a walkable location close to Fields Park and a variety of local businesses. We're not going to lie, life on the waterfront has made us guilty of a few summer Friday happy hours—cheers!
Current opportunities at TrovaTrip.
There are several roles open today across many departments, with more on the way. Growth is happening fast (thank you, new funding) and we're excited to welcome new members to our TrovaTrip family. Give our open roles a look, we're highlighting a few to get you excited about joining TrovaTrip. All positions are current as of October 28, 2022.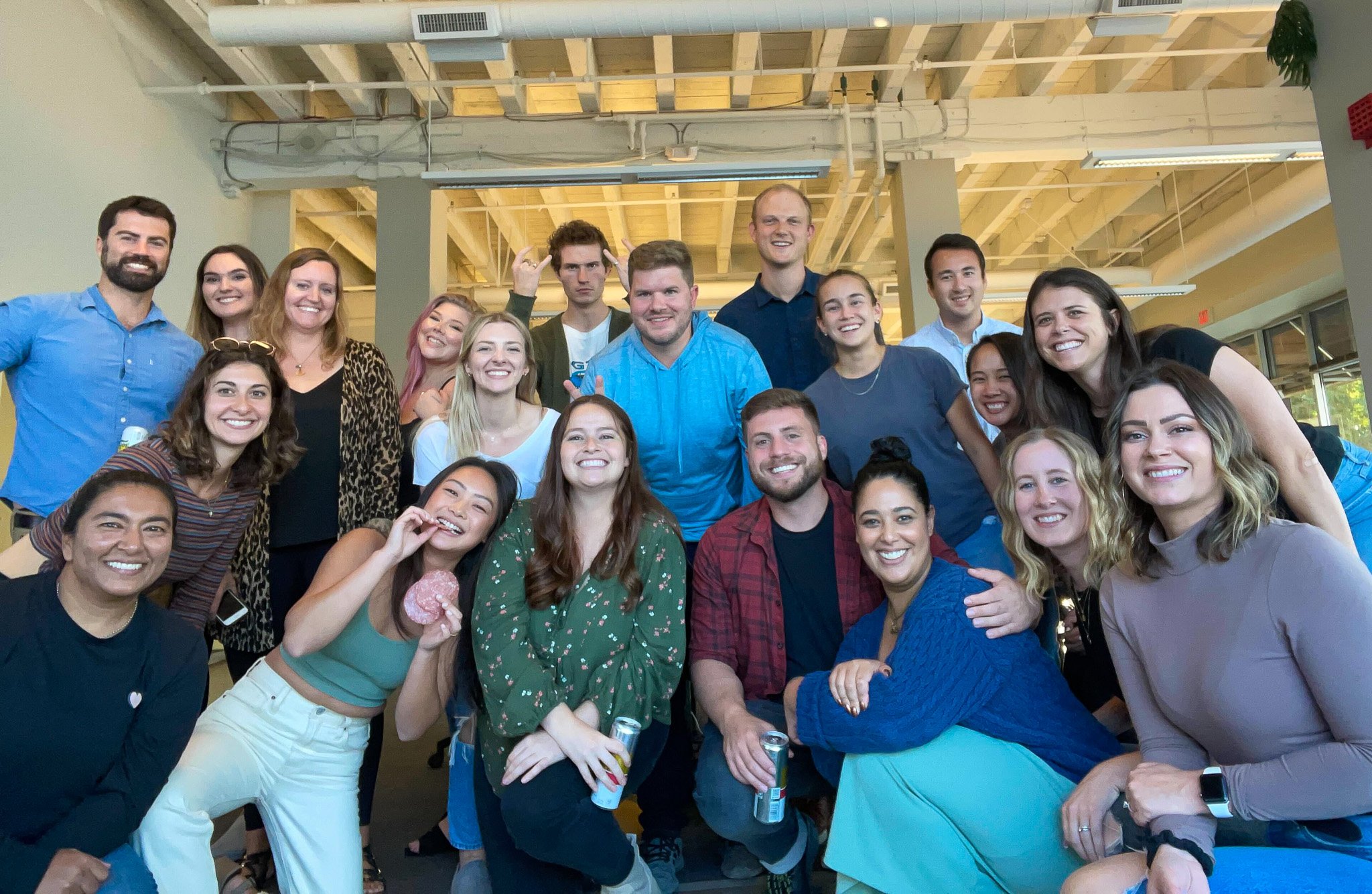 Group of TrovaTrip team members in office at event, 2022.
Engineering
Powering and innovating the TrovaTrip platform is one of our top priorities. A few gifted engineers brought us to an amazing place, and it's time to fly even higher. We're adding a We're adding a Sr-Engineer to this roster of talented folks. These engineering roles are remote or hybrid in our Portland, Oregon office depending on the position.
Sales
The TrovaTrip community keeps getting bigger and better. And we're on the hunt for Account Executives, Account Managers and a Business Development Representative passionate about forming strong connections and helping creators build experiences that matter. This is a new way to think about sales, through supportive relationship-building that makes the world a better place. These roles are hybrid and based in our Portland, Oregon HQ.
In addition to a fulfilling work environment, TrovaTrip commits to training and elevating our teammates. You'll clearly understand your career pathway and get all the support you need to succeed. Additionally, we create new positions regularly, especially for those who stand out to grow within the company.
It's the team that makes the company.
A lot of companies think that they're changing the world, and some do. Others? Not so much. Each day, we see how much our platform means to communities and, yes, we firmly believe that we're doing a lot of good in bringing people closer together. But it starts with our mission and purpose and comes to life with some of the most talented people in technology and travel.
We invite you to give us a closer look to see if TrovaTrip becomes your next great career adventure.
---
Additional resources: