TrovaTrip Ranks #236 on Inc.'s 5000 Fastest-Growing Companies
What this means for Trova, travel, and you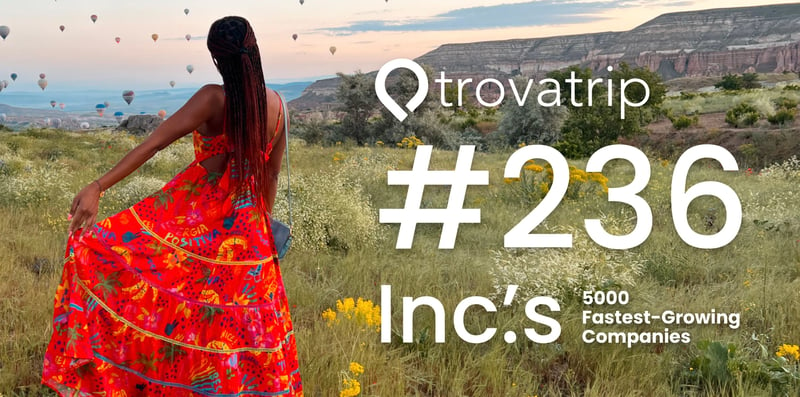 When we founded TrovaTrip 6 years ago, we set out with a mission to help people find their community, everywhere in the world. That mission has guided our business decisions over the years. It pushed us to work directly with Trip Operators — to bring their knowledge and local expertise to design and curate itineraries that Travelers love. It inspired us to start partnering with Creators — inviting them to work with us as 'Hosts', to build incredible, life-changing trips for their communities. It is what drives us today to keep iterating to create a world-class experience for every Traveler and Host who goes on a TrovaTrip.
Though that mission didn't inspire the specific goal of "being in the top 5% of rapidly growing private companies," it certainly got us here.
We were proud to hear that TrovaTrip was ranked 236 in the 2023 Inc. 5000 Fastest-Growing Private Companies in America. We've been working so hard to build TrovaTrip to what it is today, with our primary aim being to build a good, solid company that helps people find their community everywhere in the world. And we're just getting started.
TrovaTrip is the first group travel platform that gives Creators the ability to bring their online communities offline through life-changing, multi-day experiences. We've built a marketplace where Creators and global Trip Operators come together to curate adventures (or leisurely vacations) that Travelers love. We're proud of the symbiotic ecosystem we've built:
How we've grown
Ecosystems aren't built in a day. We launched TrovaTrip in 2017 and ran our first 26 trips before the pandemic brought travel to a grinding halt in 2020. As a young company, we knew it was critical that we deliver what our customers want and need, and find a safe and scalable path forward. It was a challenging time for many, but the Creators we worked with were adamant: people need human connection more than ever on the other side of this. And bringing online communities offline through travel is one of the best ways to curate and cultivate togetherness and belonging for when the world reopened.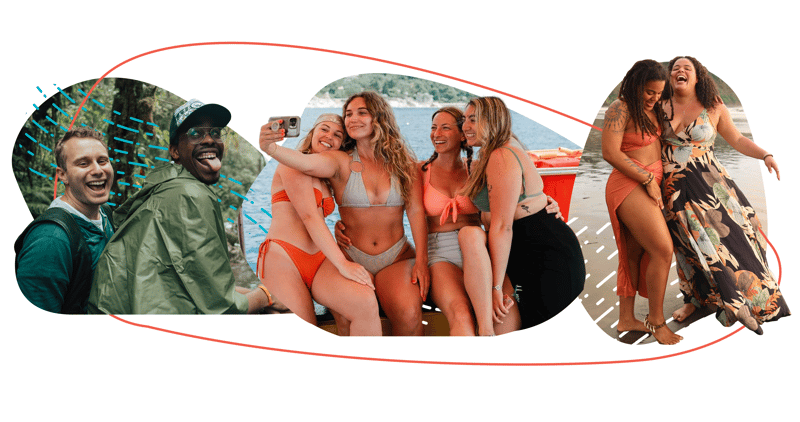 Trova has booked 1,500 trips for over 21,000 Travelers, and we currently have 550 active Hosts/Creators who are planning or running a trip. We've increased the number of trips operated by 1000% over the last 3 years while maintaining an average trip rating from Travelers of 4.6/5.
And we couldn't grow our Hosts, Travelers, and trip numbers without also growing our team. We've gone from 5 employees in 2019 to over 100 Trova employees today to ensure a great customer experience end to end.
We partner with over 50 Trip Operators, offer more than 150 itineraries, and have trips in just shy of 50 countries. In fact, as I write this blog, there are 10 TrovaTrips on the ground — in places like Bali, Iceland, Japan, Ireland, and more. In short, wherever you and your community want to go, we can help you find your way there.
There's a strong alignment between the travel industry and the Creator Economy. 86% of people turn to social media to determine their next trip. Now Creators can bring their community together, strengthen their brands, create a safe, connective option for solo Travelers, and build a new income stream. All while traveling the world.

Thank you
Thank you. First and foremost to the entire team at Trova HQ. Thank you to our 100+ employees who care so deeply about the customer experience, who put their passion for travel into their work, and who aren't afraid to build an entirely new way to see the world. This growth would be—quite literally—impossible without you all.
Thank you. To our community of Hosts, Travelers, and Trip Operators. Building a multi-sided marketplace isn't always easy, but your trust, your perspectives, and your expertise mean we are always on track. We always say that no amount of technology, logistical wrangling, or support competes with the magic that happens on-trip; when like-minded people get together.
Thank you. To our investors, advisors, and supporters — early and recent, long-term or short. Thank you for believing in our vision of an entirely new way to travel. For understanding the power of Creators as partners, and for empowering us to run after our mission.
Being recognized in the top 5% of rapidly growing private companies means so many things to a young company — a commitment to building a world-class experience, a promise of ongoing iteration and improvement. However, we're just getting started, and there's so much more to come!
If you're a…
Creator looking to bring your online community offline: start here.
Traveler looking to follow your passion around the globe: check out our trips.
Passionate worker who wants to join the team and help us advance our mission of helping people find their community everywhere in the world: see job openings.
Hope to see you on a TrovaTrip soon.