Best Group Travel Destinations for the Solo Female Traveler
Travel safer, create lifelong connections and see the world.
Traveling alone can be a little intimidating. Traveling by yourself as a woman can be, well, even more anxiety-inducing. Many solo female Travelers have concerns about planning big trips by themselves, dining alone and, of course, staying safe in faraway places. But solo travel is freeing in ways you can't experience unless you've actually traveled by yourself. Being on your own in a foreign land allows you connect with countries and cultures in ways you never thought possible.
That's why solo-booked travel groups have become so popular recently. In fact, solo female travel has exploded over the past few years. According to the George Washington School of Business, nearly ⅔ of today's Travelers are women. Condor Ferries says the search volume for the term 'female solo travel' has increased nearly 62% over the past 3 years. Not only that, but 32 million American women traveled solo at least once over the past year.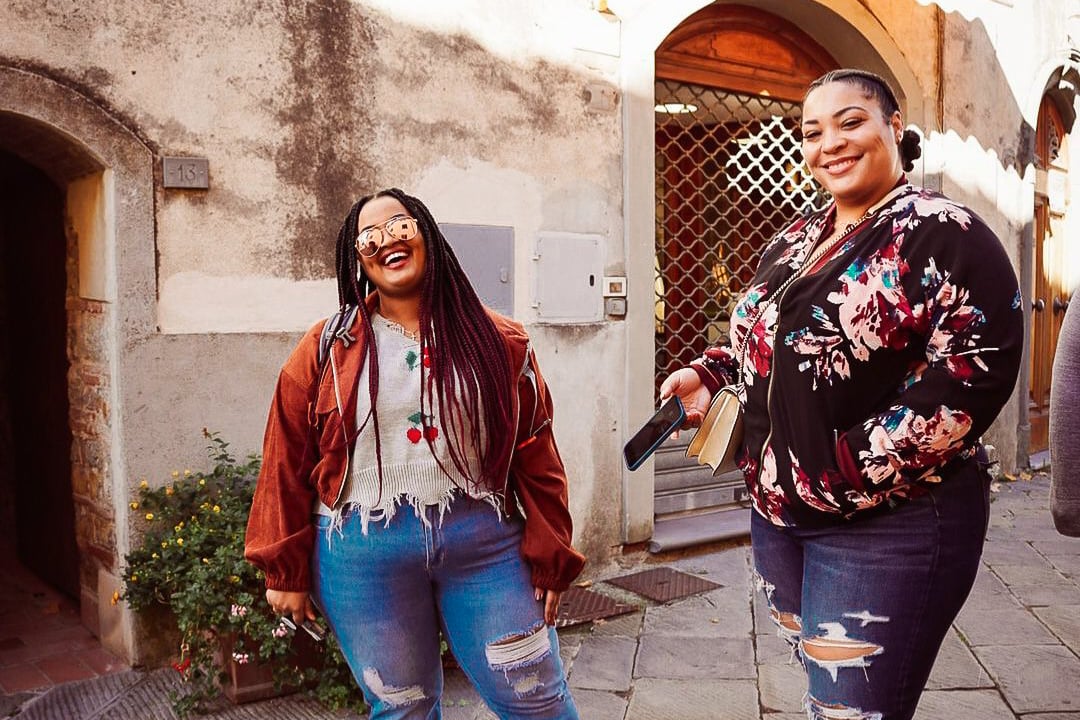 TrovaTrip Travelers @hareg_tilahun and @mariabonita_21.
If you're a woman who wants to travel solo, but some destinations seem unattainable for whatever reason, we'd strongly encourage you to opt for group travel. In fact, it's estimated that in 2020 nearly 80% of TrovaTrip Travelers booked solo. Come for the adventures, stay for the friends and lifelong connections.
So, where should you go? That's exactly what we're going to cover in this article. TrovaTrip has gathered a list of the best places for solo female Travelers to see in a group. We offer trips and itineraries for all these destinations, so get in touch with us if these sound like places you want to go. Whichever you choose, they're best enjoyed with a group of solo Travelers like yourself! Now, let's get to it.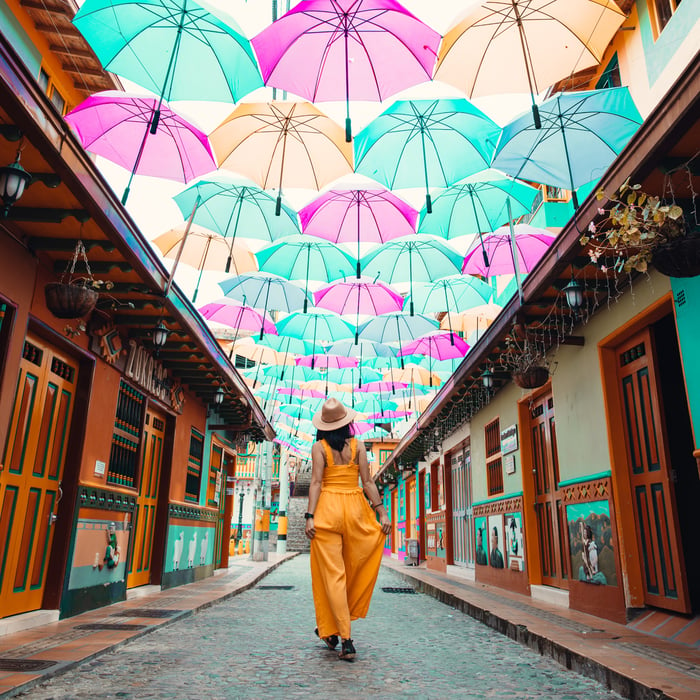 Colombia
You won't believe the incredible food, fashion and culture in Colombia. Not to mention the beautiful scenery, salsa dancing and coffee! This is the perfect destination for a group of solo female Travelers. You'll feel much safer surrounded by your new friends, plus you'll have a guide who speaks the language and knows how to get around. You'll love Colombia's spectacular national parks, vibrant cities and immaculate beaches. So let the fun begin!

Jordan
Lots of women have concerns about traveling to the Middle East solo–you're not alone there. So why not explore Jordan in a group? TrovaTrip's Jordan itinerary is full of historic destinations and locations that are difficult to get to on your own, including luxurious dome structures where you'll stay in the desert.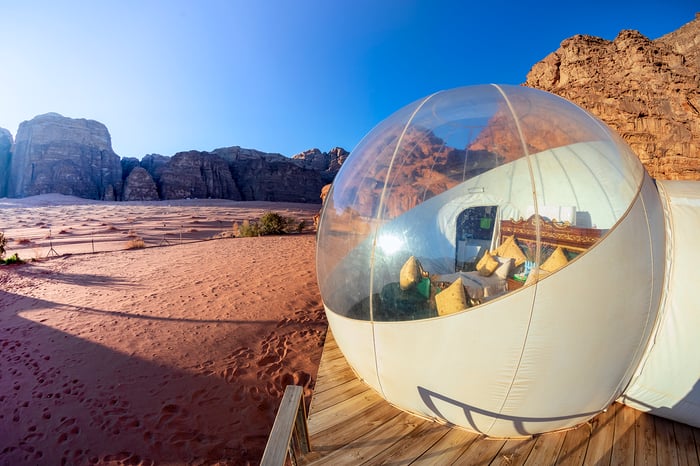 Photo of the dome accommodations in Jordan. Photo from wadirumnightluxury.com
Plus, there are so many Instagram-worthy moments on this trip. Jordan's ancient ruins and deep roots have stood the test of time. Our guides will help you navigate cultural norms and the language–all you have to do is show up and enjoy yourself. Oh, and pack your camera.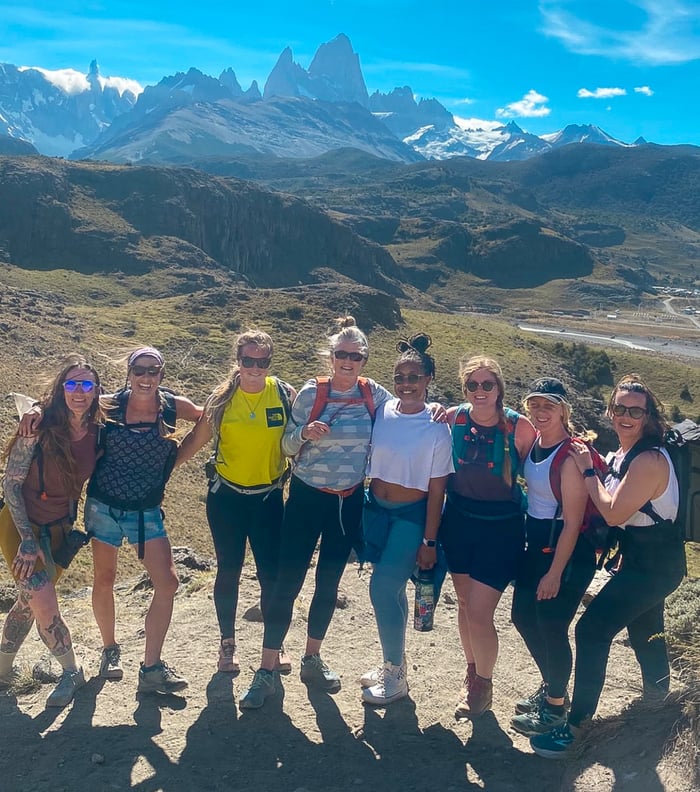 TrovaTrip Host @krissyclimbs and Travelers in Patagonia, 2022.
Patagonia
If you want to connect with nature while connecting with other powerful women, embark on a group adventure through Patagonia. The region is located in South America and spans both Chile and Argentina. You'll push your limits and bond with other women as you hike glaciers and trek to views of Mount Fitz Roy's famous jagged peaks (these peaks are among some of the most stunning on the planet, trust us). Patagonia offers a once-in-a-lifetime opportunity to bond over larger-than-life adventures south of the equator.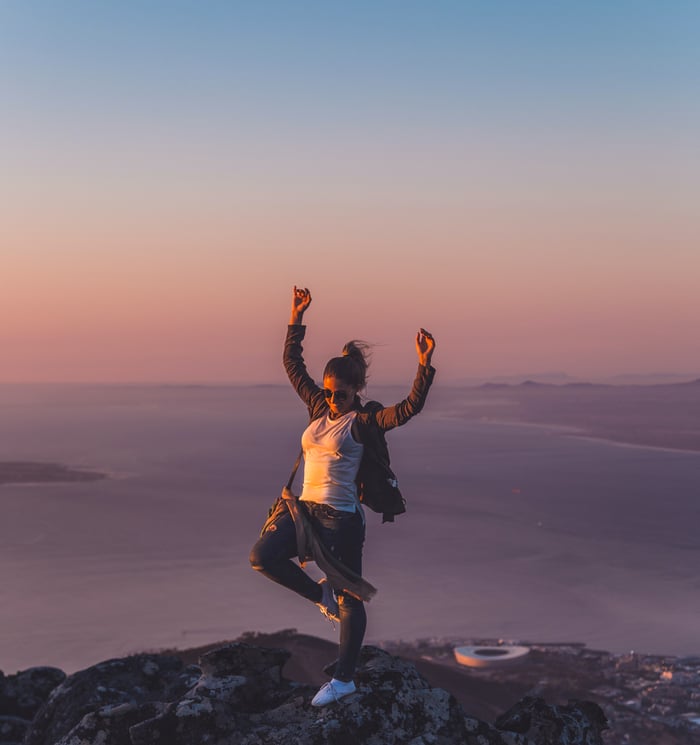 South Africa
Journey to the vast lands of South Africa, where the adventures are as plentiful and amazing as the wildlife. Let your guides take care of the details for activities like diving with great white sharks, Big 5 African safaris, canopy ziplining and finding the most pristine beaches to unwind on. They'll help you navigate the terrain and culture and introduce you to the area's best wines. This is a bucket list trip best experienced with solo Travelers like yourself. Adventures like these are what life-long friendships are made of.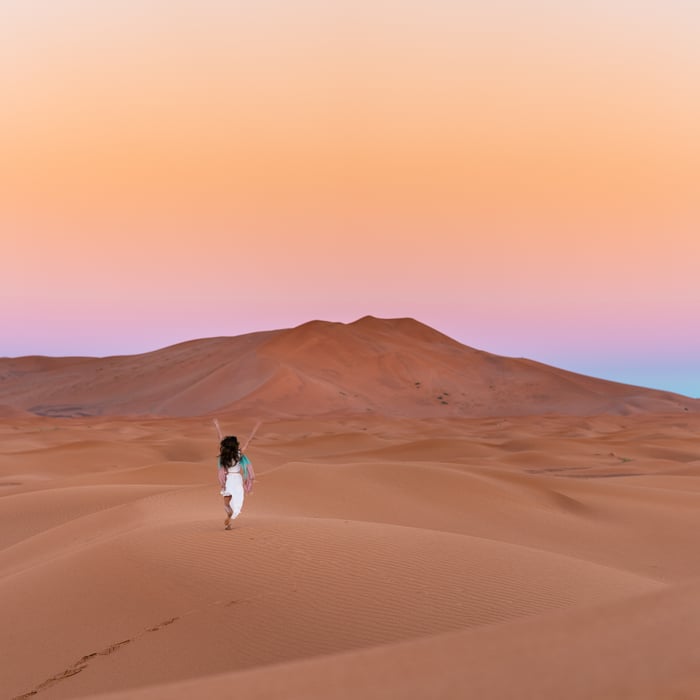 Egypt
There's really nothing like Egypt. It literally feels like it's from another time and place. Whether you're touring the Pyramids of Giza, sailing on the Nile or riding a camel in the desert, you'll feel more confident traveling with a group in a foreign land. Your guides will help you navigate the cultural differences and language barriers. They'll also show you charming local sites you may not have found on your own, including some of Egypt's best places to eat. Come explore ancient wonders and try traditional dishes in a land that time has forgotten.
Travel safe, travel happy
Ladies, let go of your worries about traveling alone. It's time to make new friends and put more stamps in your passport. Solo female travel is easier and more fun than it's ever been. Some of the best places to travel by yourself are far-away destinations that can be harder to reach on your own. But with our guides, a badass Host and a group of new friends, you can feel safe and ready to take on the world.