9 Unforgettable Bali Destinations
Make your next trip to Indonesia one you'll always remember.
When you picture a tropical paradise in your head, chances are, you might actually be picturing Bali. This incredible island in Indonesia is known for its world-class beaches, rugged volcanic mountains, lush green rice paddies, ancient temples and colorful coral reefs. In Bali, you can mingle with monkeys, shop for art, learn about local history and get your tan on all in the same day. Whether you're a nature lover, history buff, or beach bum, Bali's got it all, and it's just a plane ride away.
1. Kuta
Kuta was one of the first tourist developments in Bali. Now it's one of the most famous beach destinations in the world, and certainly the most famous in Bali. Kuta Beach is known for picture perfect sands and turquoise waters, which are popular among locals and tourists alike for surfing. Resorts and hotels abound here and the nightlife are spectacular. Jalan Pantai, the main road along the beach, is the home of plenty of great shopping, restaurants, and bars. Seminyak, just north of Kuta, offers a similar experience. Whether you're dancing the night away on a rooftop overlooking the water, or lounging on the beach working on your tan, Kuta is a tropical paradise.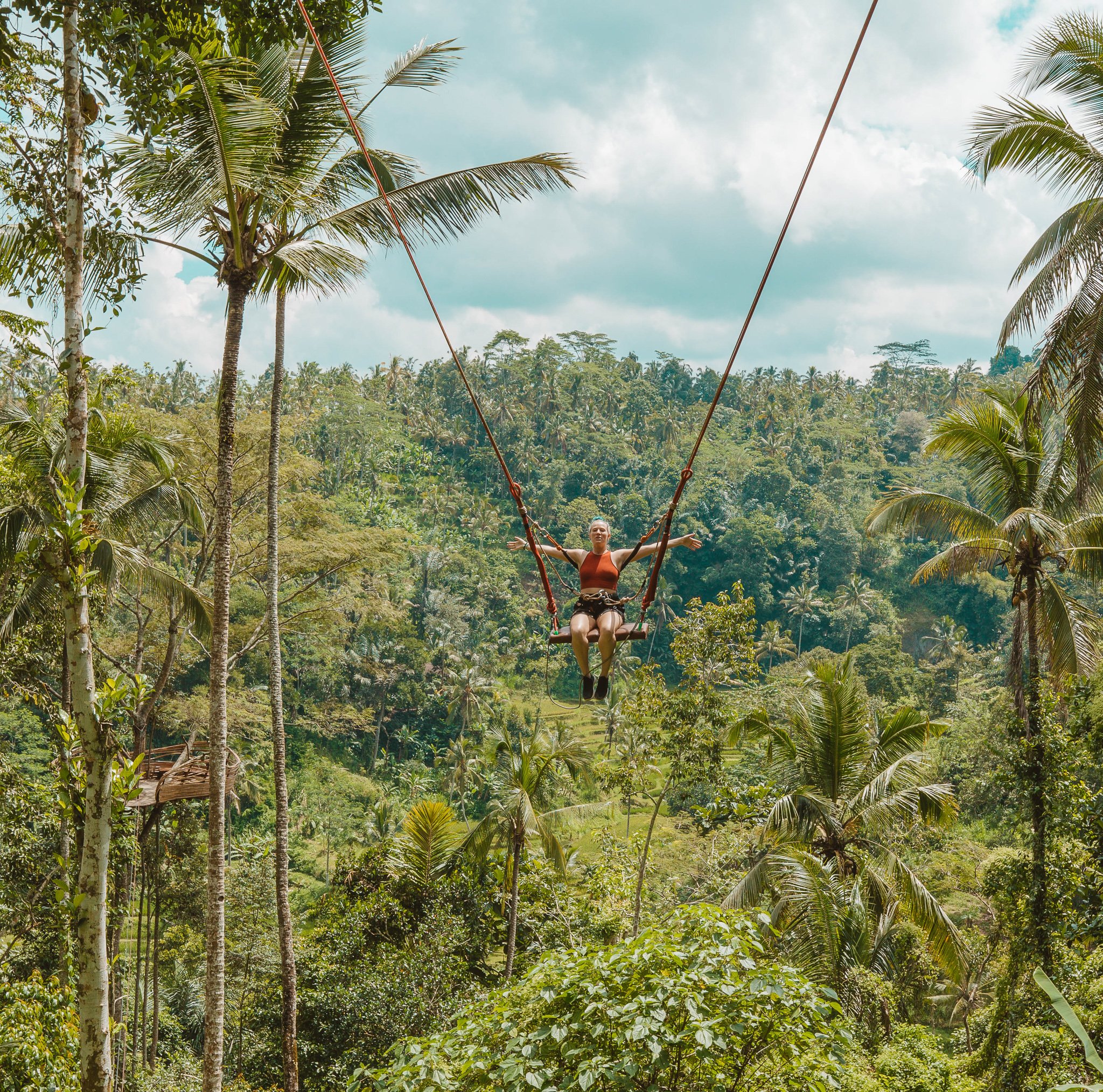 2. Ubud
In the uplands of Bali is Ubud, a small town that looks like it's on a different planet than the bustling beaches and packed resorts of other parts of the island. In Ubud, nature and culture take the front seat, with vibrantly green terraced rice fields, ancient temples, and even a Sacred Monkey Forest. If hiking is your game, you'll love the beauty of the natural jungles and waterfalls in the area, and if you'd rather stay a little closer to civilization, there's always the incredible Ubud Art Market to keep you occupied.
3. Nusa Dua
Nusa Dua is one of the more upscale beaches in Bali, with amazing nightlife and tons of fun activities in the sand and on the water, like scuba diving, flyboarding, and sea-walking. Nusa Dua means 'two islands', but this mainland beach is located at the southern tip of Bali's mainland, and the two islands it refers to are actually two temples which are each located on peninsulas that extend out into the water. Nusa Dua's most famous beach is Pantai Geger, but other large beaches like Nusa Dua Beach, and quieter, more secluded beaches like Gunung Payung Beach make for some gorgeous alternatives.
4. Jimbaran
Like a lot of places in the Indonesian Islands, the coastal town of Jimbaran on the island's southern tip began as a fishing village. Today, it's a resort town with a long sandy beach, but that culture of fishing is still alive and well, too. The streets and boardwalks of Jimbaran are lined with seafood restaurants and fish markets, and the water is always full of colorful fishing boats.
5. Denpasar
Denpasar is the capital city of Bali, and though it's not as focused on beaches as the rest of the island, it is definitely a hub for culture and history (don't worry though, beaches are definitely accessible too). The Bali Museum is full of artifacts and exhibits about local history, particularly about Dutch colonialism, and the local temples include Pura Blanjong, which dates back centuries. Throughout the year, local festivals and events fill the streets of Denpasar with food, music, and fun activity.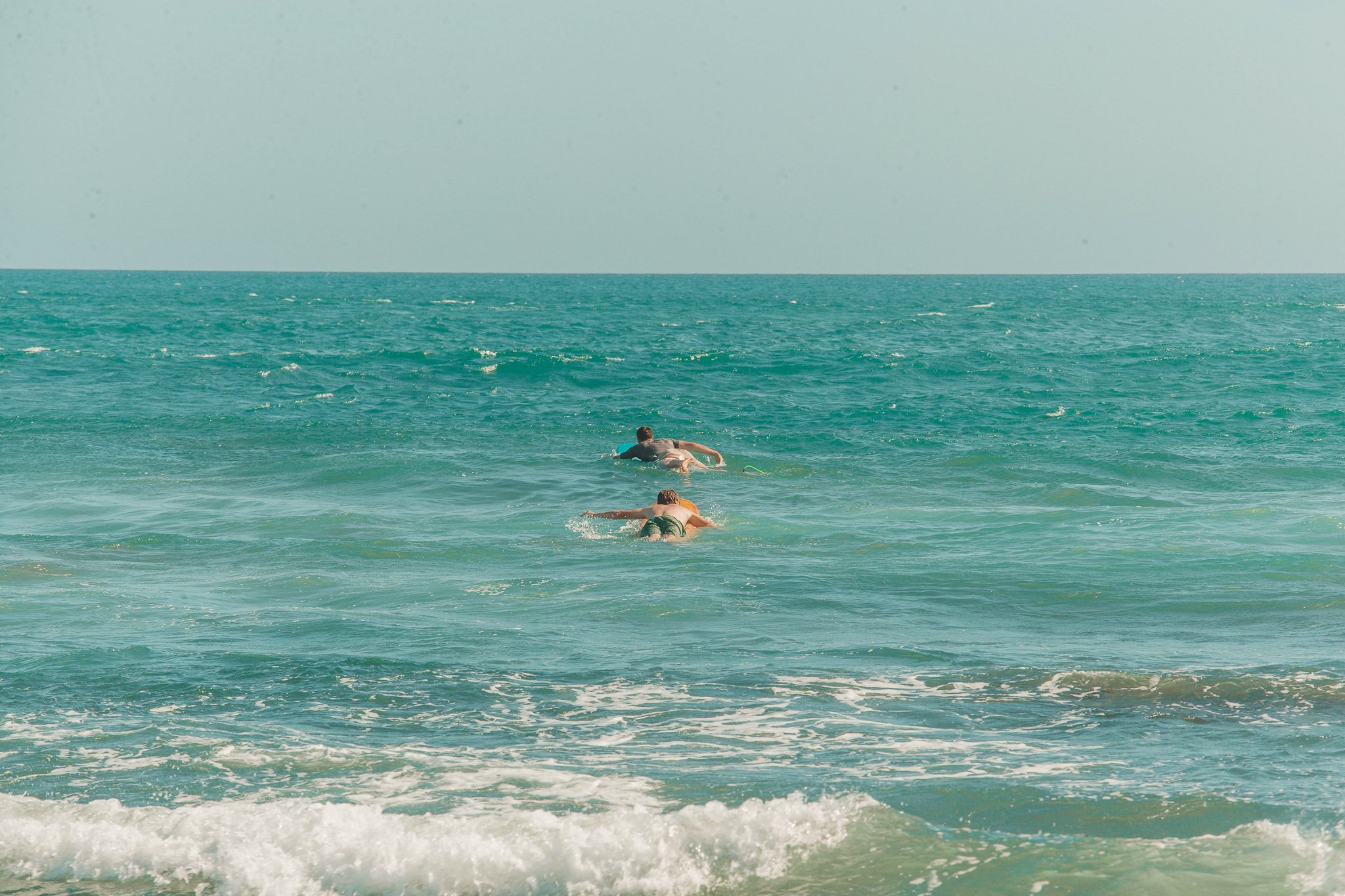 6. Canggu
Bali has some of the best beaches around when it comes to surfing, and Canggu is no exception. Canggu Beach and Echo Beach are well known for having great waves, and even newbies can take a lesson and learn how to surf. The beaches in Canggu have darker sand than some of the others, because of the volcanic terrain and history of Bali. Canggu is a lot more chill than some of the other beaches in Bali like Kuta and Seminyak, with smaller crowds and fewer people interrupting your day trying to sell things to you. Local bars make for some fun nightlife, and during the day, temples such as Tanah Lot Temple—which is built right along the rocky cliffs that border the sea—provide both cultural insight as well as a great shot for your Instagram.
7. Sanur
In Southeast Bali there is Sanur, another beautiful coastal town with great beaches and shallow waters. But unlike some of the other beach towns in Bali, Sanur has a reputation for being super laid back, with an emphasis on relaxation rather than partying. If you're looking for a gorgeous beach where you can catch some sun and read a book, or a charming town full of art galleries and relaxed eateries, Sanur is the place for you. You'll see brightly colored jukung fishing canoes on the water, incredible sunrises from the ocean horizon, and even a 10th century temple made entirely from coral.
8. Kintamani
Kintamani, in north-eastern Bali, is located right near Batur Lake, a huge and dramatic crater lake with a high, steep rim around its edge, and Mount Batur, an active volcano. One of the most incredible things to do in Kintamani is take a sunrise hike to the top of Mount Batur, where you'll find breathtaking views along a trek that is also breathtaking—just in a more literal way. Other great attractions in Kintamani include soaking in Toya Bungkah Hot Spring, visiting the Neolithic Trunyan Village and its cemetery. This resting place is scattered with human bones, and Danu Batur Temple, which is one of the most important temples in Bali, and also one of the most beautiful.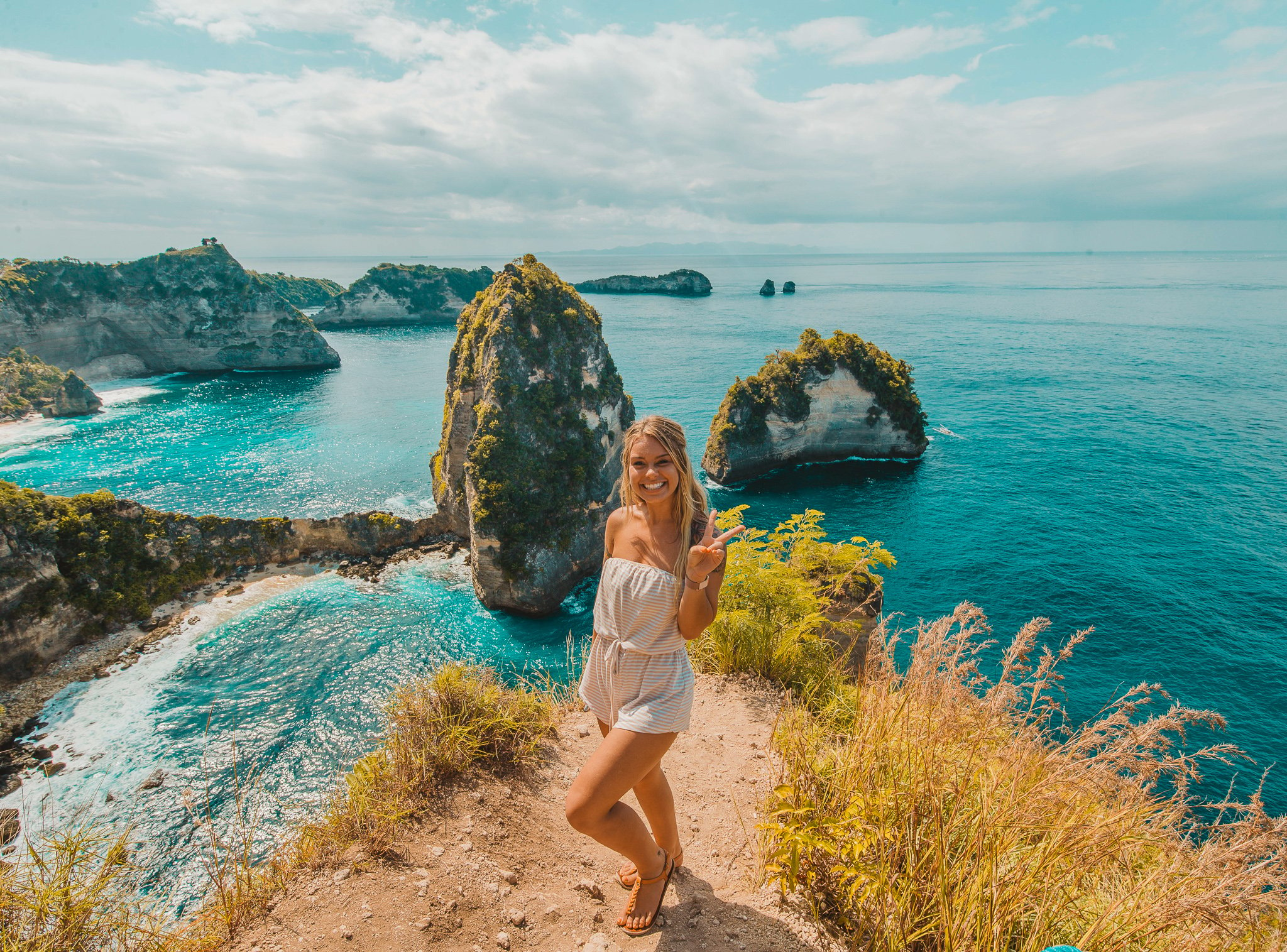 9. Nusa Penida
A trip to Bali wouldn't be complete without an excursion to at least one of the Nusa islands. The largest of the three, Nusa Penida, is just southeast of Bali, across the Badlung Strait, with some incredibly stunning landscapes. Hop a ferry from Sanur, and rent a motorbike to get up and down the mountain roads. Make sure to check out Pura Goa Giri Putri Cave—a sacred temple located in an underground cavern—eat a fresh coconut as you explore the cliffs above Atuh Beach or snap pics at the Thousand Island Viewpoint.
Conclusion
We find it hard to believe that anyone could travel to the beautiful destination that is Bali, and somehow not remember their time there. Regardless, we want to ensure that the journey you go on is one you'll hold with you forever. Take a chance on these unforgettable Bali destinations, and let your wandering heart do the rest.